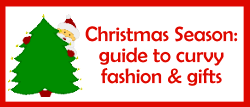 Janna Lutz is back again this week, taking a further a look at this season's plus size fashion Holiday must haves. Janna points out to us some fashion essentials which will make full figured women look fabulous and feel great during the Holidays. In her new article Janna diggs deep into one of our favorite online stores, Fashion Bug, giving us the inside scoop as to what this great store has to offer at the moment, and what the best picks are. Read the full article today!
Here's a sneak peek:

There are many colorful sayings that we use to express and reiterate our uniqueness from one another: "different strokes for different folks" and "whatever floats your boat" are only a few that people use every day. Every woman is diverse in her shape, preferences, style, and even budget. My mother used to joke that she could send my sister and I into the mall for a white shirt and black pants. We could find almost similar looking items, but I would have spent under $50. My sister would spend $50 just on the top.

Fashion Bug is known not only for their amazing styles and great quality clothing, but also where you can get the most bang for your buck. The Bug has been most popular among the younger crowd…high school and college students. But chin up all you who are young at heart; their casual trends can easily transcend any age box. The new addition of the "Studio 1940" label will certainly appeal to you saucy career gals.