Archive for July, 2009
What could be more sophisticated than the long, lean lines of a pencil skirt? Audrey Hepburn made this look trendy back in the 1940's and these sleek, fitted skirts are still gracing the pages of fashion magazines today. Although you can find pencil skirts in a variety of colors, if you could only choose one, the obvious choice is black. Need some ideas on how to pull off this look? Here's how to wear a black pencil skirt.
1. Get the Right Fit
A black pencil skirt is meant to hug the lines of your body without being overly tight. Spend some time trying on a variety of pencil skirts and walking around in them before making your final selection. The skirt should accent your shape without being constrictive or uncomfortable. The straight lines of the skirt can make walking a challenge if you select one that's too snug. To prevent this, look for one that has a discrete slit in the back to allow your legs to move more freely. Don't give up comfort for fashion.
2. Keep the Lines Clean
A slim pencil skirt looks best with a simple top that plays up the sleek, sophisticated lines of the skirt. For office wear, pair it with a stretch top and a bold, silver cuff bracelet. With a basic black pencil skirt choose a top in a bright color or create a sleek, ultra-sophisticated look with a fitted black top and a silk scarf tied at the neck. A silk blouse that buttons up the front is a good choice for an office environment or a business lunch. If you're feeling more daring, pair it with a leopard or other animal print top and black pumps for evening. Think sleek, clean, and sophisticated with a pencil skirt.
Keep on reading the scoop, and next week watch out for the second and final part of this article, where we share another 3 tips on how to rock a black plus size pencil skirt. Keep on reading ladies!
Today I wanted everyone to take a close look at one of SWAK Designs' latest new additions, the gorgeous and bright Camilla plus size dress.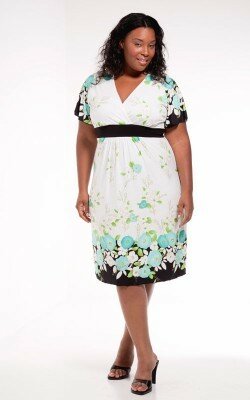 This dress is yet another fresh twist on one of SWAK Designs' favorite designs, the 'classic'. Featuring bold and artsy whimsical floral prints, this piece is a necessity for your summer wardrobe!
This dress retails at $46.99 and is available in sizes 1X to 6X.
Last week we started sharing with you some handy tips on how you can update your wardrobe, giving it a summer look, without spending too much money… if any at all actually. Amongst the tips shared, we suggested you look at what you've already got in your closet, as well as looking for trendy accessories to spice up an outfit.
Today we're sharing another 3 tips, which can further help give you ideas on how to give your existing wardrobe a breath of fresh air!
4. Look for Styles That Have Come Back in Fashion
They say that everything comes back in fashion eventually, and it is certainly true that many old styles are in again. From bell bottoms and leg warmers to clogs and boots, many old fashions have come and gone throughout the years. You may be able to find some hip and fashionable clothes in the back of your own closet.
5. Make a Few Small Repairs
Investing in a sewing kit can pay some big dividends when it comes to your wardrobe. Simply mending your old clothes can save you hundreds of dollars, so gather up those clothes that you have been meaning to repair and put your needle and thread to work.
6. Put Your Old Clothes to New Use
Your old clothes can enjoy a whole new life with just a few quick updates. From adding a new accessory to pairing a different blouse with your favorite skirt, there are plenty of ways to create new outfits with the clothes already in your closet. Putting your old clothes to new use can save you hundreds of dollars season after season.
By making these simple changes in the way you view your wardrobe you can save yourself a ton of money and still look like a million bucks. So before you head off to the mall head into your own closet. What you find may just surprise you.
Be Summer's best-dressed curvy girl, with one of our top picks for the season. Nothing beats a dress for a beautiful silhouette. From basic black, to bolg geometrics, short to maxi, choose a dress to suit your style and your size.

1. Violet Halter Dress
A blooming floral design and flattering empire shape make this little dress a feminine pick for summer dress up! Features an adjustable tie halter and crossover neckline.

2. Sosie Geo Print Dress
A bright and bold geo skirt is the focus of this modern summer dress. This is a sleeveless dress with U-neckline and wide straps for support.

3. Scarf Print Banded Dress
A colorful print and ruched detail makes this summer sundress a flattering and trendy. This dress is also sleeveless and features a crossover neckline, and ruched banded empire waist.

4. Sleeveless Knit Dress
Featuring sturdy binding at the neckline and sleeves, this dress comes in an easy-care stretch cotton/spandex. You can wear it with a belt for a more dressed up look. It's also a great cover up over swimsuits too!

5. Ruched Floral Maxi Dress
This floral printed maxi dress is boho style with a touch of romantic style. Comes with elasticized cap sleeves and an elasticized neckline with ruffled trim.

6. Smocked Maxi Dress
The must-have long and flowing dress of the season in a vibrant splash of hot color. A flirty style to wear on or off the shoulder.

7. Black Smocked Maxi Dress
This simple smocked maxi dress is an always appropriate summer staple. Make it fresh with some colorful Summer accessories! Features tank straps and smocked bodice with ruffle trim.

8. Flower Power U-Neck Dress
A bright blooming flower is the centerpiece of this retro-inspired U-neck dress. It's sleeveless with a banded U-neckline. It's slightly ruched throughout to flatter the figure.

9. Candice Hibiscus Splashed Dress
A bright hibiscus print is splashed on the border of this flattering dress. Again, this dress is sleeveless and features a pleated empire waist and crossover neckline with slight ruching at shoulders and bustline.
As summer finally rolls around many of us are looking for ways to update our wardrobes without busting our budgets. Buying new clothes can be expensive, and few of us have the extra money to spare these days. But how are you supposed to look your best this summer without spending hundreds of dollars on a new wardrobe?
Fortunately there are some simple steps cash strapped shoppers can take to look their best without sacrificing either style or economic well being. Updating your wardrobe on a budget is easier than you think – the key is to plan your new wardrobe around the clothes already in your closet.
1. Take a Look at What You've Already Got
Before you head to the mall or department store, take a good look at the clothes already in your closet. Chances are you already have the makings of a wonderful summer wardrobe – and it won't cost you a dime.
Take a look at the clothes you already have, and think about how those existing pieces can be used to create stunning new outfits. From mixing and matching colorful blouses and skirts to accessorizing your favorite summer dresses, there are plenty of ways to enjoy your current outfits in a whole new way.
2. Look for Low Cost Accessories
Speaking of accessories, the right ones can make any outfit look better. There are plenty of low cost accessories available, from inexpensive costume jewelry and lapel pins to stunning scarves in bright summer colors.
Chances are you already have some of these accessories in your jewelry box. If it has been awhile since you looked at your everyday jewelry take another look and think about how those pins, pendants and necklaces can be paired with your existing wardrobe to create a great new look. You may discover dozens of new combinations – at no cost to you.
3. Trade Clothes With Your Friends
Trading clothes and sharing wardrobes is not just for teenagers. In fact sharing clothes is a great way for friends to cut down their clothing budgets while expanding their wardrobes. If you have friends who are your size, why not ask them if they would be interested in sharing their clothes.
You may even want to start a new tradition by choosing a new piece of clothing each season and having your friend do the same. That way you can expand your wardrobe at half the cost. You loved sharing your clothes with your girlfriends when you were growing up, so why not rediscover the fun?
We have more coming up! Next week we'll share with you the final 3 tips to help you update your style without negatively updating your bank account! So keep on reading the Plus Size Clothing Scoop!
Last week we too a look at how charms and accessories made from natural material can be great choices for your summer jewelry. In this second part of this article, today we'll be giving you other suggestions which can be great picks for the summer.
Natural Stones
There's something about wearing natural stone jewelry that feels right for summer. All natural stones such as turquoise and coral are always a popular choice and look stunning paired with cool, cotton tops and summer shorts. Don't forget that natural stones such as turquoise and coral can be combined with other materials such as wood and ceramic for an eclectic look. Can't find what you're looking for? Head down to your local bead store and make your own.
Natural Shells and Sea Glass
Shell pendants and bracelets feel good to the touch and look stunning against gently sun kissed skin. Choose from paua shell, abalone shell, conch shell, hammer shell, or puka shell, among other shell types. You can even collect your own small shells on the beach along with some sea glass that's been gently molded by the waves and create your own unique summer necklace or bracelet. Shells can be combined with other natural materials such as stones and rough wooden beads and strung onto hemp or leather for truly one-of-a-kind pieces of jewelry.
Have fun choosing and creating your own special summer jewelry!
Way back in May we introduced you to the Anastasia interchangeable plus size wrap dress, an innovative and extremely versatile dress available at SWAK Designs.
I'm sure many of you thought the dress is a great concept, but perhaps felt apprehensive due to the fact that you have to wrap it up yourself!
But the kind people at SWAK Designs have created the video I'm showcasing below, to show you how to wear the Anastasia plus size wrap dress!
So now you have no excuse; you can wear this great dress just by following this video, which features Reah Norman and plus size model Danielle Line.
When the temperatures and humidity rise and coats and sweaters are retired to the back of the closet and replaced with sheer tops and dresses, it can feel cumbersome to wear heavy jewelry. When summer arrives, it's time to go for a lighter look in jewelry especially when wearing sheer tops and dresses. A heavy necklace can look awkward when worn with light breezy summer clothing and the metal can heat up right along with the weather, making it uncomfortable against your skin. Here's how to choose summer jewelry that'll look and feel good when the temperatures rise.
Choose Jewelry Crafted from Natural Materials
Summer is the perfect time to take a break from metal and experiment with natural materials. Wood is always a popular summer jewelry material. Pile on a few wooden bangles to show off a lightly tanned arm or wear a simple wooden pendant on leather cord for an earthy, natural look. A popular new jewelry material for warm weather is bamboo. Beads made of bamboo are hollow and very light to the touch making them a perfect choice for warmer temperatures. The beauty of bamboo jewelry is that each piece is a work of art with its own unique ring structure and design. Plus, bamboo is considered to be a symbol of strength and of good luck. It's also an eco-friendly jewelry material you can feel good about wearing. Don't worry if the wood and bamboo pieces you wear are a little rough around the edges, it only adds to their charm.
Be Charming
Charms are a hot jewelry trend and an easy look for almost anyone to wear. Carefully selected charms and small pendants are a way to show the world who you are and what's important to you. Charms are available in a variety of materials and themes ranging from symbols to engraved words and figurative images. Although you can overload a bracelet with charms or wear multiple charms on a necklace, keep it simple when wearing light, sheer clothing. Try wearing a small metal charm on a thin metal chain with swim or beach wear. For evening, layer them on for a more dramatic look. They're a great way to express yourself.
Keep on reading the scoop, and watch out for part 2 of this article, coming up next week!