Archive for July, 2008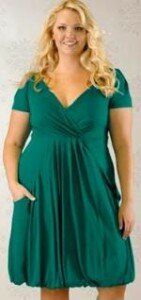 Bubble dresses. You know the ones. They look super cute on those girls with the approximate size and shape of a stick, and terrible on anybody with a pair of, you know… hips. You like to follow trends, but… why would you torture yourself by putting on a dress with a hemline that only puffs everything out and clings in all the wrong places?
I just visited IGIGI, and lo and behold… they actually make bubble dresses that flatter women with a curvier shape! Just in at the website is a selection of very trendy (by still very flattering) bubble-hemmed dresses. My favorite? The jewel-toned green jade bubble dress. So pretty. So feminine. So in my shopping cart.
Finally! Just because I'm not Miss Twiggy doesn't mean I can't follow this trend.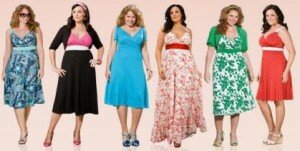 Enjoy your summer and style! IGIGI is making that even easier for full figured women now, by launching a massive summer clearance sale. Savings of up to 60% can be made, on select summer fashion. Here is a roundup of some pieces which caught my eye, which are also reduced in price:
Dress with Polka Dots Inserts in Black/White. Was: $89.00. Now: $53.50.
Smocking Dress in Mediterranean Blue with Shrug. Was: $135.00. Now: $81.00.
Polka Dot dress with Smocking with Shrug in Navy. Was: $110.00. Now: $55.00.
Sunset over Maui Maxi Dress with Shrug. Was: $195.00. Now: $136.50.
Neapolitan Colorblock Dress with Shrug. Was $135.00. Now: $94.50.
This is going to be one popular sale, so I'm sure the items will be grabbed pretty quickly. So get your hands on your favorite today to avoid disappointment.
Life if not a piece of cake these days. With gas prices always rising up, and pretty much everything else getting more expensive everyday, every penny really counts. So what is a plus size fashionista to do in order to look good on the beach (or by the pool), whilst not breaking the bank?
Find bargains! Though this is easier said than done often times. Though truly with some time and research you can find gorgeous plus size swimwear, the good quality kind, at really great prices. Since I know you're all very busy, I've taken the time to look through all the offerings from the leading full figured swimwear retailers, and below I present to you 12 excellent choices of swimwear, available to you at under $40.00! The lowest prices swimsuit in this list is $19.98. How great is that? You can add a brand new, figure flattering swimsuit to your wardrobe for just $19.98.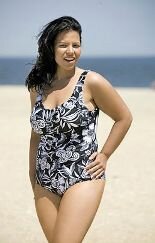 1. Malaysian Jungle One Piece Plus Size Swimsuit
Price: $19.98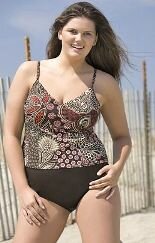 2. Malaysian Goddess Two Piece Plus Size Tankini
Price: $22.99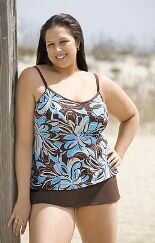 3. Sandy Beach Two Piece Plus Size Skirtini
Price: $29.00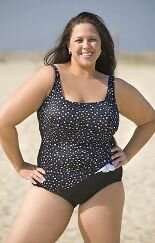 4. Dot Darling One Piece Plus Size Ruffle
Price: $29.99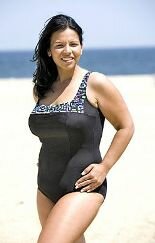 5. Pompeii One Piece Plus Size Square Neck
Price: $29.99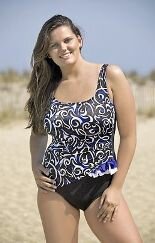 6. Swirls One Piece Plus Size Surplice
Price: $29.99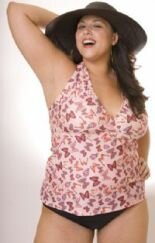 7. Butterfly Two Piece Plus Size Halter Tankini
Price: $31.99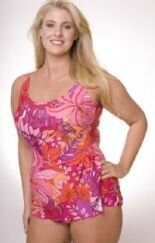 8. Gypsy Floral One Piece Plus Size Sarong
Price: $34.50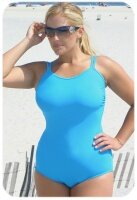 9. Always For Me Sport One Piece Tank Swim Suit
Price: $39.00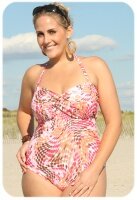 10. As seen on The Today Show: Snakeskin Twist Front Bandeau One Piece Bathing Suit
Price: $39.50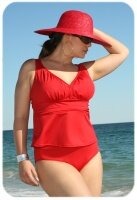 11. Always For Me Chic Hera Two Piece Tankini
Price: $39.50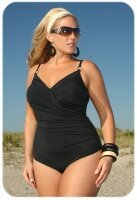 12. As seen in Glamour Magazine: One Piece Wrap Front Maillot Bathing Suit
Price: $39.50
Most of these prices are discounted, so if you're looking for a swimsuit and you like one of the above, I suggest you act quickly and grab it at this great price. I have no guarantee (nor information as yet) on how long these prices will last.
I hope you have a little time between now and August 1, because you're going to want to set some aside to do some shopping at SwimsuitsForAll. Why? Not just because they have some of the most ridiculously cute plus size swimsuits on the net. But also because they're ridiculously cheap. Right now, they have lots of new arrivals on sale, marked waaaay below department store prices. They've also deepened their summer swimsuit clearance, with some of their cutest suits now available for incredibly little. I mean, their black and berry swirl plus sized tankini is $22. No, that's not a [...]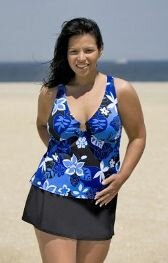 None of us can resist a swimsuit that is sexy, flattering, and actually makes us feel good. At SwimsuitsForAll.com, their best sellers are flying off the shelf. These adorable swimsuits are the best of both worlds… comfy and flattering, they're also on-trend and sexy as could be.
There's a reason why these suits are the best selling plus sized items on the site… these are the suits that really flatter curvy figures and feel great on. Looking for a flirty style? Check out the Cobalt Two-Piece Cross Back Skirtini. With a fun and feminine print on top and a minimizing black on bottom, it really stands out. Plus, the cross back style both looks super sexy and gives you plenty of support.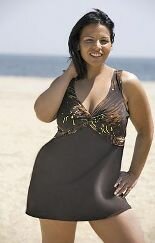 Delta Burke knows about having a plus sized body. And her swimsuits are some of the most flattering on the market… a Delta Burke is always a safe bet. At SwimsuitsForAll, they have a great combination of Delta Burke swimsuits in stock: from priced-to-steal clearance suits to brand new, just-arrived styles.
For those of you with a sexy, defined waist, you must look at the Freestyle One Piece with the cute waist detailing. Not sure if I have the waist for it myself, but I'm drooling over it anyway.
For my body (sticking to the safari/ethnic trend I mentioned the other day) I like the Safari One Piece Twist Front Swimdress. Just gorgeous.
Thanks, Delta!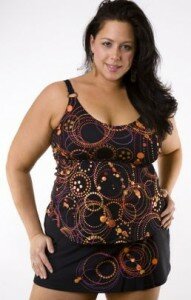 You don't want to miss out on summer's biggest fashion trends, do you? This year's summer trends: florals, ethnic prints, and soft ruffles are all over at SwimsuitsForAll. This week, many of their trendiest, best-selling plus sized swimsuits are on special… and if you're looking for a sexy, flattering suit in an on-trend style, you can't pass some of these up.
Want to hit a sweet and feminine note with a floral suit? Check out the Liz Claiborne tropical deco floral skirtini. It's sexy, it's feminine, and it'll stay on-trend for years to come. While I love the Liz Claiborne, I'm drooling over all the great ethnic styles I'm seeing in all the magazines this summer. So my favorite is the Bali Dancer Two-Piece Plus Size Tankini by Christine. It's super slimming in a cool black, but with fun ethnic designs in yellow, red, and orange. What really has me convinced in the price – originally priced at $94, they've got it on sale for just $69.98!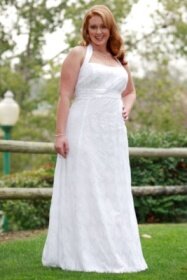 If you're like me, you probably shop at Torrid all the time. They've got one of the best collections of plus size women's fashion on the net… or anywhere else. And now they're introducing beautiful, figure flattering wedding gowns perfectly suited to the plus size shape. While their new selection of plus size wedding gowns isn't the biggest you've ever seen, each gown is beautifully flattering and perfectly suited to curvier shapes. In particular I love the Divine White Lace Halter Bridal Gown… so romantic and pretty.
They've also got all the bridal accessories you'll need for your big day, including great shoes, veils, jewelry… and best of all, super sexy bridal underwear. Yeah, baby.
Not planning on being a bride anytime soon, but have about a dozen invitations to summer weddings? Take a look at Torrid's selection of dresses for attending a summer wedding. Just be careful not to outshine the bride – it's not very polite.
Whew… it's getting hot in here. SwimsuitsForAll has just gotten in a brand new selection of gorgeous plus sized Liz Claiborne swimsuits. And while there are lots of swimsuits I love on the site, it's the Liz Claiborne's that I'm drooling over most. The pink and white OP Art Floral One Piece is fun and flirty and I want it! Or should I go for the South of the Border Two-Piece Halter? I love the colors, the flattering striping, and the sexy little tie under the top. Decisions, decisions!?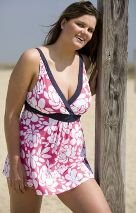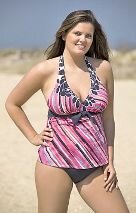 And I'm about the make it even harder. Because they also have a great selection of new Delta Burke color block and solid color swimsuits coming in just this week, and a killer clearance sale for those girls who want to look hot at the beach without breaking the bank. Want to pick up a cute and flattering suit for under $50? There are plenty of clearance-priced styles to choose from. Me? I think I've settled on the Liz Claiborne floral one piece. Or the two piece halter. Or… ah! I can't decide.