Archive for May, 2010
Every woman I think is on the constant look out for stylish casual wear options, as this is such an essential part of a woman's wardrobe. Be it to wear for work (if you work in a relaxed type of environment), whether you are off shopping with your girls, or whether you just feel like going for a stroll down the street, casual wear is essential. So today I wanted to have a look at what I think are the Top 10 Casual Plus Size Clothing Stores online, to help women and give them some options for where to shop.
1. Alight – Sizes 12 to 34 – When you talk about casual plus size clothing, if you are more of less familiar with the leading plus size speciality stores online, then definitely Alight will be the first store you will think of. Alight offers a lot more then casual wear, in fact I like to call Alight the online mall for plus size shopping. It offers a wide range of styles, and carries a lot of different designers, which is what sets it apart. The vast choice of casual wear you can browse through here is what makes Alight the first go to place for findnig casual plus size clothing online.
2. Figuresque – Sizes 14 to 36 – A store which not everyone might be familiar with, but which I truly encourage every full figured woman to visit. Figuresque is quite a new store to hit the online scene, though do not be put off by this. They offer a vast selection of very stylish casual wear, and most of all their options are truly affordable. This is what sets Figuresque apart from the competition. If you're looking for a bargain, head on their way!
3. Avenue – Sizes 14 to 32 – A store which I am sure a lot of curvy women will be familiar with, Avenue again is one of the first go to places to go for when shopping online for curvy clothing. They offers a great selection of casual fashions, which are also easy on the budget. Avenue is always adding on new, contemporary styles to make sure the latest trends are available, so again this is one to check out.
4. OneStopPlus – Sizes 12W to 44W – Another store which carries a large range of clothing, as well as accessories. However the casual clothing options offered at OneStopPlus are endless and definitely not to miss. They carry anything from tops, to skirts, to denim and dresses.
5. Torrid – Sizes 12 to 28 – A name synonymous with plus size clothing online, Torrid has become a favorite with many women and for good reasion. They offer a great selection of casual wear, with trendy new designs added on a regular basis. Various items can be found at Torrid including a great selection of casual tops, skirts, dresses and denim. A curvy girl will definitely satisfy her casual wear needs at Torrid.
6. SWAK Designs - Sizes 14 to 36 – Another must visit store when you are looking for casual wear. SWAK Designs carry a great range of tops, skirts, dresses, pants and denim at affordable prices. Most of their items are available up to a size 6X (which would be approximately size 30/32), and include individual item size charts, which makes finding your size for a particular items a breeze.
7. Lane Bryant – Sizes 14 to 32 – Definitely a well known brand with full figured ladies, Lane Bryant carries a good selection of plus size casual wear, among their vast collection. Price points suit a lot of different budgets, and new designs are frequently added.
8. Fashion Bug – Sizes 14 to 32 – A store which might appeal more to a younger plus size woman, Fashion Bug provides the full figured woman a lot of options when it comes to casual wear. Again here you can find items ranging from skirts, to tops, to dresses.
9. Yours Clothing – 14 to 32 – An online store based in the UK, but which ships around the world, Yours carries one of the biggest collections of casual plus size apparel you can find online andhas become one of my favorites! Best of all their prices are truly affordable, and they hold sales and apply price reductions very often, which makes shopping here both fun and very easy on your budget. This is definitely a must visit, and I encourage plus size women outside of the UK not to get discourage from shopping here, as shipping fees are very reasonable and the vast selection of items available definitely make it worth shopping here.
10. Old Navy – Sizes 16 to 30 – I know some plus size women frown upon Old Navy (and with reason) because they reserve their plus size collection just for their online sale, but the stylish and vast selection they do offer online meant they had to be included in this list. Whatever everyone says I do think Old Navy offer a nice selection of casual plus size clothing, to suit everyone's tastes and budgets.
So there you have it! What do you think? Should any particular store not be in the list? Do you think I missed listing down a store which you absolutely cannot live without? Comment below, and let me know. I'd love to hear your thoughts.
For a more comprehensive list of casual plus size clothing stores, do consult our casual directory page.
Through my blogging journey at Plus Size Clothing Scoop I have had the chance to meet and interact with various people within the plus size fashion world, be it bloggers, designers, store owners, size acceptance activists. These people have been truly inspirational to me, and I wanted to somehow convey what they have shared with me, with you. But how to do that?
Enter Curvy Conversations, a new series I am launching today where every week (or so) I will be chatting with these inspirational people, asking them various questions about who they are, what they do, what inspires them and more. This way you will get to know these people more closely, hopefully learn from them as well, and be inspired from them.
Our very first guest in this exciting new series is Cortney of Shop Translated. Cortney is one of the founders of Shop Translated, which is an innovative online boutique offering plus size fashions in gorgeous colors and prints. Throughout our conversation Cortney shares with me what inspired her first and foremost to Shop Translated, what the missions of the store is, as well as some curvy fashion tips.
There are 3 ways how you can hear my conversation with Cortney…
1. You can download the conversation in .MP3 format here and listen to it whenever you feel like, or plug it into your iPod!
2. You can listen just to the audio right here:
3. You can listen to the conversation whilst looking through some of Shop Translated fashions by watching the video below:
I truly hope you have enjoyed this first installment of Curvy Conversations. Tune in again next week, to find out who my next guest will be. Also, remember you can currently save 30% OFF your order at Shop Translated (excluding sale items) with coupon code pasazzme1. This offer ends 6/15/2010.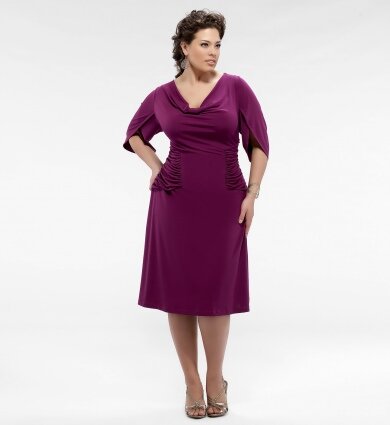 Last week Kiyonna unveiled a gorgeous new dress which they have named the Julianna Dress. This dress is not just another short sleeved cowl neck dress! The sleeves are uniquely set-in which give this dress a chic and Grecian feel to it. The soigné details and ruching at the side make this dress super flattering. Any dress that include ruching somewhere at the waist is a winner for me, because ruching truly disguises your tummy, and flatters any figure. This dress follows the Grecian style of recent dresses Kiyonna have unveiled which are equally gorgeous such as the Alexandra Gathered Dress and the Celine Chiffon Maxi Dress.
The Julianna dress comes in three different colors: blue, rich purple and black. Definitely a dress that will leave a lasting impression, one to have a closer look at if you're searching for a special dress for a special occasion.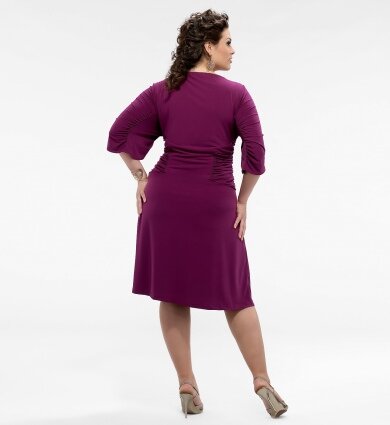 This dress is available in sizes 0X (10/12) to 5X (30/32) and is priced at only $98! It starts shipping tomorrow 25th May, 2010.
In this week's corner of Plus Size Model Spotlight, our featured plus size model is Joan Fowler. Watch the video below to learn more about her!
Joan Fowler is a a plus size model and actress from Los Angeles. She earned her Bachelor's degree in apparel merchandising, and has always been interested in the fashion business. And she feels that modeling is a part of that. Joan enjoys plus size modeling because she feels it shows people a different side of beauty than the media usually show.
Joan hopes to inspire other woman to feel more confident about their bodies: Just because you are bigger does not mean you have to walk around with your head down! She really loves doing photo shoots and says that getting to be a part of this business is a lot of fun.
Are you a new or aspiring plus size model? Would you like to be featured in the next Plus Size Model Spotlight? Then get in touch with us today!
This week I've chosen to showcase 4 plus size tops, and 1 extremely flattering curvy dress… all of course at greatly discounted prices!

Red Sequin Print Cowl Back Top
Was: $22.88
Now: $14.30
This red sequin detail top is a must this season. It features short sleeves, scoop neck line and trendy cowl back, with a sequin vest to create a 2 in 1 look. Pair it up with jeggings or trousers for a stylish curvy look!
Size available: 16, 18, 22-24 to 30-32 (UK sizes)

Limited Edition Pink Tie Dye T-Shirt
Was: $21.45
Now: $14.30
This pink tie dye t-shirt from Yours Clothing adds great style to your wardrobe. It comes in a unique tie dye effect on each individual top, stud detail across the shoulder and flattering gathered detailing.
Size available: 16 to 32 (UK sizes)

Red Gingham Sleeveless Seersucker Shirt
Was: $34.00
Now: $17.97
A very cute sleeveless shirt with a red and white gingham print. Features one breast pocket and button front.
Sizes available: 0X to 4X


Gray Burnout Crew Neck Top
Was: $27.00
Now: $21.99
Comfort never came with such great style! This adorable long sleeve top is perfect for layering. Its lightweight fabric transitions easily in and out of season.
Sizes available: 2X (18/20) to 5X (30/32)

Heartbreaker Dress
Was: $108.00
Now: $75.00
This is a classic ¾ length sleeve v-neck dress, which includes some modern refinements that make is ultra figure flattering. The simplistic yet impactful design elements and ruching details make for a remarkably flattering silhouette.
Sizes available: 0x (10/12), 3X (22/24) to 5X (30/32)

A while back I had posted about how plus size blogger, stylist, writer and boutique consultant Chastity Garner was preparing to launch her first ever book The Curvy Girl's Guide to Style. Well the book has now been launched, so I encourage you all to grab a copy of it right away as the rave reviews it has been getting make it a definite must have for any fatshionista.
The book is actual on sale thanks to the NYLA Report! For today only you can grab a copy at the reduced price of $13 if you purchase it from Garner Style or Chastity's Blog. I'm going to grab my copy right after I post this up!
Recently I have the pleasure of trying on one of Kiyonna's best sellers: the Saturday Front Tie Bellini. The great people at Kiyonna sent over a very well presented package to me, and I must say once I tried on the Bellini I knew why this item is one of their best sellers… it is truly flattering. I honestly was not expecting being so excited about a 'cardigan' type garment, but this thing truly rocks. I must get it in all colors… but I digress.
Back to the details. The Saturday Front Tie Bellini is made of a lightweight fabric, which is a mixture of Rayon and Spandex, which is very silky and soft to the touch. The font-tie site exactly below the bust-line, helping to create a very figure flattering look.
Besides the Bellini feeling very nice to the touch, it pretty much goes with everything, which is another definite plus. If you need an item in your closet to help you with layering, this is definitely one item to consider as it is very versatile. It comes in four different colors, including sage, black and purple, however the one I tried on is grey. I tried on the Bellini with a skirt, cropped jeans and jeggings… and with all 3 items I think it looked great. I received a couple of compliments when I first wore this, so definitely a winner in my books.
Check out some photos below, of me wearing the Bellini. Also watch out for a video coming up soon as well, showing you the actual Bellini!
Thanks Kiyonna… this is definitely a keeper, and I am very tempted to get in other colors!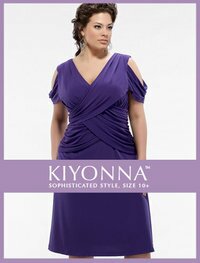 Bored with your current closet selections? Well you're in luck as Kiyonna are giving you the chance to win a $500 Kiyonna Gift Certificate in their Closet Makeover Giveaway!
Entering this contest is easy! Make sure you are a fan of Kiyonna's Facebook page and then simply RSVP "Attending" for this particular virtual event and you will be automatically entered to win!
The giveaway closes at 11:55pm (PST) on 1st June, 2010 and the winner will be selected at random and announced on 2nd June, 2010.
Hats, Hats, Hats

Are you into hats? I didn't think I was, but after seeing this gorgeous collection of very chic and unique hats, I think I might be a hat girl!

*Plus size* models protest Australian *Fashion* Week «

An issue which has cropped up in many articles today is the fact that Australia's Fashion Week was not that plus size friendly, and with reason plus size models complained and protested.

Is Hollywood really ready for a *plus size* leading lady?

Interesting article from Alaina L. Lewis who explores the issue of full figured models, and their acceptance in Hollywood. Among many actresses she highlights Queen Latfiah's career and new movie 'Just Wright' which will open in theaters this Friday.
I'm sure Brazilian plus size model Fluvia Lacerda is a familiar face with many of you. I just love her look and think she is one of the top, well if not the top plus size model, currently on the scene. Have a closer look at Fluvia in the video below and let me know what you think!