Archive for April, 2010
Today video from Kiyonna's Setting the Curve video series, we get a look into the latest Spring fashion shoot featuring plus size fashions modeled by Ashley Graham. Various new styles from Kiyonna are featured in this video including short dresses (such as the Boudoir Lace Dress), long dresses, blouses and skirts!.
The weather is getting warmer and I'm sure many of you are thinking of summer, long days on the beach, and relaxing by the pool. With that many of your might also be searching for a new swimsuit, well at least I have been. I've been looking for a new piece to add to my collection this year, and whilst browsing around I found a great selection of swimsuits from AlwaysForMe which are super stylish and yet available at reduced prices. I've selected my favorite 6 swimsuits, all of which are priced under $40. Which one is your favorite?

1. One Piece Palm Springs V-Neck Bathing Suit
$29.50 – Sizes 16W to 24W

2. Novelty One Piece Twist Front Bandeau
$34.50 – Sizes 16W to 26W

3. Two Piece Diva Skirtini
$34.50 – Sizes 16W to 26W

4. Catarina Halter Tankini
$39.50 – Sizes 16W to 26W

5. Porto Alegre Halter Tankini w/ Brief
$39.50 – Sizes 16W to 26W

6. Goth Glam Skull Print Two-Piece Halter Tankini
$34.50 – Sizes Sizes 16W to 26W
Flirty plaid and stretch denim are mus have items this Spring season. SWAK Designs' new Cowgirl Chic Collection embodies a Western influence with a feminine twist, and provides great options to indulge in these essential Spring staple items.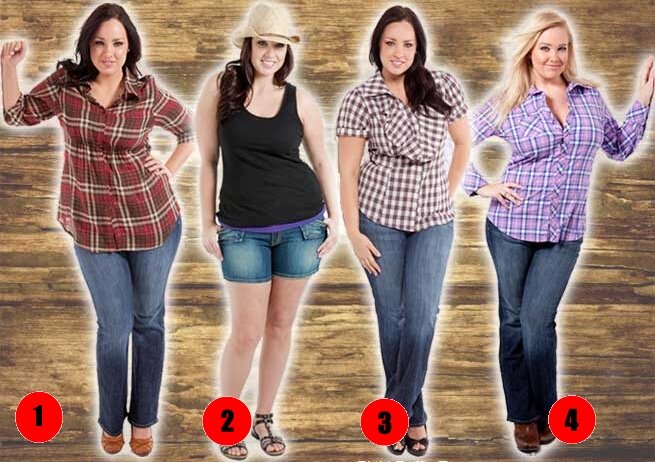 Here's a how you can create four distinct and stylish Spring looks with SWAK Designs' new collection.
1. Plaid Cowgirl
Plaid Tunic Top – $45.00
Medium Wash Plus Size Boot Cut Jeans – $64.00
2. Casual Cowgirl
The Perfect Plus Size Cami in Purple : $18.00
Essential Plus Size Tank in Black – $16.00
Mary B. Low Rise Shorts – $36.00
3. Ruffle Cowgirl
Plaid Ruffle Top – Coming soon to SWAK Designs
Medium Wash Plus Size Boot Cut Jeans – $64.00
4. Comfy Plaid Cowgirl
Boyfriend Plaid Plus Size Top : $34.00
Medium Wash Plus Size Boot Cut Jeans – $64.00
Take a look at some shots of Irish plus size model Charlotte Coyle, in the video below. Isn't she gorgeous.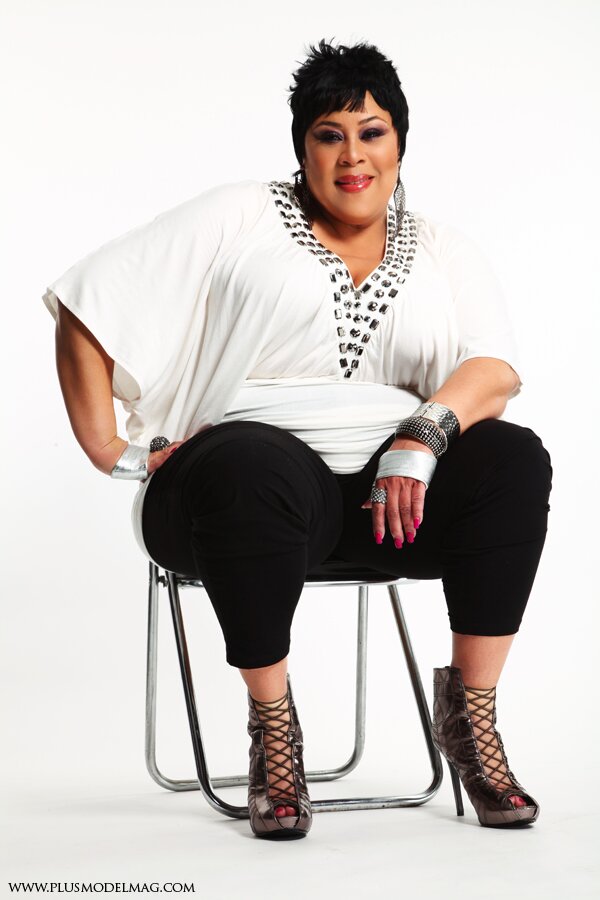 It seems like a lot of plus size celebrities just love Monif C. designs, and for good reasons of course! A particular this is the stylish "Roxie" V Neck Beaded dress, a very sexy number. We have already seen actress Gabourey Sidibe wearing this last X. Now we've spotted Joanne Borgella (pictured below), of American Idol, as well as Martha Wash (pictured above), a legendary disco diva, wearing this dress in the latest issue of Plus Model Magazine.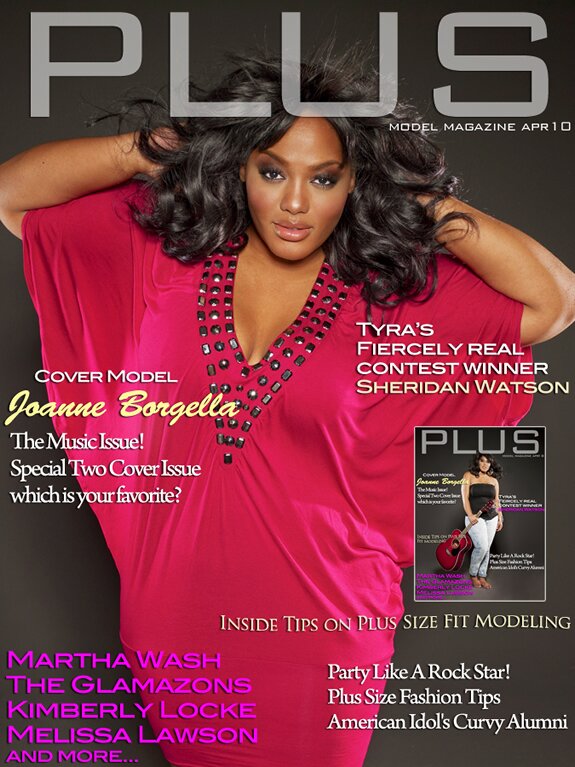 If you have never heard of the plus size fashion designer JIBRI, you are seriously missing out. JIBRI is a very innovative full figured designer label, offering unique styles, that will definitely make you stand out. The label is a perfect combination of high fashion chic and urban street sleek in sizes 14-24, and recently the Spring 2010 collection has been launched. Only one word can be used to describe this new collection: amazing.
I've picked out my favorites from this new collection, though make sure you head on to JIBRI Online to check out the full collection, and you can purchase one of these styles, or any other JIBRI garment from their store on Etsy.
So have a look at my favorite picks below, and tell me what you think of this new collection. Do you love it too?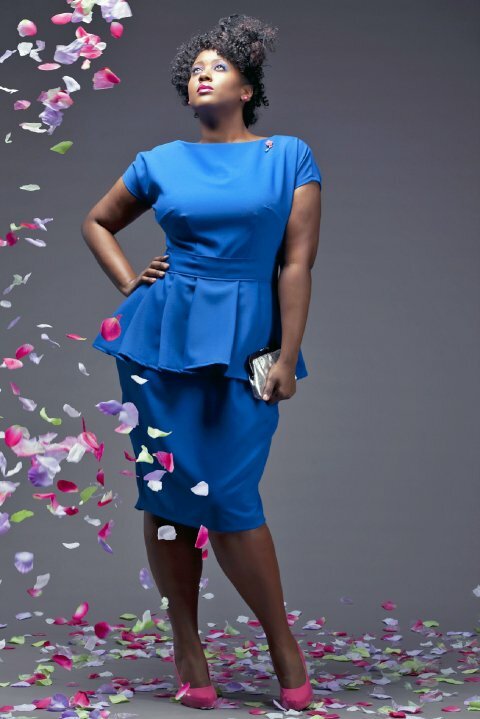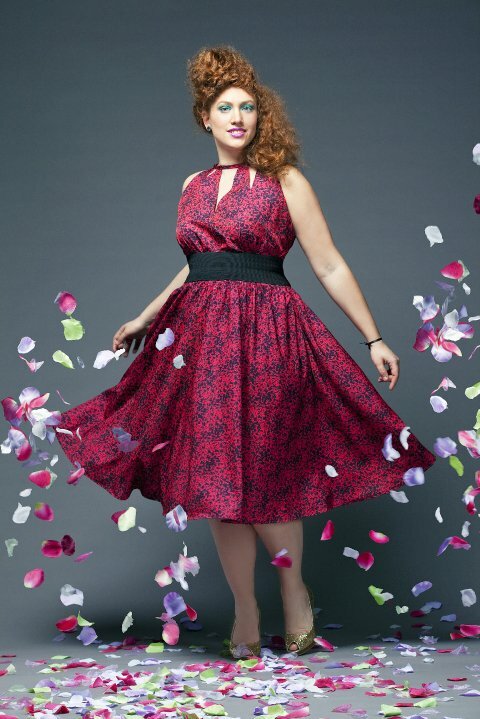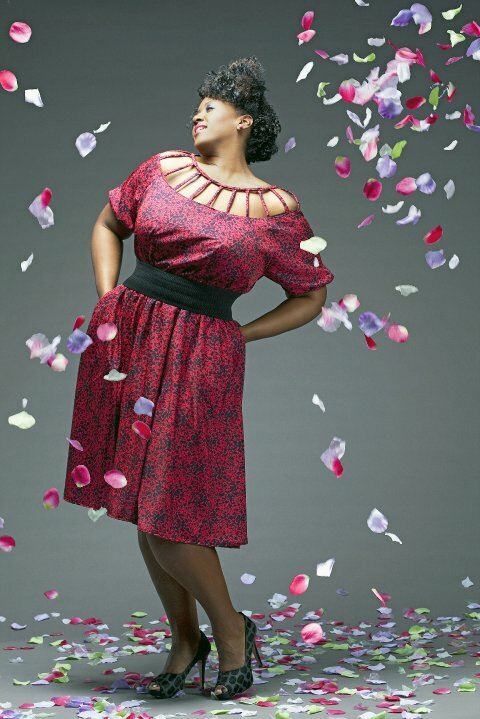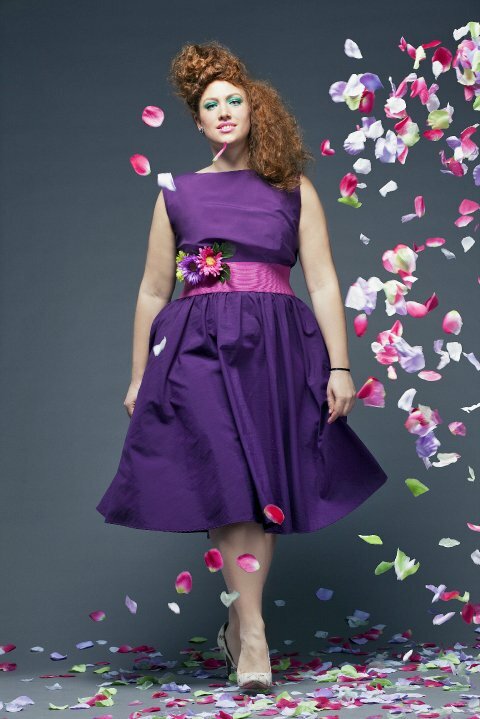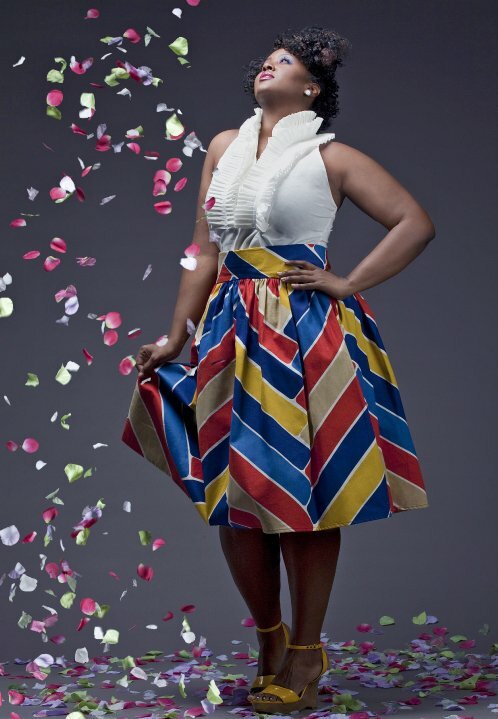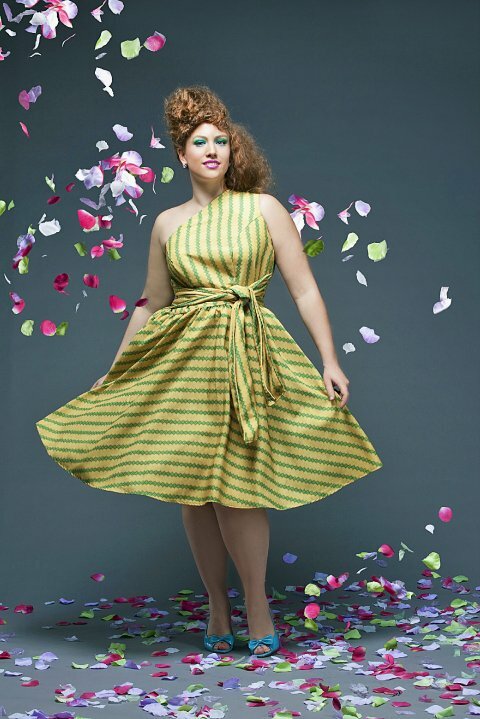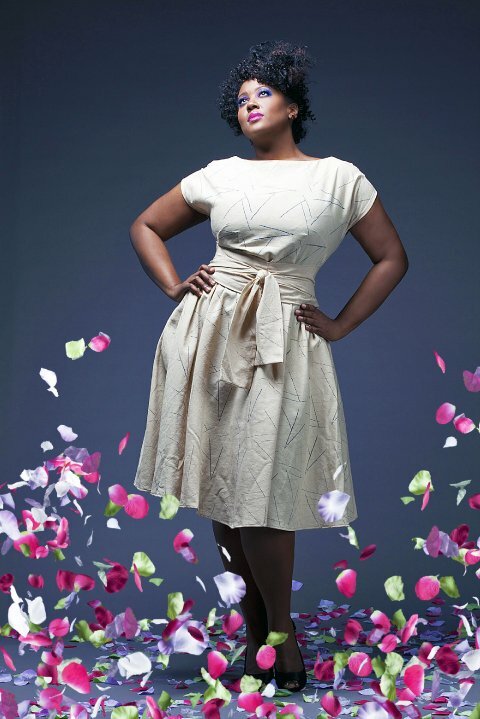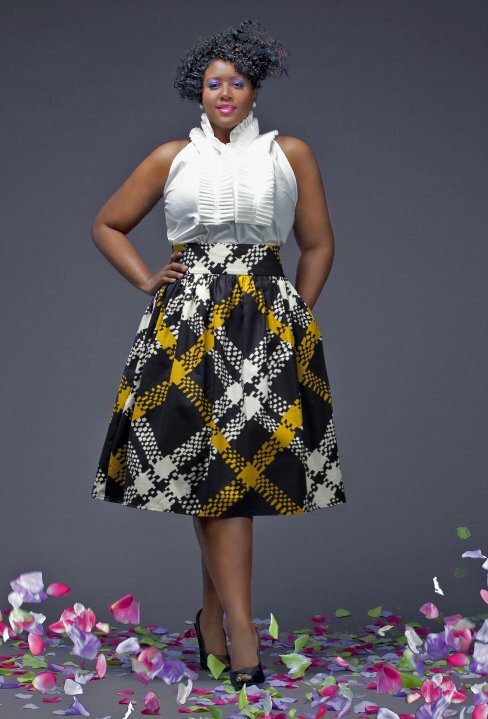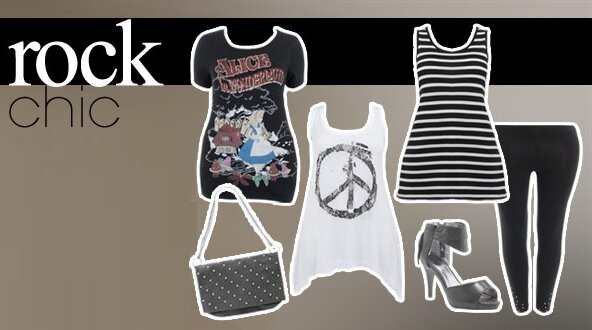 The glamorous Rock Chic look is perfect for a night out – just team motif, embellished or monochrome tops with a lace blazer and leggings. Accessorize with silver jewelery and a killer pair of heels for a stylish take on a rock style.
Here are some suggested items from Evans, which will help you create this look:
Alice in Wonderland T-shirt
Black lace blazer
Black and ivory stripe vest
Peace sign printed vest
Black studded leggings
Black peep toe platforms
Grey studded clutch
Chain-mail hoop earrings
Mixed style bangles
The plus size fashion label is synonymous with simply fabulous full figured clothing. With her fashion forward designs Monif C. truly provides curvy fashionistas with unique fashions that satisfies their hunger for something new, something more, something that makes them feel like they are on a catwalk! Over the past month or so, I've seen Monif also deliver a very stylish collection of plus size swimwear, most designs being sold out in a matter of weeks.
Well Monif C. has just introduced some new items to her collection, and she continues to impress. Here new dresses and jumpsuits includes a mix of vibrant colors, innovative cuts, and figure flattering designs. Here's a look at the highlights from these new additions.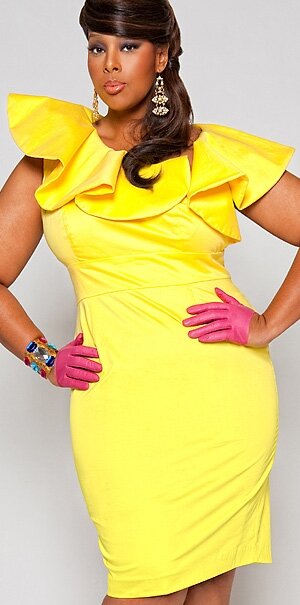 The "Ivana" Ruffle Dress, available in both yellow and crisp white is my favorite dress from this collection. This is a classic dress, with a twist, which will definitely help you make a statement wherever you're wearing it! This dress is perfect for a day wedding, girl's brunch, graduation part, or even an alfresco dinner out with your partner. The beautiful ruffle neckline and flattering empire waist cinches in the dress to give you a great shape!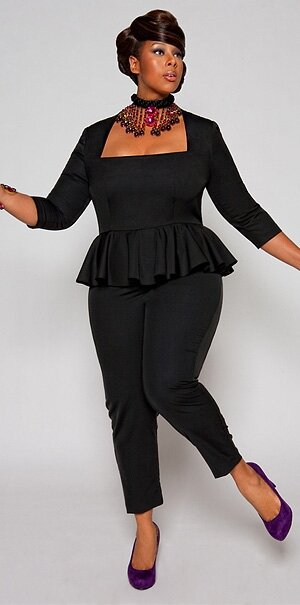 Another stunning piece is the "Alexis" Peplum Jumpsuit. This is a sleek and fresh design, which will make you feel like you are on the cover of Vogue! Jumpsuits are super comfy and can be worn by any shape or size, and the Monif C. fit is designs especially for the curvy body. The peplum right above your natural waist emphasized the smallest part of out body and camouflages any extra tummy curves you would rather hide. The pencil bottom stop right at your ankle, so you can show off those pretty feet in some hot high heels.
Other jumpsuits from Monif C. within this collection include the "Nikka" Fire Print Jumpsuit and the "Eva" Jumpsuit, both of which can be word with two straps or as a one-shoulder style, thanks to a detachable strap. The billowy banded legs give these jumpsuit that final designer touch.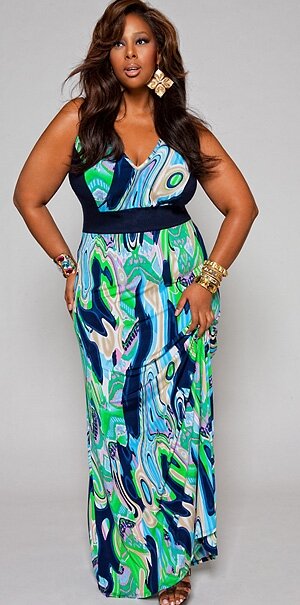 Monif's new collection would not have been complete with out a maxi dress, and she definitely quenches any fashionista's thirst for style with the "Anastasia" Blue Printed Maxi Dress, which is simply perfect for summer. This print works both for day and night, so perfect for a variety of different occasions. The vibrant blue print comes along with navy banding around the waist.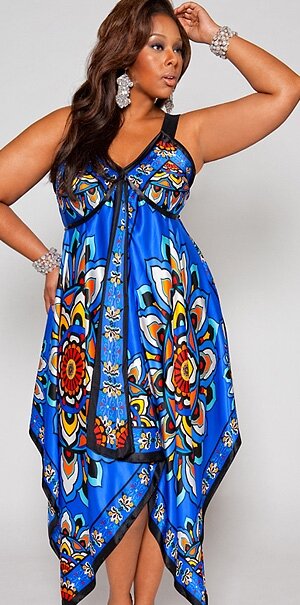 Finally, another hot style for the season, the "Nia" Silk Butterfly Dress. This dress includes the perfect balance of comfort and style. This gorgeous scarf dress has an asymmertical hem and under bust tie to cinch in the dress. Make from pure silk, this dress is simply luxurious.
So what do you think of Monif C. new collection? Which one is your favorite?
Keep in mind that currently almost all these dresses are available only on pre-order, most of which will start shipping out in mid May. If you fancy a particular dress I suggest you pre-order it today as Monif C. designs have a tendency to get sold out pretty quicklyl… and you don't want to be diasppointed do you?
Update your look with these gorgeous new arrivals at Evans, which include a variety of different plus size long line tops – a super comfortable and easy to wear option. Perfect for these warmer Spring days.
One of my particular favorites is the grey Gingham ruffle hem vest (pictured above), a very cute option with lovely detail at the hemline. This top is also available in pink, currently retails at £29.50 and is available in sizes 14 to 32 (UK sizes).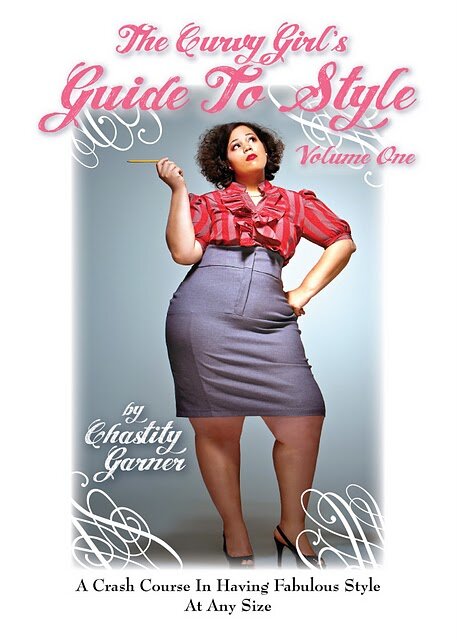 Chastity Garner writer of the blog The Curvy Girl's Guide to Style has been very busy at work these day. Besides dedicating her time to posting great items at her blog, she has been busy writing an entire bookl based on her blog.
The book entitled 'The Curvy Girl's Guide to Style Vol. 1' is a fashionista's guide to having fabuluous style at any size, and guess what, it has just gone into print now!
You can pre-order the book right away, which will officially be released on 1st May, 2010 and will be available for purchase at Amazon, The Curvy Girl's Guide to Style (the blog) or directly from Garner Style. I've already booked my copy!
Big congrats to Chastity for this great achievement, and I wish her immense success with her book.