Archive for December, 2007
Merry Christmas to all!
I wanted to take this opportunity to wish you all a wonderful Christmas Day. May you spend this day in harmony, surrounded by your loved ones.
"Bless us Lord, this Christmas, with quietness of mind;
Teach us to be patient and always to be kind. "
- Helen Steiner Rice
At the height of winter, the only way to stay warm is to layer up. The key is to use thin layers, like long sleeved t-shirts, pointelle sweaters, and even tank tops with details. Top it all off with a belted jacket to create a slimming and warm look. But don't forget about accessories! The right tote makes all the difference. Match your coat and bag to create a more cohesive outfit.
"I need to layer through the end of winter, its just too cold!" says Christine Alt, Woman Within Style Consultant. "I try to keep my layers smooth and neat for a streamlined tailored look. I always make sure that everything works together, even my bag!"
Woman Within's selection of key layering pieces and great accessories: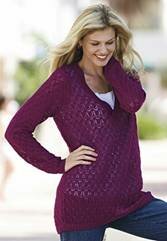 The Mainstreet Blues™ Pointelle knit pullover sweater is thin yet warm. It is perfect over a button down shirt. Featured item $19.99 – $24.99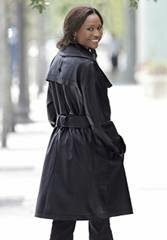 Tie it all together with the Veranesi™ Leather trench coat. Its soft leather will keep you warm and the belt will keep the look slim. Featured item $119.99 – $139.99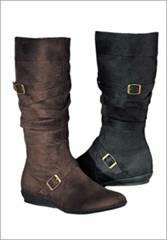 Barbara Wide Calf Boots are a great way to stay warm. They are designed to fit a wider calf. Featured item $49.99 – $54.99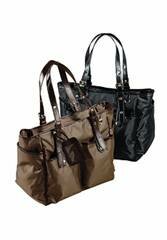 This nylon tote bag has a great neat look perfect to complete a warm winter layered look. Featured item $24.99

The following is a guest post by Sara Johnson.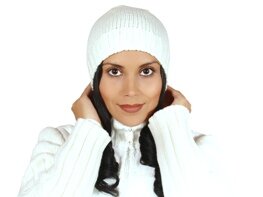 The fashion stars of winter 2007/2008 are a welcome beacon of shimmer, shine and pop of color in an often drab winter palette. 80′s glamour color palette, with updated flattering shapes, combined with the refined luxury of the 40′s have re-emerged throughout the fashion world to an applauding plus size audience.
Jewel tones hues for 2007/2008 are taking center stage, often times replacing the ever-present Little Black Dress as chic choices. Amethyst, cobalt, ruby and emerald are the universally flattering favorites, for all shapes and sizes. The standard myth that black slims, colors expand is being proven incorrect time and again with this gorgeous palette. Rich, saturated colors slim and flatter as well as their somber sister black and alternately, flatter the wearer's coloring beautifully.
Choose quality fabric, in a rich tone designed to enhance your favorite feature. A beautiful plus size woman, wearing a pop of color in a sea of black is sure to add a little life to even the dullest of holiday hoop-lahs. Still choosing to stick with basic black dress? Add burst of color with bold amethyst satin Maryjane's and a choice Kenneth Lane Cocktail ring and jeweled bangle set. Mix your accessory colors freely when wearing a solid black clothing palette for dramatic effect.
Shimmer and shine is no longer evening exclusive apparel, glittering choices for the season easily carry the wearer from day to night. Satin shimmering blouses are easily paired with sexy blazers for day and a sexy pair of metallic heels and bold cocktail jewelry for night. Jeweled detailing at the hem, neckline and sleeves add standout detailing to basic shapes we love. When wearing shimmer apply the same rules used with animal print; chose one garment to shine.
Modern opulence combined with the refinement of the 40′s creates an easy assumed elegance for the winter 2007/2008 season. Structured jackets, paired with high waisted trousers in tweeds and wool create the perfect foil when worn with a silk blouse in one of the afore mentioned jewel tones. Feminine curves have made a reappearance in winter design; the tailored styling, supple quality fabrics and flattering design have women with true feminine curves rejoicing.
Winter fashion this season personifies the confidence and empowerment of the modern plus size woman. Curves haven't been targeted and celebrated in such an effective manner in decades and the shift is receiving a gracious welcome. Flattering choices for the curvy woman are aplenty this season, discriminating, bold fashion lovers, enjoy!
Who is Sara Johnson?
Sara Johnson is the co-owner and product buyer at Velvetsiren.com – A posh plus size clothing boutique for curvy girls. She currently works as a fashion consultant for curvy women worldwide. Come see what everyone is talking about!
The November/December issue of the size positive Just As Beautiful magazine has just been released. If you are not yet subscribed to this online magazine, sign up today at http://www.justasbeautiful.co.uk to start receiving your free copy.
This month's issue is jam packed with excellent material including:
News about British television's hottest newcomer, Ella Smith!
News about the return of Caroline Quentin and how she sees her character.
Discover how to look beautiful and glamorous this festive season!
Read an exclusive interview with the world's most famous plus-size model, Velvet.
Useful beauty tips.
Finding out how best to deal with flight travel as a BBW.
Torrid are taking this holiday season very seriously, by continuing to roll out excellent money saving promotions.
Once again all the cruve flattering items within their clearance section are available at 50% off! This is truly a great chance to add some stylish plus size clothing to your wardrobe, at dirt cheap prices. In fact I myself added two brand new curvy dresses to my wardrobe the last time Torrid ran their famous 50% off clearance section.
This sale runs through this Sunday, 16th December, so do hurry and see what you like to buy, as I'm sure stocks will run out on the most popular items very soon.
Besides, Torris are also offering free ground shipping on orders over $100 until tomorrow 13th, December. So if you manage to get your order in at Torrid by tomorrow, you're in for some really good savings. Besides taking advantage of the excellent prices with the 50% off clearance sale, you also get your ordered delivered free if it adds up to $100 or over. Sounds
Torrid has just added a number of brand new and exciting plus size dresses to their collection, which are made for the holiday season. Their new additions are stylish, curve flattering, and most of all incredibly fun outfits that will definitely make you stand out in the crowd, for all the good reasons.
There are a few select favorites among these new additions, which are:
Black Jersey Studded Halter Dress
Red Strapless Rhinestone Buckle Dress
Black Jeweled Trapeze Dress
Also, Torrid is offering free ground shipping on orders of $100 or more, now through 13th November. To redeem this offer please enter coupon code WINTER during checkout.
The following is a guest post by Sara Johnson.
With the holidays rapidly approaching, many are searching for the perfect attire for seasonal parties. Making sure one is function appropriate often proves more difficult than finding a fabulous ensemble. The following definitions cover most of the party attire requirements seen during the holidays and guarantee you'll look fab and function appropriate in whatever you chose.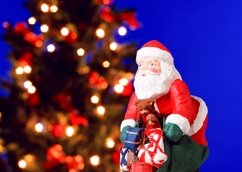 Cocktail attire is a consistent party theme throughout the holidays. It's name is derived quite aptly from the concept of people gathering prior to a formal dinner or event for cocktails. Appropriate attire consists of dresses, ranging from mid-thigh to one inch below the knee. Tailored pants suits are also appropriate, however consider avoiding a business standby, instead add accents in a vibrant color, chose a fitted cut or incorporate a suit created from a unique textile. Silk, Chatung, Brocade, Polyester, Cashmere, Rayon, Velour, Velvet and Velveteen are all appropriate cocktail fabrics and embellishments with beading and sequins are also appropriate.
Every so often, you will find yourself being asked to wear semi formal attire to such events as weddings and award ceremonies. This form of attire gets the most attention, but often because of its universal use. Many associate other forms of dress such as cocktail attire, with semi-formal. However, Semi-formal attire is much more formal than cocktail attire. Pants suits may be worn if refined in construction and dresses ranging from an inch above the knee to two inches above the ankle are appropriate. Taffeta, Chiffon, Silk, Satin, Sateen, Gossamer, Brocade, Rayon, Velour, Velvet, Velveteen are all appropriate semi-formal fabric choices.
Occasionally business formal dress requirements are seen, often in work related or political functions. Business formal is the same as semi formal, however women should chose more tailored dresses or pants suits. Slinky, sexy or revealing attire is generally best suited for a NON-business formal affair.
Black tie, or formal attire requires cocktail, long dresses or dressy evening separates. Pants suits or dress suits are rarely appropriate for formal wear. Dresses rage from knee length to ankle and may vary from a straight sheath to a full skirt and fitted bodice. Sequin and beaded embellishment is appropriate and the fabrics Taffeta, Chiffon, Silk, Satin, Sateen, Gossamer, Brocade, Rayon, Velour, Velvet, Velveteen are all considered the textile norm. Colors vary seasonally, with black remaining a consistent standby favorite.
Following the above guide to the holiday season party circuit is sure to assist you in looking fabulous, and function appropriate. If, or when in doubt, the stylist services at Velvet Siren are happy to provide attire suggestions. Happy Holidays and enjoy!
Who is Sara Johnson?
Sara is the co-owner and product buyer at http://www.velvetsiren.com – A posh plus size clothing boutique for curvy girls. She currently works as a fashion consultant and personal shopper for curvy women worldwide. Come see what everyone is talking about!