Archive for November, 2009
Visit our Plus Size Black Friday Sales page for a round up of this year's offers from your favorite plus size clothing stores!

Black Friday and Thanksgiving weekend are notorious shopping weekends. Big sales are announced and everyone rushes to get the best deals first. If you're looking to update your closet with some stylish and sexy plus size clothing, at bargain prices, you have come to the right place.
This post lists all the Black Friday sales and offers going on at leading plus size clothing stores. This year take our advice: Sit back and relax in your armchair. Shop around online to avoid the traffic, bypass the shopping mall madness, and yet still shop til you drop and take advantage of super Black Friday savings.
From Torrid
> Save up to 70% Off many items in stock. Expires on Sunday, 29th November and no coupon codes needed!
>Get 50% off all clearance items. Lasts until Sunday, 29th November and no coupon codes are required.
> Save $25 Off every $75 you spend at Torrid. Expires Noon PST On Black Friday, 27th November.
From Fashion Bug
60% savings and fantastic doorbuster deals! Valid from Thursday 26th to Friday 27th November. Fashion Bug are also offering FREE SHIPPING on orders of $50 or more! Valid from Thursday 26th to Sunday 29th November.
From Kiyonna
25% OFF plus Free Shipping on orders of $150 or more with the coupon code TOFURKEY. This offer is valid from Friday, 27th November through Monday 30th November 2009 at midnight.
From SWAK Designs
Get 25% OFF sale and clearance items with coupon code BFSALE25. Also get 35% OFF regularly priced items with code BF35. These offers run through Tuesday, 1st December.
From Roamans
Enjoy free shipping, plus free returns, now through Sunday, 29th November. Use coupon code RDSHIPPING upon checkout. Plus take 25% off your entire order with coupon code RDTHANKS. This offer also expires on Sunday, 29th November.
From OneStopPlus
Get 25% OFF your entire order with coupon code OSPFRIDAY, from Friday 27th until Monday 30th November. The great offers will then continue from Monday 30th November until Monday 7th December with FREE shipping for 1 whole week, with coupon code OSPFREESHIP.
From Catherines
Save up to 40% and 50% off regular priced items! This deal is vaid through Tuesday, 1st December. No coupon codes required for discount prices to be applied.
From Lane Bryant
Now through Sunday, 29th November save 40% on your order! No coupon code required.
From IGIGI
Now through Monday 30th November, IGIGI are running an incredible sale, with many items being heavily discounted. Plus get FREE shipping on everything.
From Silhouettes
Save up to 50% on various items, with the special Black Friday doorbusters Silhouettes will be running from Friday 27th until Saturday 28th November. The sale continues on Sunday 29th and Monday 30th November with a 25% OFF site-wide promotion. Sounds tempting indeed. Sale ends on 31st December, 2009.
From Missphit
Starting Friday 27th November, and for a limited time only, get select tops at only $14.99 and select outerwear at only $24.99. Many sale items are low inventory styles, so hurry and check out the options today.
From SwimsuitsForAll
Great savings with 20% off everything on the site! This includes already reduced clearance items as well. Just use coupon code 20OFF at checout and you'll be all set. This sale is valid only from Friday 27th November, until Tuesday 1st December.
From Peggy Lutz Plus
A terrific sale! Peggy Lutz Plus are offering up to 70% off all over their site: Couture, Classics and The Outlet, with a large array of items on sale in all three sections. This sale runs from Friday 27th November, until Monday 30th November at midnight. No coupon codes required!
From Old Navy Plus Sizes
Now through to Saturday 28th November Old Navy are running 3 days of amazing doorbuster deals. Plus you can also get free shipping on orders of $50 or more until December 15th. No coupon codes needed.
From Plus Size Motherhood Maternity
Get free shipping on orders over $75 with coupon code FSMH.
From Evans UK
Although Evans is primarily a UK based company, it does ship to countries outside of the UK, including the US and they are running a sale to celebrate Thanksgiving, in British style. Now through Monday 30th November shop at Evans online and take 20% off everything! This is an online exclusive sale and no coupon codes are required!
From Jibri
Get 50% off all items, including samples, on Friday 27th November from midnight until noon EST. Then get 25% off your purchase, including samples, from Friday 27th November at noon, until Sunday 29th November at 11:59pm EST. Prices will be updated automatically on the site.
From Marie Denee
Get 20% off the entire store! Plus save an extra 15% on your order when using coupon code fashion09.
From JCPenney
Free Shipping on orders of $25 and over including clearance items, valid now through Monday, 30th November. Plus on Saturday 28th November, shop JCPenney's Biggest After-Thanksgiving Sale ever.
From Avenue
Get 30% off your online order with coupon code AV91155. Offer running now through Monday, 30th November.
From Jessica London
Take 30% off your entire order when shopping at Jessica London, using promo code JLE3547 at checkout. Runs now through Saturday, 28th November.
From AlwaysForMe
Free shipping on orders of $75 or more, with code EARLYBIRD75.
From Hips and Curves
Take advantage of a very special 4 day only sale. Check out their sale section, to find a wide selection of sultry and sexy plus size lingerie at up to 70% off.
From Figuresque
Save 30% on your order! Simply use coupon code NEWS30 at checkout now until Saturday 28th November. This offer extends to all items (and cleance items), only excluding newest arrivals & gift certificates.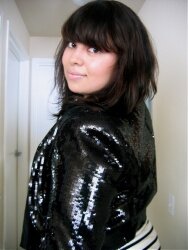 Sequins are pretty much everywhere this season, and since I have a tendency to like pretty much most things that sparkle, I like the odd sequin or two on my plus size clothing. Though have you every through of matching up sequins and stripes, without making it look like a disaster?
Well Fatshionable has definitely thought about it, and she has made it work big time. Look at one of her latest posts which shows how she put together a sexy curvy outfit by combining a black sequin jacket, a black and white striped top, denim leggings and a pair of rocking heels. I might have to grab a pair of those denim leggings myself, they look great and very comfy. Fatshionable… you look great!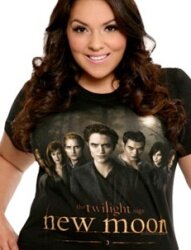 If you're looking for some New Moon t-shirts, clothes and other accessories, but cannot find them in your size, then you must check out Torrid. They have just added a collection of New Moon clothes, all in plus sizes. From t-shirts, to tops, to PJs you will definitely find something to suit your tastes here.
Plus they've also got some cool accessories to match includes bag clips, scarves and pendants.
Some of you might not associate the popular site Etsy, with a great place to shop for plus size clothing. But if you take the time to look around the items available from the different sellers on the site you will be very pleasantly surprised! The guys over at Big Fat Deal have known this for a long time in fact, and it's thanks to them that I've discovered some amazing fashion options on Etsy.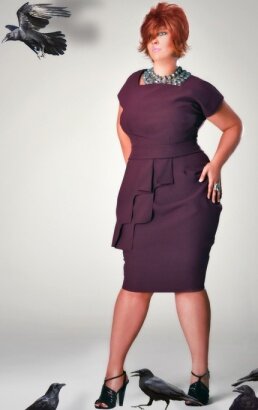 I am itching to hit the 'buy now' button on many different items. But I will resist! Then again Christmas is around the corner, so I might as well start building up my wish list, and hint to my hubby those dresses and skirt I really cannot live without. So check out Esty, and especially designer JIBRI for some flawless plus size clothing options.
You might recall way back in August, Glamour was all over the news and the blogosphere. Everyone was talking about the feature they published on plus size model Lizzie Miller, in which a photo was including, showing Lizzie in her natural beauty. Her belly and thighs were the talk of the town and for all the good reasons! Glamour received various accolades from women all over, and especially from the plus size community. Finally a leading fashion magazine was depicting real women in their full natural glory.
A lot of us thought this was just a onetime thing and that Glamour would forget about real women and real curves, but we gladly were mistaken here as Glamour's November issue features seven plus size models. In an effort to continue encouraging women everyone to start loving their own bodies the way they are, Glamour has included this beautiful bodies spread in their latest issue. Let's just hope Glamour continues to include such features on a regular basis. These kinds of issues and discussions should start becoming the norm in leading magazines, and should not be looked at in awe and surprise. This is what women want. So let's keep on giving it to them.
Finding incredible clothing in plus sizes has grown much easier over the past couple of decades. Finally, there are a number of incredible clothing companies that have realized that not all women are a size two. Today, you can look for a wealth of incredible plus size clothing including evening wear in a handful of retail stores and even more online shopping outlets. You simply have to know what styles to look for and the best ways to shop for your particular size.
Of course, when you are a woman of ample size, it is extremely important that you look for clothing that fits you properly. Having items of clothing that are not quite fitted to your size can cause an unflattering look and also make you feel uncomfortable while you are out for the evening. With a little bit of looking on your part, you can find great dresses and evening wear that will help to accentuate all of your curves and make you look absolutely stunning.
Start by looking at some of your finer features and then make sure that you bring them into the spotlight. Many women who are plus sized end up having a gorgeous bust that can be accented with the right neckline. Additionally, if you have great legs then you can always look to skirts or dresses that are knee length and flare out a bit or even have an enticing slit up the side. Any mixture of these looks are sure to help you put together an amazing evening ensemble that will be suitable for just about any kind of occasion.
When you get ready to go out for the evening, do not forget to dress up your entire look with an accessory or two. The right shawl or scarf can really bring out the top half of your outfit while a great handbag can completely round off the entire look. Never be afraid to go flashy with your jewelry either. Incredible earrings or even a sexy necklace that drapes down your plunging neckline can help you to keep the focus where you want it to be for optimal attention all evening long!
For the shoes, make sure that you wear something that is both sexy and comfortable. There are a number of dress sandals or wedge heels that can really bring together an evening wear ensemble while still keeping you from having to stop and rub your feet several times during the night. All in all, once you shop around, you should be able to put together a number of spicy plus size outfits for just about any kind of evening adventure.