Archive for September, 2006
When preparing to go out, I often decide beforehand what I'd want to wear. However the times that I actually end up wearing what I had initially decided I'd wear are very very slim! Whilst dressing up, I start thinking that this and the other don't go together, or these colors don't match and so on an so forth. Sometimes deciding on what's best to wear is an ordeal, and it's even more of a nightmare when it's an important occassion… like a date!
IGIGI's lifestyle corner have recently published a very interesting article which gives plus size women style tips and ideas on what best to wear when going on a dinner date. Whether you are a working girl, a shopisticated cat, or an adventurous maven, check this article out as it has a ton of ideas, which will hopefully make your dressing up for a date ritual a more relaxed one!
Halloween is long awaited by many of us. It is a night when we can dress up, laugh and live in a world of make belief; if only for one night. Although many of you have already prepared your house decorations, do you also know what your costume this year will be?
Ensure you allocate enough time to find, or perhaps make, your costume this year. Plus size women should take a look at the various options available online. There is a vast selection of plus size Halloween costumes to choose from; perhaps all the choices available online will leave you undecided on what to choose. So here we are to lend a helping hand! We have selected the top 10 plus size Halloween costumes available online. This list will help curvy ladies choose a costume to make this year's Halloween one to remember.

1. French Maid
This sexy little number, available from Torrid, is an all time classic. It comes with a puff sleeve dress, an apron and a feather duster! So with this costume you're practically all set to be a Halloween curvy diva.
2. Wench
Definitely one sexy little number which will help any curvy woman make a lasting impression this Halloween. This halter dress with lace up front and back zip entry comes with an eye patch and dagger and is available from Torrid.
3. Charleston Queen
Become a curvy babe straight out of the 20′s with this plus size costume available from AnyTimeCostumes.com. This costumes is made up of a purple drop waist dress with chiffon over blouse and a headband.
4. Elvira
Another definite classic and sexy costume which without a doubt will make you a hit. Dress up as the mistress of the dark Halloween this year from AnyTimeCostumes.com. This costume includes a black dress, belt and dagger. Teamed up with an Elvira wig this costume is another winner in our list.

5. Cleopatra Queen of the Nile
Become the plus size Egyptian Queen of the Nile with this costume which comes equipped with a white dress, an under slip, gold wrist bands, an Egyptian sash and a Cleopatra headpiece. Pair this costume up with a toga man or Caesar costume, available also from AnyTimeCostumes.com, for a great couples costume idea.
6. Super Hero
Show off your curvy super powers with this one of a kind plus size Halloween costume available from Torrid. This set comes along with a red, white, blue and gold dress, with a star skirt and red cape.
7. Vegas Bee
This costume, available from Hips and Curves, is made for those private Halloween game and bedroom trick or treating. Your partner will not be able to resist you, in this costume as sweet as honey! This costume is made up of a metallic stripe knit corset and a sequin detailed tulle petticoat. Included also are a neck collar, a pair of wings and an antennae.
8. After Hours Nurse
Another sexy Halloween costume, made for those intimate moments, and which is available from Hips and Curves. This zip front dress comes equipped with a nurse cap and stethoscope; you definitely have all you need to play doctor with that special someone this Halloween, who knows, perhaps you'll receive a nice treat!
9. School Girl
An outfit that never goes out of style, and which will definitely accentuate those curves this Halloween. Hips and Curves brings us this sexy plus size adult costume which comes with a short sleeved white cotton tie front top and matching plus size red plaid school girl skirt.
10. Cop
Our final choice in this year's list is Torrid's plus size cop costume. Dress up as the authoritarian this Halloween and expect authority in this black costume, which includes a black dress, glasses, gloves and a badge.
These are our top recommendations for plus size Halloween costumes. Make sure you take a closer look at these options if you're undecided about what you will be dressing up as this Halloween!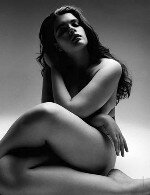 I must say, although Crystal Renn is a familiar face to me, I did not really know who she was, or what she was all about. That was until today: I came across this article at the SundayMirror.co.uk which explains Crystal's journey from being a 7 stone skinny model, to an 11 stone superstar. Crystal now wears a size 16, and has found fame after gaining weight. She has appeared in Vogue and is currently the sensation of fashion house Dolce & Gabbana, as well as designer Jean-Paul Gaultier.
Now this is the kind of news I would like to hear everyday! What enouragement this gives to plus size women, especially teenagers, everywhere. Hopefully stories like Crystal's will become more commonplace and more skinny models will start to gain beautiful curves, as Crystal has.
Read more about Crystal here.