Archive for October, 2009
NAAFA (National Association to Advance Fat Acceptance) this year celebrated it's 40th anniversary, since it was founded back in 1969. The video below was created to commemorate this special and meaningful milestone.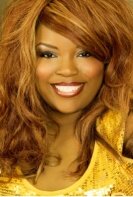 Chenese Lewis has been recently interviewed on PODWOM. PODWOM is the abbreviation for Podcast Without Measure, the podcast edition of Without Measure (WOM), the official electronic magazine for the International Size Acceptance Association (ISAA). Each podcast features unique segments, commentary plus in-depth discussions and interviews conducted by the show's host, ISAA Founder and Director, Allen Steadham.
Click here to listen to Chenes on PODWOM (MP3 download).
When you have stunning curves and a partner who just loves to look at them, there is nothing better than accentuating them with the right lingerie. Today more than ever there are plenty of incredible lingerie companies that will stop at nothing when it comes to creating plus size lingerie styles that sizzle. Perhaps it is just about time that you found some wonderful pieces of lingerie not only to look great in but to also help you feel great in.
Are you the kind of woman that really likes to wear lingerie as much as possible? If so, then having a wide variety of plus size lingerie to choose from is key. After all, you want to have a nice selection so that you can fit your current mood or the occasion at hand. Additionally, if you enjoy wearing lingerie underneath your daily attire, then you will more than likely want to have a separate selection of lingerie for more intimate settings.
If you have really never been that into shopping for lingerie in stores, have no fear! There are lots of incredible websites online now who cater to the plus size woman. Whether you are looking for a silky camisole or a naughty body stocking, you can shop for your plus size lingerie right from the comfort of your very own home. Simply make sure that you have all of your measurements accurately recorded, cross reference them with the size charts on the website and before you know it, you will be in business.
When looking for the right lingerie for your plus size figure, make sure that you go with a company that knows how to flatter your curves. If they are a reputable plus size lingerie manufacturer, then they know all of the tricks to make you feel comfortable, confident and sexy! Even if you are looking to get your sexy figure into a bustier or a corset, you should have no problem assuming that you have your measurements correct.
Never be afraid to show a little, or a lot of skin. Although you may have an area or two that you are modest about, you can cover them up with a particular design of lingerie or even a sexy accessory to go along with the ensemble. After that particular area is addressed, all bets are off in the rest of the outfit, leaving you to show plenty of skin in all of the right places to make you feel incredibly sultry and desirable.
Once again we're keeping our picks budget conscious. Everyone is pretty much on a tight budget these days, so today I wanted to highlight again some plus size basics you can add to your wardrobe, without breaking the bank, and still maintaining your style!
Plus Size Jessica LondonA Lucca Leather Loafer
$39.99
Square-toe leather loafer with cushioned insole. Sturdy 1/2" stacked heel. Leather. Imported. Whole and half sizes.Also in Wide Wide width.Wide width shoes for women's shoes in sizes 7W to 12W.
Plus Size Ribbed Cotton Long Sleeve Henley
$29.99
Softly ribbed plus size sweater in a universally flattering shape. Machine wash. Imported. 27" long. Neckline with button placket. Easy-care soft cotton. In flattering plus size. A color for every season and style! Plus size sweaters, cardigans and twi
Plus Size Cable Duster
$34.99
Flyaway cableknit duster to throw on over work and weekend styles. 36" long. Soft-touch acrylic. Machine wash. Imported.
Plus Size Stretch Cotton Tagless Tee
$21.99
Horseshoe-neck tee with three-quarter sleeves.Tagless for maximum comfort.Ultra-soft stretch cotton/spandex.Machine wash. Imported. 26" long.Plus size tees, plus size t-shirts in sizes 14W-24W.
Jessica London Plus Size Lace Cup Underwire Bra by Comfort Choice
$29.99
Nylon/spandex/cotton with cotton-lined cups.
Guest post by Glen Johnson
A year ago I asked the readers of my blog a question "is plus size blogging ethically correct or is it just frustrated whining?" Fast forward to almost the end of 2009 in some ways I am still asking that very question trying to figure out if those of us in the plus size blog community are really making a difference or just shouting to hear ourselves talk.
Part of me says absolutely yes we are making a difference because of the relationships I have forged as well as some of the positive events I have witnessed since starting in the blog world so many years ago. Another part of me is not so confident because of the hatred that I see spewed out in the comment section of blogs as well as within the feed streams on Twitter as well as from some of the posts from my fellow bloggers.
I am going to go out on a limb and say yes what we plus bloggers are doing is positive and for the good of the entire curvy community. Even though blogging can bring out the narcissistic nature in a person which to many can be viewed as negative if the goal is to help others by the spreading of positive information then regardless as to what the Meme Roth's and other critics say about large men and women we have a voice and we are not afraid to use it to protect our rights.
There have been many time over the last five years that I have wanted to quit because at time I like I was beating my head against the wall. In times that I am moments away from hitting the delete button I receive emails like the one below to let me know that my/our voice is very important.
Mr. Johnson,

I would love to be considered for "Beauty of the Week." I've been plus-sized most of my life and have finally realized at the age of 37 that "a little extra" can be quite beautiful. Sexy can be any size and your site is so encouraging! Even if mainstream media hasn't fully accepted the phenomena, there's a growing culture of women who are no longer willing to be ignored and men who can recognize true beauty in all it's many shapes and sizes.
Between emails like this and hearing the words of others stating that the plus size community has a voice that is strong and powerful when used correctly I can stand by my earlier statement that we in the plus size blog community are doing a fantastic job of being advocates for the curvy community. Not only are we addressing our personal needs but helping others out whether we know it or not.
I am grateful for the opportunity to share my voice with the readers of this blog as well as those that frequent Full Figure Plus. Without platforms like the one that Sarah has built as well as my own a section of people will continually be discriminated against but without a written account of the fight to end size discrimination forever.
By the way congratulations to Sarah on starting a new chapter in her life! If you know her or are getting to know her wish her good luck on starting on a new journey of bliss!
Glen is the author of Full Figure Plus a blog that is dedicated to writing about plus size fashion and all things relevant to the plus size community.
Get back to business in plus size career wear from SWAK Designs. Their latest addition to the collection is The Giselle Dress. Available in black, teal and raspberry this plus size mid-length dress features pleats at the empire waistline, which fall into a gorgeous drape, giving the dress a unique shape and stylish movement.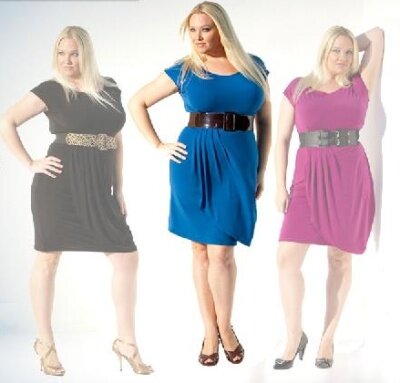 This dress is suitable for both the office, and also a cocktail party if paired up with some sexy heels and chic accessories. In comes in a soft and stretchy fabric to ensure comfort all day long.
The Giselle Dress is available in sizes 1X to 6X and goes for $56.00. Though you can save 15% when purchasing the Giselle Dress by using code Giselle15 at checkout. Hurry though, as this offer expires tomorrow 9th October, 2009!
There is never any reason to become a wall-flower simply because you are a gorgeous woman of ample size. What you need to remember is that if you feel beautiful, then you are going to turn heads no matter what size you may be. Plus size women everywhere can look and feel sexy and confident simply by making the right sizes in clothing and accessories. The best looks for plus size women are out there, you just have to know where to find them and how and then to wear them.
Of course you want to remain comfortable, however slumming around in baggy t-shirts and sweatpants will never get you to the look that you desire. In order to really set off your confidence and sex appeal, you should look for plus size designs that help you to accentuate your incredible curves. Look for tops or dresses that have ruching or gathering, along the sides. This simple design feature can help to not only slim down your look but also take each and every one of your curves and make them simply eye-popping.
If you are a plus size gal, then the chances are that you are very blessed in the breast area. Instead of hiding your breast line, you should be doing everything that you can to accentuate in a classy and sexy way. Dabbling in different necklines will give you a good understanding of just what look may work best for your body type. While scooped or plunging necklines can make you look slimmer, a squared or boat neckline can help to thin out your face and really bring out your cleavage.
When it comes to those pieces behind the scenes, make sure that you have the proper undergarments for whatever plus size outfit you will be wearing. There are a number of incredible pieces that you can get in order to slim down your silhouette that will also keep you comfortable all day long. The right bra can make a world of difference as well! You never want to have a bra that is too tight in the cup area because it can make for unsightly bulges at the top.
Finally, never be afraid to accessories. If you have an outfit that doesn't necessarily help to elongate your plus size torso, think about adding a jacket or even a large bag to the ensemble. Accessories are always a girls best friend, especially when you are on the hunt for the best looks for plus size women.
This week, Figuresque have added trendy new Fall sweaters and glitzy tops made just for your curves! Here are just a few of the newest arrivals… and remember, quantities are limited.
Bubble Sleeve Party Top in Teal
Available in teal & plum. This unique beauty features a scoop neck, cinched bust, and trendy bubble shoulders.
Figuresque Price: $25.95
List Price: $34.95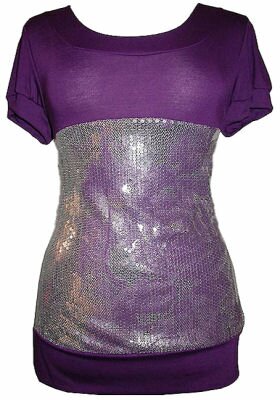 Floral Sequins Top in Purple
This curvy purple top features a breathtaking, hand-crafted silver sequins floral design bodice.
Figuresque Price: $25.95
List Price: $34.95
Floral Sequins Shoulder Top
Available in black & red. This classic black top features a gorgeous hand-crafted silver sequins floral design.
Figuresque Price: $25.95
List Price: $34.95
Remember… you'll receive free shipping on all orders over $75 within the U.S. Plus save $5 off all orders over $30! Enter coupon code 5OFF at checkout to redeem. Visit Figuresque today!