Archive for August, 2009
In the current economic climate, it is important to be able to dress well without breaking the budget. Now is the time to re-organise your wardrobe. Put away, or throw out, items you no longer wear and re-vamp those items that you love. You can create a new-look outfit by purchasing new accessories.
Choose Shoes that Enhance Your Outfit
Every outfit you own will look wonderful with color matching shoes. Unless you always wear neutral colored clothing, color matching your shoes is a very expensive option. A less expensive method of matching your shoes with what you are wearing is to buy shoes in the same color tone as your hair.
When you are considering purchasing new shoes, hold them up to the level of your hair and match the shoes to your hair coloring. Shoes will co-ordinate perfectly with any color outfit if they are the same color as your hair. A person with dark brown hair can wear dark brown or black shoes to co-ordinate with almost any color, even navy. A blonde-haired person will look great in caramel colored shoes regardless of the color of her outfit. A red headed woman will look stunning in a rusty colored shoe.
The most flattering shoes are pumps with a medium to high heel. Open-toed sandals look wonderful especially when enhanced with well-manicured toenails. Pumps and sandals are suitable to wear with a variety of skirt lengths, which makes them a very versatile choice when you need to adhere to a budget.
Buying the Best Handbag
It is important to choose the right size handbag to suit your own shape and size. Small handbags look lovely when carried by petite women. Tall or more rounded shaped women look best when they carry a large handbag.
When choosing the color of your handbag, you can either co-ordinate the color of the bag with your shoes or with your clothing. Metallic colored handbags are a perfect choice for dressing up an evening outfit, provided the metallic color matches your jewellery. Do not carry a gold colored bag and wear silver jewellery. Avoid two-toned colors or patterns unless the two colors are a perfect match with the colors in your outfit.
Keep on watching this space, as next week the second and final part of this article is coming up, where we share you with even more stylish tips!
A photo of plus size model Lizzi Miller, which appeared in the September issue of Glamour magazine is causing quite the stir… and for good reasons! The 20 year old beautiful plus size model is shown on the issue, au naturel, in her curvy glory.
The image is receiving a lot of positive reactions from women who are feel confident about their own bodies, after finally seeing a real woman depicted in a leading magazine. Watch the video below to watch Lizzi Miller talk about this photo, during an interview on MSNBC's Today Show.
Visit msnbc.com for Breaking News, World News, and News about the Economy
As I announced last weekend, I was invited to be on the Plus Size Model Radio show… the only podcast for plus size women, which is hosted by the fabulous Chenese Lewis. The show aired last Monday, and it was a great experience! I must admit it wasn't easy staying up till 3am my time, and stay alert, but I am glad I made the effort. You can still listen in to the recorded version of the show by visiting the Plus Model Radio site, or you can simply listen through the player below.
After my interview Chenese interviewed two amazing ladies, Cassandra Jones, the US Director for The Fuller Woman Expo, an empowerment event for plus size women and Mara Hall contestant from Oxygen's hit show "Dance Your Ass Off", network's first-ever dance/weight-loss competition series.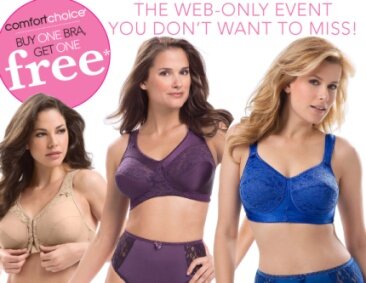 Roaman's is running an unmissable offer on their selection of Comfort Choice® bras. Buy one Comfort Choice® bra, and get another one absolutely free!
This is a web only event, and here's what you need to do to get your free bra:#
Whilst shopping at Roaman's, place two or more Comfort Choice® items in your shopping bag.
For each Comfort Choice® item selected, your 2nd item of equal or lesser value will be free, if eligible. For example, if you select 2 Comfort Choice® items, the lowest priced item will be free. If you select 4 Comfort Choice® items, the 2 lowest priced items will be free, and so on.
The discount will automatically be applied to your order, if eligible.
So it's super easy to order. No coupon code needed for discounts to be applied. This offer ends at midnight on Tuesday, August 25th, 2009. So hurry and get your free plus size bra today.
I've always been a fan of Chenese Lewis, her work and her positive attitude. She's a gorgeous and talented model, actress, and size acceptance activist, and has been recently running a plus focused online radio show called Plus Model Radio.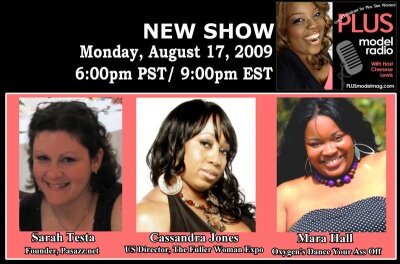 So you can image how thrilled I was this week when I was contacted by Chenese to be on the show. Of course I gladly accepted, so I am very excited to let you all know that I will be on the next Plus Model Radio show this Monday 17th August, at 6:00pm PST / 9:00pm EST / 3:00am CET.
So ladies, make sure you tune in to the show on Monday and listen in. All shows are recorded and made available on the radio website, so you can listen to any episode of the show even after it has aired online.
The BigGalsLingerie.com debut of their new line of plus size club wear and evening wear for Fall 2009 features trendy, sexy styles in fabulous fabrics for the plus size woman.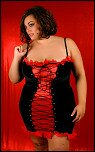 In keeping with their commitment and ongoing pursuit to provide their plus size customers with the latest and sexiest plus size lingerie and clothing styles, BigGalsLingerie.com is pleased to announce their new line of plus size club and evening wear.
Their new line of club wear and evening wear mixes the latest in fashion styles with fabulous fabrics perfect for any formal or semi formal event. New for 2009 is their wide range of brand new sparkle slinky, hologram, and cheetah print fabrics. An evening gown or club dress in one of their new fabrics is sure to transform you into the sensation of the evening. They believe everyone should be able to get something daring and fun no matter what size they wear. That's why their custom clothing line ranges in size from 1X to 12X. Each piece of clothing offered is a high quality, professionally designed and manufactured work of art that will last and last. BigGalsLingerie.com will ship all over the world and they guarantee to have your outfit delivered to you in time for your event. Each piece from their custom made line is manufactured in the USA in their state of the art design studio in Laguna Beach, CA.
Owner Janelle Jackson says "Our plus size customers have an opportunity not always available with other stores. Big Gals Lingerie we can take any of our fabrics from our vast selection of velvets, holograms, slinky, laces, and lycra and match it with almost any style that we offer in our store. Combine that with a range of 1X-12X sizing and you will have a truly unique gown or mini dress for your important event. We can even customize the outfit further. We can add length, make it shorter, or add shoulder straps for example. Let us know what you need and we can help you get the perfect outfit that you've always dreamed about."
BigGalsLingerie.com has been serving the plus size community for over 6 years. They specialize in plus size lingerie, costumes, corsets, club wear and evening wear.
For more information and to see our new line of plus size club wear and evening wear please visit our website.
Contact
Janelle Jackson
http://www.BigGalsLingerie.com
Last week we started talking about plus size pencil skirts, and what to do in order to wear them in the most figure flattering way possible. Today we continue discussing this classic, and I think, staple item… sharing with you another 3 tips.
3. Turn it Into a Suit
A long, black pencil skirt looks chic paired with a shorter, fitted jacket that's nipped in at the waistline. Think of the jackets worn by sophisticated women in the 1940's. Check out a vintage clothing store that sells 1940's apparel and choose a jacket that buttons at the waistline and flairs slightly at the hips. Slip on black hose and black pumps to complete the look. Tres chic.
4. Choose Simple Shoes
A black pencil skirt looks best with simple shoes. Keep your gladiators in the closet and bring out a pair of simple high-heeled pumps instead. Avoid sandals with straps that can cut the line of your legs. Pencil skirts worn with complicated shoes can make your legs look shorter and destroy the clean, sophisticated line you're trying to achieve. In general, heels look better than flat shoes with pencil skirts, although you may be able to pull off the look with a pair of ballet flats.
5. Go Light on the Jewelry
Resist the urge to pile on the jewelry when you wear a pencil skirt. Keep the look sleek and simple with one or two bold sculptural pieces such as a flared cuff bracelet in silver or a strand of oversized pearls. Resist the urge to layer necklaces or wear overly ornate pieces. Keep the focus on your neck, wrist, or ears, but not all three. Simple is better when wearing a pencil skirt.
You'll love the versatility that a pencil skirt offers and when you have one in black.
Nancy LeWinter, Editorial Director at OneStopPlus, today walks us through a gorgeous selection of items from the new European brand they have introduced: Ellos. Simply stunning and curvy hugging are words that can desribe this unique collection. Take a look at the video to discover more of Ellos, exclusively available at OneStopPlus.
City Chic and BGM Models are making Fashion History and are on the on the search for 2 sexy curvaceous fashionistas to hit the Runway at Rosemount Fashion festival.
City Chic, Australia's premier high street fashion destination for curvalicious girls size 14+ and BGM Models Australia's leading plus size modeling agency are looking for two sexy curvaceous girls to make their catwalk debut. For the City Chic SPRING 09 runway shows to be held on Thursday, August 20 at 12.30pm and 1.30pm at the Rosemount Sydney Fashion Festival, Martin Place.
Phil Ryan, General Manager for City Chic says, "the average size Australian woman is size 14 to 16 and have previously always been under catered for in the fashion industry, especially in the younger 18 – 28 year old market".
Ryan has built the business from 1 to 48 stores in five years, says "City Chic will not only be the first brand to present a curvaceous show at Rosemount Sydney Fashion Festival (RSFF). But the first in Australia to have size 14+ models on the catwalk!"
There will be fourteen of Australia's leading plus size models in sizes 14,16 &18 from renowned modeling agency, BGM Models. Darrianne Donnelly Director of BGM Models says "We are looking for 2 more curvaceous girls to join our 14 beauties and make catwalk history"
The prize for our two winners will be:
Making your modeling debut at the prestigious RSFF event
A $1,000 City Chic shopping spree.
A 12 month contract with BGM models.
Meeting Elizabeth Green – BGM model who now resides in New York working as one of the leading plus sized super models – who'll fill the winners in on how to get to the top.
To enter the City Chic & BGM Model catwalk model search simply be a size 14-16, 18-28 years in age, at least 174cm in height. Then FROCK UP AND ROCK UP TO THE WESTIN HOTEL, the official ROSEMOUNT FASHION FESTIVAL VENUE, ON SATURDAY AUGUST 8 –between 10 am and 2.00pm.
Castings will be held in THE WESTIN HOTEL Ballroom.
Lower ground floor, No 1 Martin Place, Sydney.
The 2 winners will be announced Saturday 8th August 3pm at the Westin Hotel.
(Make sure you're available for model training on Sunday, August 9 and between Saturday August 15th and Thursday August 20th for the ROSEMOUNT SYDNEY FASHION FESTIVAL, City Chic & BGM Model parade.)
For all details log on to www.citychiconline.com.
FOR RADIO OR PRESS INTERVIEW
Darrianne Donnelly, BGM MODELS is available for interview – 0418 450 222
Phil Ryan, GM of city chic is available for interview – 0416 115 750
For further information call: Lee Manfred (02) 8323 5777