Archive for February, 2008
I am a bit ashamed of not having discovered this song earlier, but thank goodness I stumbled on it a few weeks ago online whilst browsing around YouTube.com. Since then this song has been playing in my car constantly.
Let me introduce to you Mika, a singer who was born in Beirut, Lebanon, to a Lebanese mother of Syrian-Lebanese descent and an American father. A lot of you might probably know the song… 'Relax, Take it Eaaaaasy'… well Mika is the man behing that song. And he has recently launched another great single which simply praises big beautiful curvy ladies. The song is aptly name 'Big Girl… You Are Beautiful!'.
Besides loving this song because it is truly about time full figured women get some love in the music scene, the piece is simply up beat and just makes you want to get off your chair, dance and celebrate your curves! Woo hoo! The video is great and the plus size women dancing along look gorgeous and sexy too.
Some snippets from the lyrics of the song, which stand out for me…
You take your girl
And multiply her by four
Now a whole lot of woman
Needs a whole lot more
Right on! And also…
No need to fantasize
Since I was in my braces
A watering hole
With the girls around
And curves in all the right places
Please share this with every curvy lady you know, I am sure it will make her day!
The following is a guest post by Sara Johnson.

The right pair of denim jeans may be the single most important piece of clothing in your wardrobe and will without a doubt be the most versatile piece in your collection. Plus size denim lines are ever increasing and the trend focused options available in standard sizing are rapidly becoming available for the plus size community. From your favorite tee to a kimono top, your entire look can be changed without ever taking off your denim. However, what looks stylish and sexy on one woman, makes another one look frumpy or outdated. So, how do you know what's right for you? Below are some basic guidelines to follow when shopping for the perfect piece of denim.
The golden rule is: Know what thyself is workin with! If you got it flaunt it, accentuate the positives. Booty like J Lo? Mile long legs? These are the features you want to accentuate. Work with different washes and of the minute denim shapes like boot-cut and wide leg that enhance your favorite features.
What is your body style? Wide Hips, avoid the temptation of drowning yourself in relaxed fit jeans, they will only add inches where you're trying to lose them. Instead draw the eye down and balance the body with a pair of slight flare boot-cut jeans in a mid rise that's fitted throughout the hips. If you have short legs, make sure you pay attention to the length; this is one of the most important aspects when choosing a pair of jeans. Denim should be about a half of an inch above the ground when wearing heels or flats. Darker washes, with a front crease from the knee to the hem, also elongate your legs. A new option re-emerging is the higher waist trouser jean, which not only slims, but creates the illusion of mile long legs. Girls with a boyish figure or a body style considered to be rectangular will want to opt for a cut that will add the illusion of having curves, such as a mid-rise flare leg jean, where the denim is fitted through the hips and thigh, with the flare beginning above the knee.
The devil is in the details; you will want to consider different details of the jean itself. A fan of distressing and aged denim? Make sure not to go overboard. Extreme fading or jeans that appear to be destroyed may be popular with 15 year old pop tarts, but in reality can look tacky and dated. Dark denim in a crisp shape is always chic, as is a medium wash with well placed whiskering. Pay attention to pocket shape and angle. Hexagonal shapes that angle in towards the center tend to work best in creating a heart shaped booty for any body. Pockets placed slightly higher on the tush tend to make a flat booty look perkier and higher. Flap, or cargo pockets, also add some oomph to a small tush. Long pockets that pass the bottom of the tush are fantastic for shaping and lifting an ample booty. Avoid excess fading on the butt and the thighs, as they will make these areas look larger. Also pay attention to a lot of whiskering around the zipper area, which can also accentuate the hips. When considering rise, most women will be best served by a mid rise (a few inches below your belly button).
When choosing the right pair of plus size denim know your body type first and foremost, it is the basis of your search. Know which styles will work with your type and most importantly, what makes you feel fabulous.
Who is Sara Johnson?
Sara Johnson is the co-owner and product buyer at Velvetsiren.com – A posh plus size clothing boutique for curvy girls. She currently works as a fashion consultant for curvy women worldwide. Come see what everyone is talking about!

If you live in the Salem, Oregon area, then you might be interested in going to see Neil LaBute's latest play entitled 'Fat Pig' which opened last week at the Salem Repertory Theatre. As the StatemanshJournal.com reports, LaBute chose this title precisely to make us feel guilty just by saying the name of the play, and therefore getting us into the whole mood of the play. Director by Rhett Luedtke this play toys with our sympathies, engages our emotions and keeps us off balance in this romantic comedy/drama about an uncertain young man and his plus-size girlfriend.
This play will be showing until 2nd March, 2008. Find out more about it and purchase tickets for the show if you're interested. I'd love to go and watch, but obviously I am way out of the area. If you happen to actually go and see this play, please let me know about it and how it was by commenting below!
The NewsObserver.com carried a plus size related fashion Q & A recently, which I wanted to point out to you ladies, as I am sure it will come in handy to some.
In this feature, Jane is asking for some tips on choosing the perfect plus size mother of the bride dress. Fashion writer Deborah Friedman answers responds to her dilemma and suggest taking a look at jackets from Nordstrom (within their plus size department), as well as items from Belk at Carbtree, Eileen Fisher, Karen Kane, Anne Klein or Ralph Lauren.
These are great suggestions, though I would like to add my own two cents to this. Sydney's Closet has a wonderful 'Mother of the Bride/Groom' section within their online store, which includes some beautiful choices. So Jane, if you are reading this, do take a look at this collection as well, as you might find the perfect outfit here, at a great price.

SwimsuitsForAll.com has today launched an excellent sale on a limited selection of plus size swimsuits. They have chosen 4 gorgeous swimsuits from their collection, and they are literally giving these away at only $10! What's more, you also get your swimsuit delivered to you for free, as they are also throwing in complimentary shipping and handling. All you need to do in order to take advantage of this offer is use coupon code 5495SFA upon checkout.
This promotion is set to run until supplies last, and by the looks of it that won't be a very long time. So if you're looking for a figure flattering swimsuit, do take a look at these! Here are the chosen swimsuits, which can be yours at only $10:

1. Forget Me Not One Piece Plus Size Swimsuit by Beach Native
This gorgeous one features a soft cup bra which provides both support and coverage. The great tummy control lining flattens your stomach to give you a smooth and streamlined shape. A sexy final touch is the tie halter top.

2. Flowers in July One Piece Plus Size Keyhole Back Swimsuit by Beach Native
Another beautiful and very colorful piece. This again features a soft cup bra for comfotable support. The all over pattern works great as it camouflages any flaws you might want to hide. The keyhole back prevents slipping straps, whilst the high neck provides a streamlined silhouette. This piece also features the tummy control panel which slims the waist.

3. Orange Fusion Two Piece Skirtini Swimsuit
This fun two piece skirtini would be a great addition to any swimwear collection. This item features a soft cup bra, which will comfortable accomodate up to a C cup. The slight V-neck gives this swimsuit a more feminine fit. The mid-rise skirt botton is 10" link and comes along with a detachable belt with plastic ring detail.

4. Pink Camo Beach Two Piece Tankini Swimsuit
A cute piece, perfect for relaxing on the beach! This swimsuit also features a soft cup bra and a slight V-neck style. The bra will comfortable accomodate up to a C cup. The low rise brief bottom give you moderate coverage, and the foldover sash featured at the waist is tied to the side.
Remember to use coupon code 5495SFA when shopping for one of these swimsuits this week, to purchase them for only $10, including free shipping and handling!
The following is a guest post by Sara Johnson.

Several fabulous core pieces are essential for any fashion maven's wardrobe and for plus size women the devil's in the details…The selection of a few core pieces, that most importantly fit one's body and work harmoniously with one's lifestyle will carry their wearer seamlessly through any occasion. The following are five absolute "Must Haves" in your plus Size wardrobe.
A Good Bra:
When the girls are drooping or bulging out of your current bra, you look heavier regardless of your size. 60% of American women wear the incorrect bra size, which while aesthetically unpleasing, more importantly "especially in larger busted women" means many are subject to shoulder, neck and back pain/chaffing/skin abrasions. Get fitted by a professional! Nordstroms has knowledgeable staff and free fitting services, or visit a local lingerie boutique in your area. Be prepared to make a small investment, high quality lingerie can be pricey. Pleasantly, you'll find after choosing a quality, well fitted bra that even your least expensive garments look divine.
Wrap Sweater:
Plus size women are blessed with fab curves, but often cover them up with far too much fabric for fear form-fitting items will make them look bigger. Not so curvy girls! Oversized knits make your silhouette bigger, while curve skimming styles show off the feminine form. Skin tight styles are not flattering on anyone, but wrap sweaters that clearly cinch at the waist and have a v-neck to elongate the torso and flatter the bust, creating a gorgeous hourglass shape on curvy frames.
Dark Denim:
Dark denim, in a slight boot cut with a mid-rise is a chic essential wardrobe staple. Jeans should fit well at purchase through the hips and thighs; you can always have the waist taken in, but you can't have the thighs let out. The mid rise (just below the belly button) emphasizes your waist and the dark rinse elongates the leg. Regardless of how popular skinny jeans may be, please AVOID! Tapered styles make most women look like an olive on toothpicks. The same is said for Capris and cropped styles; they do nothing but shorten and widen the appearance of the legs. Denim should always be approximately an inch off the ground, so consider your preferred heel height when shopping.
A Proper Fitting Winter Coat:
Time and again, women pull together a fab outfit, only to top it with a ski parka from four seasons ago. Go the extra mile and find a coat that fits and flatters your frame and style. A properly fitting coat never pulls at the bust and is most certainly "buttonable". The shoulder seams should fit AT your shoulders, not between your shoulder and elbow. The sleeves will hit you no lower than where your thumb joins your palm, however if your sleeves are long at purchase this is an easy fix for a tailor. Style-wise, chose a coat with a long line and a V-neckline, as well as an optionally cinchable waistline. Three quarter length (just above the knee) is typically the most flattering, car-length (just below to tush) is lovely on women with great legs and full-length styles create a statement look on tall women. Avoid puffy anything or fur-trimmed hoods, which just add bulk.
Slim Skirt:
The slim skirt, like the wrap top, may seem risky, but when you wear a plus size, more is not better. A full skirt will indeed cover your hips and thighs, but the extra volume will also make them look larger than they really are. Opt instead for a slim skirt, or slight a-line, fitted at the waist and hips then falling to a straight or slight a-line shape. Chose a thick, quality fabric in a neutral charcoal, tweed, black pinstripe or brown color.
The afore mentioned basics, in well tailored shapes create the beginnings of a timeless, sophisticated wardrobe, well-suited to show off a curvy physique. Add pops of color and trend focused accessories and shoes to update a timeless, chic look for any occasion!
Who is Sara Johnson?
Sara Johnson is the co-owner and product buyer at Velvetsiren.com – A posh plus size clothing boutique for curvy girls. She currently works as a fashion consultant for curvy women worldwide. Come see what everyone is talking about!

The following is a guest post by Janet Donahue.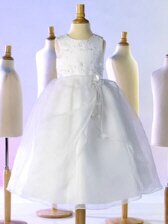 Communion dress shopping season is upon us. This can be a really fun time, but it can be extremely stressful too.
Every year we see one group stand out as the most stressed – the mothers of extra-fluffy girls. (Our customers have expressed appreciation for our term of "extra fluffy" over and over again. It's a little less insulting and better descriptive.)
These families soon found out when shopping that there are many Communion dress choices for the typical girl who wears a size 6, 7 or 8 – even a 10. Every manufacturer of girls' dresses turns out white Communion dresses for the spring season in these sizes.
But not all girls are these sizes. In fact, our experience tells us that a very large percentage are not!
Who is the extr-fluffy girl? She is the one who is wider than most her age. Dresses that are the right length are too snug across the chest and waistline. She is not necessarily taller (though she might be, but then she may simply need a larger size). Frequently she is a girl who has not yet begun to develop a slimming waistline beginning her womanly shape. The garment industry assumes that a girl between ages 6-7 begins this slimming phase (thus creating the sizes 6 for pre and 6X for post) when the typical baby egg-shaped belly is thought to be slimming down.
But the vast majority of girls' bodies are not on this prescribed time schedule. There may be times when a perfectly normal girl is in a "plus" size for a period of time until she begins this slimming phase. This should be seen as a momentary situation with plenty of alternatives – if you know where to look.
And, of course today we have many young people who are simply over weight. These girls need and deserve to look very pretty for their First Communion. In fact, with the modern stigma against being over weight, I think it's especially important that these girls look their absolute best so they feel as special and as loved as they really are. Every girl deserves to feel like a princess!
All too often the family of the extra-fluffy girl scurries from store to store desperately trying to find a Communion dress to fit. They try on dress after dress after dress in larger sizes, but they don't fit. Why? Because as they try larger sizes to get more width, the whole dress -especially the bodice – is too long. Nothing fits right. Frustration sets in and tempers flare. Eventually they become exasperated AND the wear date is fast approaching so they become desperate.
This scenario can be avoided entirely. This year there are more wonderful choices for the extra fluffy girl than ever before!
The first thing is to assess her size situation. Does she require a plus-size Communion dress? If you find that dresses that are wide enough fit all wrong every other way, you likely need a plus-size Communion dress. If so, head straight for the plus-size dresses. Don't spend time looking over styles that won't fit.
And here's a tip: you will find more plus-sized Communion dresses online than anywhere else. Why? Because brick-and-mortar stores really don't sell enough volume to justify ordering them and having them on the store floor. And, of course, everybody wants a different style. On-line stores can cater to your special needs.
Expect to have any dress altered to fit her perfectly before her wear date. Very few people – adult or child – actually fit a ready-to-wear size perfectly. Alterations in fit can make the difference between so-so and fabulous.
And be honest. If she is very large for her age, you may need to look beyond ready to wear dresses. Very few – if any – companies are now making plus-sized dresses for children beyond size 14 plus (or 14.5); some will go to 16 plus, but it definitely stops there. Why? Because these children have a very different shape than their "regular size" peers with requirements that cannot be addressed by ready to wear manufacturers. They frequently have sloping shoulders, sloping waistlines and disproportionately (to manufacturers) sized neck/arms to the size of body. If your child is in this category, head straight for a quality custom dress maker very early and have a dress made for her that will fit her properly so she can look her absolute best. Yes, this will be more expensive and will take several months (good dressmakers are always scheduled well in advance). But this is her one and only First Communion and she does deserve to look her best and feel very special.
The best thing is always to shop early – especially when you have special sizing needs. The next important step is to go where the Communion dresses you need are readily available. Nothing is more convenient – or offers more choices – than shopping on line.

Who is Janet Donahue?
Janet Donahue writes for "Perfect Dresses & Gowns for Girls" by The Perfect Pear where they offer a wide selection of regular as well as plus-size Communion Dresses – serving you with the best possible selection and reasonable prices since 1993.

Evans, the UK's leading highstreet plus size store, and the top curvy store here in Malta (in my opinion!), has just launched an elegant and unique plus size bridal wear collection to their selection of offerings.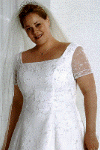 This new bridal collection, includes several statement dresses that start at £120. Among the items available you will find a taffeta prom dress, a hand beaded and embroidered wrap dress and a silk chiffon mix and satin full length empire line dress with brooch detail. If you are looking for something a little less formal there are two piece outfits starting from £45 that include a duchess satin skirt with bustier and lace cover up, a silver jacquard pencil skirt and jacket and a beaded satin and silk chiffon angel sleeve cami top.
Commenting on the new range, Buying Director Sue Vandenberghe says: "At Evans we believe every woman should celebrate their curves. Our research showed that there was a limited size range available for most bridal wear on the highstreet and with the average size of a woman in the UK being a 16 we realised there was a demand from our customer for something special to wear on their wedding day."
Once you have chosen the right dress it is important to complement your outfit with the right accessories. The footwear range includes a satin sling back sandal with brooch detail and a pintuck detail satin shoe and for that finishing touch there is also a beautiful range of hair accessories that includes a feather fascinator and jewelled tiara.
The new plus size bridal wear collection is available from size 14 to 32 and will be featured in 12 stores throughout the UK and online at http://www.evans.co.uk. So if you are a bride-to-be looking for the perfect dress, make sure you add Evans to your wedding wish list before you take your vows.
The following is a guest post by Sara Johnson.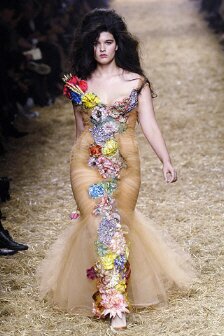 As the shift in the "ideal" feminine body shifts from waif-like to voluptuous, leaders in the Plus Size modeling industry are rapidly become style and beauty icons. Powerful feminine curves, glowing skin and luscious hair may seem a far-fetched beauty goal for most, but ALL women, of all shapes and sizes can look plus Goddess fantastic by following just a few simple tips.
First:
Find the right undergarments for your body. A well-fitting bra and Spanx are a girls best friends, they'll slim, shape and enhance your curves. A properly fitting bra allows for better posture and supports your bust effectively, creating a sexy curvy shape. Spanx are a nylon-like support garments for the thighs and tummy, comfortable and utterly magical in their smoothing ability!
Second:
Don't deny your true size. I know it would feel better to see a lower number size on your jeans, but trust me, when it comes to the fit of your clothing, your look will be made, or broken on the basis of fit. If you are bulging out of your pants at the top (the dreaded muffin-top) its going to kill the sexiness of any outfit. On the flip side, oversized clothing is just as unflattering as sizes that are too small; you'll simply look larger than you are. Plus size women look best in tailored, slightly fitted styles created to enhance and flatter curves.
Third:
Play up your favorite features. If you have sexy legs, flaunt them in a knee-length pencil skirt or city shorts with a matching jacket. If you have a tiny waist or great cleavage, choose fitted blazers or wrap v-neck sweaters to show what you love about yourself. Consider the atmosphere when choosing how much of your favorite feature to show-off, your legs may be fabulous, but there's only so much of them that's appropriate to be showcased at work.
Fourth:
Great, polished hair is a must. Whether you have wavy, curly, or straight hair, always make sure its styled, healthy and shiny. Misting with a curl enhancer, or smoothing a shine enhancer throughout helps keep most styles looking sleek, and is easy to do before running out the door. Don't deny your texture, fighting with styling tools daily take a tole on the condition and look of your hair.
Fifth:
Make-up should highlight the best parts of your face, your amazing eyes, luscious lips or gorgeous cheekbones. A good tip if you feel you have a double chin, is to swipe bronzer underneath the chin and onto the neck to make that area recede back and appear slimmer. Bronzer also can create, or enhance cheekbones and contour the cheeks. Keep your look simple and fresh, sticking to the principal of enhancing your favorite features.
Following a simple set of styling tips, created to enhance your authentic self allows all women, regardless of shape to look fabulous!
Who is Sara Johnson?
Sara is the co-owner and product buyer at http://www.velvetsiren.com – A posh plus size clothing boutique for curvy girls. She currently works as a fashion consultant and personal shopper for curvy women worldwide. Come see what everyone is talking about!
I must admit, it's been a while since I had a look at the new items available at IGIGI, so I though I would take a look today and update you with what's happening there.
Well… not surprising some very elegant and fashionable new finding awaited me at the IGIGI website… what struck me most are the gorgeous office blouses amongst their 'New Arrivals' section. Named 'Portrait Collar Top' these blouses set a brand new standard for plus size office wear. If you want to impress your boss, or have that important meeting where you really want to leave a lasting, professional and elegant impression, do take a look at these.

Fabulous in style and flattering in cut, this blouse comes in a stretch finish cotton fabric, which provides a chic and comfortable ensemble for the office. The portrait collar opens up the neckline, balances off hips and draws attention away from the tummy. The strategically placed buttons create vertical lines and draw the eyes upward toward the decoltage. Furthermore the princess seams elongate the overall silhouette for a slimming look.
This gorgeous piece is available in two colors: pearl and flintstone. Selling at $85, I think it's quite a gem