Archive for March, 2008
Spring is now with us, so if you are lucky, you live in a part of the world where the weather is already getting warmer, and the sun is showing it's face more often these days. I definitely cannot complain. Although the past few days were horribly windy and gray, today has been a beautiful sunny Spring day. Just the way it should be!
This weather always reminds me that Summer is approaching, and that I need to check in on my Spring/Summer dresses to see if any need updating, or replacing. The warmer seasons for me are the perfect time for wearing dresses. They are comfortable, look good, are versatile and most of all they keep you feeling cool and fresh. I like wearing dresses both during the day and in the evening really, depend on the mood and the occasion.
If you think you lack dresses for the warmer months, of feel like you need ot treat yourself to a new dress (you deserve it after all!), definitelt take a look at the collection of plus size dresses found at Avenue. Their dress shop includes a very nice collection of Spring and Summer dresses, which are perfect for both day-time, and night-time. Besides you can also get $15 off every dress if you shop at Avenue using this link, until 30th August, 2008.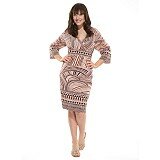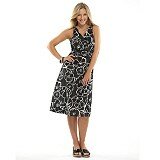 Two particular dresses that cought by eye are Mara's Flowers Sundress and Samantha Wavy Stripe Dress. As seen in Glamour Magazine, Mara's Flowers Sundress is a lightweight dress featuring bold flower print, making is a definite winner for Summer style. It is sleeveless with a smocked empire waist and surplice neckline. Then the Samantha Wavy Stripe dress is a very fashionable and flattering silky graphic printed dress which is a reliable option for both day or night. It comes with 3/4 length sleeces, a crossover neckline and empire waist with slight ruching at bustline.
If you like any of these dresses, or want to have a look at the other gorgeous styles available at Avenue, visit the online store today.

The following is a guest post by Jennifer Wasilewski.
Being well endowed up top isn't always what it's cracked up to be. Although tons of women are envious of your breasts, you don't share the same sentiment. Being "busty," can take an emotional as well as a physical toll on a women. Your clothes never seem to fit right and you can't pull off certain looks the same why your medium to flat chested friends can. Fortunately, there are a few things you can do to help make the most out of what you were given. The worst thing a large chested woman can do is be embarrassed or hide her breasts.
The best place to start is with a properly fitting bra. Nothing can help you more than a bra that was made just for you. Invest in a few quality bra's that offer you the support you need and you'll feel better about your body immediately. Although a quality bra can cost you a pretty penny, you should think about it as a foundation for all your other clothes. Buying the right bra will instantly change the way your every day clothes fit you, making it a worthy investment.
When it comes to bra's you may also want to consider investing a sports bra. Though the name may suggest you need to playing sports or running marathons, your action packed daily routine is enough to qualify you for one of these bras. Sports bra have come a long way from the supportive yet uncomfortable and unattractive bras of the past. Leading women's apparel companies are marketing sports bras that are no only supportive but just as comfortable and attractive as regular bras. For women with a large bust, sports bras can offer you the comfort and support you need to keep your biggest asset in place while at work or at play.
Now that you have the right foundation the next challenge is finding clothes that accentuate your positives while helping you feel more comfortable. For women with a large bra size this can be a frustrating quest. When it comes to finding tops, keeping this tips in mind will make your search go smoothly:

Look for shirts that accentuate your breasts in the right way. Stay away from shirts with extra ruffles and bows on the top. These will draw attention to your chest by making it appear even larger. Instead look for tops that that accentuate your breasts without making them appear larger. Scoop top and V-neck shirts are very flattering for large chested women. These shirts work to create an invisible line from your neck down to your torso, creating a slimming appearance while maximizing your breasts.

Find shirts that are made of a stretch material. Since your breast are above average, you may find that shirts don't always fit. They may stretch and pucker in all the wrong places doing a disservice to your natural figure. Shirts, especially button downs, that are made of a stretch material give you the extra room you need without going for the next shirt size.

When it comes to tank tops, always choose ones that have a built in bra. While this may not act as a sufficient support alone, it can help create a smoother appearance when worn with a bra. Tank tops that have seams directly under the bust line also help to create support and are visually appealing.

Many women are tempted to hide their large chest with over sized tops. Instead of helping your appearance these actually work against you. The larger top leaves you without anything to break up your upper half. Tops that are too large make your entire top look big instead of just your chest.

For those who have them, large breasts can be a curse. However, the best way to look great is to embrace the body you have been given. It's important you see your chest as a beautiful and normal part of the female anatomy.
Bigger bra's meets the needs of all women by offering quality undergarments in all sizes including plus size swimsuits, and full busted swimsuits.
The following is a guest post by Sara Johnson.

Just because you are a plus-sized teen doesn't mean you can't be a fashion queen! Check out some of these style tips:
Don't Hide Under Baggy Clothes
The biggest fashion mistake that plus-sized teens make is hiding themselves under layers of over sized, baggy clothing. The intention is to conceal their extra pounds by covering themselves up. Unfortunately, wearing baggy clothes only makes you look bigger, and it hides the shape and figure that you do have. A baggy, long shirt will mask your waistline and make your body look much wider than it actually is. Plus girls actually need a more tailored, well fitting wardrobe than their smaller counterparts! Get clothes in your size, or one size larger if you like a slightly loose fit – but no more than one size above your actual size. Remember, your curves are beautiful!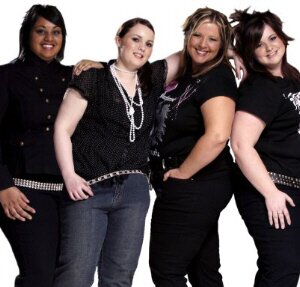 Accentuate the Positive
Being a teenager is all about being fashion forward. Develop a personal style, and always accentuate your favorite attributes. For example, if you've got great calves, don't be afraid to wear a skirt that is cut above the knee to show them off. Just because you're not a size four doesn't mean you can't wear stylish outfits. A beautiful, voluptuous shape is entirely worth showcasing!
Be Colorful
You've probably heard that black is slimming, and while this can be true, why would you want to look like you are going to a funeral every day of you life? Come out of mourning, and add some splashes of vibrant color to your life. Not only will you look better, but you will feel better. Bright colors can actually lift your spirits. Also, when you wear black, you blend into the background of things and when you wear color, you stand out – and yes, that is what you want! If vibrant colors just aren't you, consider deep jewel tones, like teal, burgundy and plum. While it is advisable to avoid horizontal stripes if you're trying to look more slender, you shouldn't shy away from patterns.
Accessorize
Fashion isn't just about clothes. It's also about the accessories, as every fashionista knows. Plus girls can pull off bold, stylish looks with ease! You should coordinate your outfit with your shoes, jewelry, and handbag. Your hair and makeup are also integral to your style. So many plus-sized teenaged girls simply ignore their appearance because they feel that if they're not skinny, there's no use in trying. This could not be further from the truth! Take care of yourself and nurture your appearance. An ample booty doesn't mean you can't also have the hottest hairstyle. Look through celebrity hair style magazines, and ask your hairdresser to replicate the style for you – be sure to bring along the picture. Also, make sure that you ask your hairdresser to walk you through the techniques that he or she used to create the style – so that you can do it yourself at home.
Plus-sized young women can be fashion mavens! It's all about accentuating the positive and developing your own personal style.
Who is Sara Johnson?
Sara Johnson is the co-owner and product buyer at Velvetsiren.com – A posh plus size clothing boutique for curvy girls. She currently works as a fashion consultant for curvy women worldwide. Come see what everyone is talking about!