Archive for October, 2007
Couple Tony Piersanti and Jean Olson, who have been dating for a year, have last week opened up a brand new plus size nightclub in Reno. They opened up this club for people of every size to come along and have a good time.
Being quite a 'different' couple, Tony being much thinner than Jean, they both wanted to provide people of every shape and size with somewhere they can go to, relax, enjoy themselves and just be who they are.
I think this is a great iniative this great couple has taken, and it is great for everyone in the Reno area to have a new club to socialize it.
For further details on the club, opening hours and how to get there visit Tony and Jean at http://www.clubpluslife.com.
Ladies, today is Love Your Body Day! This is an initiative being organized by Hollywood Now, and among its advocated are plus size celebrities Mia Tyler and Chenese Lewis. If you live in the Hollywood Area, then I suggest you head down to the celebrations today between noon and 4pm. Everything is taking place at:
Plummer Park – Fiesta Hall
1200 N. Vista Street
West Hollywood, CA
However do visit the Love Your Body Day website for up to date details and information.
In the meantime, here are the 6 ultimate rules every woman should following today to make is indeed a special and meaningful Love Your Body Day!
Accept yourself as you are.
Your weight is not your worth, so you cannot even look at the scales today, let alone go on them.
Quit hating yourself and your body. Turn all the negative energy into positive energy, and start loving yourself today. You deserve it!
Accept that every

body

is beautiful. There is no perfect body, no right or wrong shape. Every body is special and beautiful.
Have confidence in yourself!
Real beauty comes from within, so although it is definitely important to take care of your physical appearance, do not let it determine how you feel about yourself and how you live your life.
As you probably do not know, or actually do know if you have been reading the scoop for some time, I love dresses. They are oh so comfortable, I much prefer them to wearing trousers… and besides, they make me feel all girly

You might also know that Torrid are currently holding their 50% off clearance sale this weekend. Though perhaps some of you might not actually not be interested in this sale, because "it's all just nasty clearance items". Ok true, some stores do make you run off in disgust when you approach their clearance section, but not all stores are the same. And yes, Torrid is one of those stores where their clearance section is not filled with ancient and historic clothing, but actual stylish and fashionable items that will make you look damn fine!
As I said at the start, I love dresses, and I have purchased quite a number of dresses from Torrid, most from their clearance section. They are that cool! And here I'm also going to point you to my current 10 favorite clearance Torrid dressed – all of these are currently at a 50% discount. Take a look at them and afterwards tell me whether Torrid's clearance section is starting to grow on you… or not.

Black Eyelet Lace Tank Dress
Brown Teal Floral Print Chiffon Dress
Grey And White Stripe Sweater Kimono Dress
Black And White Gingham Shirt Dress
Black Belted Shirt Dress
White Floral Print Tube Dress
Black Lace Mesh Top Dress
Black Lace Shoulder Satin Dress
Jade Green Glitter Ruched Mesh Halter Dress
Turquoise Blue Floral Print Tank Dress
I have been away on business (and pleasure) for the past couple of weeks, and this week has just been filled with catching up both at work and at home. Exhausted is such an understatement right now! But finally I get the chance to sit back and do some interesting (and fun) type of catching up – reading up on all the missed posts on my feed readers. I've missed quite a bit I must say… there has been some excellent posts lately.
A particular one which caught my eye was Glen's post about 17 types of bras. I am very particular about my bras, and of course am aware that there are different types of bras. But having an actual list laid out in front of your is a completely different story! Bras for every occassion, personality, outfit… you name it, there's bound to be a special bra made for it!
If you are still looking around for a plus size Halloween costume, and perhaps you haven't been satisfied with what you've seen yet, then I suggest you give Torrid a little visit.
Although Torrid does not specialize in plus size Halloween costumes, this time of the year they always roll out a special collection of costumes, made to flatter the curvy figure. The costumes they offer are fun, stylish, and sexy… plus the fact that their selection consists of just eight excellent costumes, makes your choice oh so easier! Though you might be thinking… but doesn't that restrict my choice? I actually think not… sometimes when shopping online, and there's too much to choose from, I tend to get confused! So think of curvy Halloween costume shopping at Torrid, as the place where you have the cream of the crop laid out in front out you. The costumes shortlisting has already been carried out, so all you have to do is pick your choice from the best option available. It's that easy.
Here is a run down of the eight fun costumes Torrid has prepared for plus size women this year:

Gangster costume
Cop costume
Sailor costume
Witch costume
Pirate costume
Nurse costume
School Girl costume
So this year, do not get caught without a costume. Make sure you select your favorite, and if you'd like to give your costume the complete look, then do check out the vast accessories Torrid also has to offer, to match the costumes. This will ensure your look is complete to stun and impress!
Happy Halloween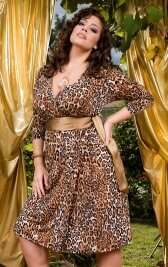 Monif C. Plus Sizes, an exclusive plus size clothing line, has this month announced the launch of a brand new fashion collection for the Fall, which has been very appropriately named the 'Glamor Donna Collection'.
This new collection is made up of a selection of beautifully made, curve flattering plus size dresses, all of which are now available to purchase both online at MonifC.com and also at the Monif C. boutique located in New York City.
This new collection is in line with Monif C's philosophy "to reaffirm every woman's desire for an inspired life, luxury, and unadulterated sex appeal," and has furthermore been inspired by the leading fashion houses in Milan.
Along with this brand new collection, Monif C. has also launched her first line of larger sized luxury footwear. Currently the collection is made up for wide calf boots, fur trimmed boots, as well as Swarovski crystal-incrusted evening sandals, and more. Truly a selection to check out if, like me, you are a shoe lover.
For more details about these new additions do read the complete press release, and of course to visit MonifC.com to take a look at the new gorgeous items available.
A week ago I pointed you to a video showcasing a full figured pageant. This week I'm pointing you to another cool video to give you another look at the goings on of a plus size pageant. This time we look at Miss Full Figured USA, 2007.
Unfortunately I discovered this great new plus size calendar a little bit too late in the year! It wouldn't make sense to purchase a 2007 calendar in October, 2007 now does it?
However I still wanted to blog about this new discovery of mine, to make sure you are aware of it, so you can keep a look out for the 2008 version. I sure will!
This gorgeous and very tastefully created plus size calendar is rightly named 'Fenomenal Calendar' and has been created by plus size models Liis Windischmamm and Diane Pellini. Do check it out, the picture are fabulous.