Archive for January, 2008
2007 was an eventful year for the plus size fashion industry, especially online. Last year was marked, amongst other things by appearances of full figured women on leading fashion catwalks… does the name Velvet d'Amour ring any bell?
The year which has just passed also meant much more fashion choice becoming available to plus size women, all over the world. In fact many new plus size clothing lines emerged, as well as online plus size stores, which continue to enrich the plus size fashion industry and most of all, add much more choice to curvy women.
In this post I'd like to take a quick look back at my favorite new stores, which either emerged or I got to know about, in 2007.
SWAK Designs: A true gem of an online store, which I am sure end up in the 'Favorites' list of those who visit it most of the time! SWAK Designs offers great apparel, which is curve hugging and curve flattering, for most occasions, and at very affordable prices. Whether you are looking for something casual to wear throughout the day, or something to wear at work, or even perhaps something sexy and sultry to wear on a night out or a hot first date, you will surely find it at SWAK Designs. Their collection online is a truly vast one, so I recommend that you do take your time to browse around all the items available at this online store. You don't want to end up missing something now do you?!
Fashion Overdose: I must say, from the very first time I visited Fashion Overdose, it was added to my favorites list. However the plus size fashion you will find here might not be everyone's cup of tea, and might even be a little bit too much to handle for some gals out there. But for those curvy ladies who embrace their 'wild side', and have a passion for punk, visiting Fashion Overdose is a must. The items found here are one of a kind, colorful, daring and will definitely get you noticed. This is the store I go to whenever I want something completely different, and I am feeling particularly daring and adventurous. My only qualm with this store is the online store and overall user experience with the website. It can definitely be improved with a little tweaks here and there, and even with broadband some items tale ages to load. But do not let that discourage you from exploring Fashion Overdose!
Mimi's Curvy Corner: This is another little gem which I have discovered only recently. First of, I have had the chance to correspond with Mimi on a few occasions, and she is one sweet person who is completely dedicated to providing stylish plus size fashions, with a satisfying customer experience. That already puts my mind at rest, that this online store is managed by a plus size woman herself, whose aim is to provide full figured women with great fashion. At Mimi's you will find both casual and evening wear, at great prices. Have a look for yourself! I very much hope more and more items are added to Mimi's stores throughout 2008.
So there you have it, 2007's best new stores, according to yours truly. The stores above have made giant leaps of success since I have started following them, and I am sure many more good things are yet to come. So let's hope we hear more good stuff and see more curvalicious fashions from all of them in 2008.

A pretty unique offer, which has only just been announced, is now live at Torrid.
Shop at Torrid during the weekend and receive free shipping on orders of $50 or over! This offer has been launched just on time, as Torrid have actually just added a bunch of fab new items to their collection. So you can shop around, and grab new items to add to your wardrobe, whilst saving on shipping costs. Sounds goo to me!
All you have to do is user coupon code NEWATTORRID at checkout, and you're all set. This offer expired on 2nd February, 2008 so do visit Torrid today!

We are already into the 4th week of the New Year. Time truly flies by these days. But moreover, during the past four weeks I am sure you have heard the word 'resolution' over and over and over again! Well, although I am not a very big fan of resolutions, mainly because I never managed to keep any of those I made, today I want to share with you one resolution which you might actually stick with.
So for a change, instead of pairing up the old 'resolution' with the dreaded 'diet' word, let's forget all that and start the New Year off with more sexy resolutions that will promise a sizzling 2008.
Let him have you for dessert one night! Dish up yourself in a pretty scalloped embroidery baby doll. But… don't forget the whipped cream!
A New Year calls for a new attitude! If you're usually demure, strut your stuff in a pair of thigh-high black patent lace-up boots. This is what Nancy Sinatra had in mind when she said, "These boots are made for walking." If you're already into patent, you might want to add a softer touch to your repertoire, like a lacy teddy (open bust if you please!).
So what do you say? Do these resolutions sound more like the kind of thing you would like keeping?

Black Cat Plus has just launched its new on-line contemporary clothing boutique for plus size women wearing sizes 12 – 24, and also announces its Search for the Authentic Woman Model Search Contest.

President and owner, Jodell Raymond, is an international trainer and speaker on women's leadership and workplace gender issues and is excited about her new site which caters to women who want to wear contemporary and stylish clothing.
Raymond is a plus size woman who spent considerable time and effort trying to find clothes that had a modern look. Out of that frustration came the inspiration to open an on-line contemporary clothing boutique so that other plus size women did not have to work so hard to find clothes that reflected current styles. Raymond's primary objective is to find clothing that one would not see in a large department store, allowing her to provide a more distinct offering which reflects the lifestyles of her customers.
She says, "I was always disappointed at the lack of choices for the plus size professional woman. In every city where I had speaking engagements I was always on a mission to find plus size clothing stores where I could shop. Plus size women have the money to spend and we do not want to be banished to wearing baggy clothes in monochromatic tones forever. From work to play, the desire to wear trendy clothes in updated, contemporary styles does not need to stop at a size 10. The average woman wears between a size 12 and 14. We want to wear the same styles as our smaller size counterparts and we want clothing that fits, makes us look and feel terrific, and is appropriate to our lifestyle."
As part of that mission, Raymond has designed her own line of plus size clothing to offer to customers beginning with its Spring '08 Collection. "Visit us at our website to view our own exclusive collection of contemporary and stylish plus size fashions," she says.
To celebrate the plus size woman and her lifestyle choices, Black Cat Plus' Search for the Authentic Woman Model Search Contest's was conceived. The objective of the Model Search Contest is to demonstrate that confidence comes in all shapes and sizes and from that confidence comes the power to change perceptions. Raymond has plans to use the site as a forum for dialogue and discussion of issues relevant to all women. She says, "I hope that this site delivers positive messages and allows others to look at vivacious, positive, real women whoii enjoy life."
Models must be 21 years of age, a size 12, and must answer two questions as part of their entry submission:
What is the best lesson I have ever learned? and
How do I live an authentic life?
Entry deadline is March 15, 2008. See http://stores.blackcatplus.com/Service.bok for details.
Black Cat Plus offer contemporary and stylish selections from popular on-line retailers such as Kiyonna and Svoboda as well as Canadian Designer Linda Lundstrom, Loco Lindo, Berek, Kaktus, Pure & Co., and Black Cat Plus Private Label. Black Cat Plus also has a store-front showroom/boutique located in Rochester, NY at sister boutique, SoLia Boutique.
Contact: Jodell Raymond 585-413-1320.
Last weekend on Saturday, the anticipated new Nikki Blonsky movie, 'Queen Sized' premiered!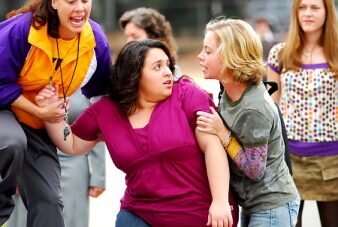 I must say, last year's mega hit 'Hairspray' is a very tough act to follow, however I am sure in this new movie Nikki will shine. The new movie features Nikki portraying the role of Maggie Baker, a plus-size high-school senior who has always pitied herself for not being skinny, pretty or wealthy. When her name turns up on the list of nominees for the homecoming court as a prank, she's mortified.
It is interesting to note that this movie was actually inspired by true events: the true story of a suburban Detroit teen who in 2004 spurred a national dialogue about a type of teen bullying: students voting less popular peers onto homecoming courts for the purpose of mocking them.
Although I am eager to watch this new movie, I haven't had a chance to as yet, so if any of your have seen it, do leave some comments about it on this post. What was your opinion on the movie? Will this be another hit for Nikki?

Nina Blakemore is a professional plus size model, hailing from Wolverhampton, England, who is proud of her curves.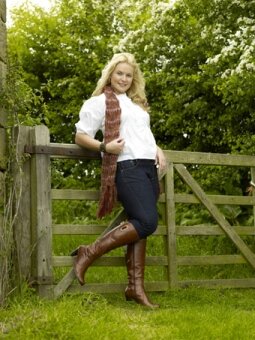 I was lucky enough today to discover this plus size model whilst reading an article on her on the ExpressAndStar.com. Wearing a size 16/18 (UK), Nina's professional experience reminds me of the experiences Crystal Renn had with modeling.
Like Crystal, Nina did not start her modeling career as a plus size, indeed she was a size 10 when she started off! But this was unnatural for her, in fact the article show that Nina found it very hard to keep her weight down to a size 10. This made her realize she had to be true to herself, and who she really was, and quickly plumed back up to her natural size 16.
All curved up, Nina has this far been very successful in her plus size modeling career. In fact she has modeled for Simple Be, Jusy Mu Size, Matalan, Evans, John Lewis, and many more names. She has also appeared on several TV programmed including 'How To Look Good Naked' and GMTV.
Find out more about Nina Blakemore at her official website.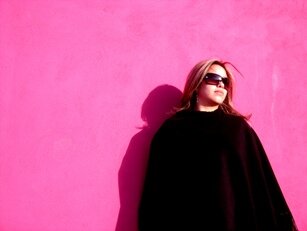 Fashion for plus sized women has come a long way since the dark ages. More companies are meeting the demand for sizes over 12, but are you stifling your own fashion sense by donning black material day after day because you want it to slim you down?
Instead of being grateful for the sudden expansion of plus sized clothing choices, you might be limiting yourself to black because you know it hides the bumps and curves more than other colors do.
Even thinner women often get stuck in black color schemes because they, too, want to look as slender as possible, but all black all the time can be boring! Yes, black does have the slimming effect, but there are other ways you can find the same effect in more colorful clothing options.
Plus sized manufacturers are designing clothes that fit better to accentuate the areas you feel are your best qualities, whether it your legs, décolletage, or your arms. The fit of the clothes, not the color, can help you remain fashionable without having to hide behind fabrics.
Print fabrics can hide problem areas, such as the stomach. And you can find well-fitting clothes for plus sizes in all types of clothing lines, including casual and evening wear, sporting clothes, and even swimsuits!
Check out the different online plus sized stores or catalogs and you'll find a very diverse selection of clothes to suit your needs. You can find clothes for teens, pregnant women and businesswomen.
Adding accessories, such as scarves and jewelry can also help brighten an outfit and possibly hide any area you may not feel comfortable about. Does that mean you should throw away all of those black clothes you have ready on standby for when you're feeling uncomfortable about your body?
You certainly don't have to, but you should add other clothes to your closet that come in all sorts of styles and colors. The next time you go to your closet to pick out an outfit, the only problem you'll have is in deciding which one of the beautiful outfits you want to wear to bring out the color of your eyes or showcase your long legs.
Don't get sucked in by the black trend that leaves you feeling despair if someone gives you a bright yellow sweater for Christmas or a salesperson advises you to try on the exotic leopard print skirt they just got in.


If like me you have visited MonifC.com in the past, and drooled at the dresses, but then sulked due to the hefty prices, you will be very happy to get to know that Monif C is currently holding a massive winter clearance sale.
Some items in fact have been reduced by up to 80%! So if you have had you eye on something at Monif C in the past, go check it out today and checked whether it is now in your price range.
The extremely versatile "Marylin" Convertible Dress is now only $75, from a previous $195!
Other items which caught my attention were the "Selma" Armhole Mini Dress (pictured here), which from $175 is now available at $85 , and the "Belina" Silk Print Tea Dress now at only $96 from a previous $265.
Check out all the sale items today at MonifC.com.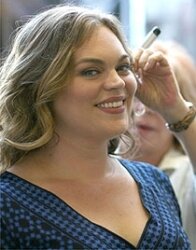 Today I came across a very interesting article on BuddyTV.com which got me thinking. The article itself gives us a closer look into Rebecca Field, the plus size actress who plays the curvy barmaid Janet in the series 'October Road'. More importantly, it gives us a closer look at what issues she holds close to her heart.
Interestingly enough, this article shows some similarities between Rebecca, and the role she plays in 'October Road'. Rebecca in fact has had some real life experience at bar tending, and has also recently took on the responsibility of spokesperson for a non-profit group (Multi-service Eating Disorders Association or MEDA), an issue which is made evident by her role in 'October Road'. Rebecca stresses that:
"In real life beauty comes in all shapes and sizes and the same should be true on television. It's so important to accept and appreciate our bodies and work to keep them healthy. It's not about size or a number on the scale. Slowly, but surely, we can change the way women are viewed, on and off screen."
It is great to see a rising star such as Rebecca keeping true to her principles, deciding to inspire and help other plus size women and men, through her work with MEDA.
Often times we see talented plus size ladies suddenly decide to lose weight and change their appearance once they hit the limelight. Names like Sophie Dahl and Star Jones come to mind when I think about this issue. Although I definitely advocate self acceptance whether you are curvy or thin, it is disappointing to see women who previously seemed to be comfortable in their curves, no longer embracing them. I feel sorry when I see people like Sophie who rise up to stardom with a full figure, and also become an icon and role to plus size women (not to mention teenagers), only to suddenly 'succumb' to it all and lose weight. What a disappointment to all those plus size women who looked up on them; they would now probably be thinking, but why did they feel they had to lose the weight? Anyway, although I guess no one owes anyone anything really, this is something which truly makes me wonder and think.
Ok rant over… going back to Rebecca, it is very refreshing to see a talented plus size actress like her holds a great spot in 'October Road' and advocate self love and self acceptance. Way to go Rebecca.
It is not the first time I encounter an article in the press, where the differences between the a plus size shoppers' experience in the US, and in Europe, are identified and highlighted. Often time, both women and men, say that it is by far easier to shop for plus size clothing in the US rather than in Europe.
I must say that although the situation in Europe is improving, I tend to agree to this opinion. An article I ran across today by Andrea Byrne on Independent.ie also concurs. Andrea's article introduced us to Aimee Casey, originally from Washington, now living in Ireland. Aimee states that she encountered difficulties shopping for full figured fashion when in Ireland, which in the end motivated her to endeavour into opening her own plus size clothing store, in order to widen women's choices in Ireland, and Europe.
"I really encourage women to show off their decolletage. You shouldn't clutter it up, keep it bare. A lot of women insist on wearing small, delicate jewelery around their neck. The problem with that is there's a lot of flesh there and small jewelery will only make it look bigger. It's all about proportion. You should really look at your body in the mirror and spend time figuring out what works," says Aimee.
Aimee's store, called Style Plus, besides being located at Celbridge, Co Kildare in Ireland, is also available online at StylePlus.ie. It stocks sizes 16 up to 30, and carried styles for anyone aged 20 to 50!
It is great to see women taking their frustration at the plus size shopping situation in certain areas, and turning it round into something positive and of benefit to other plus size women in their area. Kudos Aimee! I wish you the best of luck with Style Plus.