Archive for March, 2009
First off I want to apologize greatly for missing last week's Frugal Friday's insertion! Things got very busy on this end. I am tied up with a lot of things right now at work, and with planning my wedding this October, so things got a little bit out of hand. But I am back this week to bring some super affordable and of course always stylish, plus size clothes. To make up for last week's miss, this week's post will be slightly longer than usual, and include many more items. So let's dig right into it.

New Plus Size 3/4 Sleeve Top
Price: $18.99
Available in sizes: 1X (14/16) to 6X (34/36)
An ode to comfort and style! The bold color choices of this top are fresh off the runway. Pair this gorgeous plus size top with your favorite pair of jeans and boots and you'll be ready to head out the door! The silhouette of this top is flattering for all body types. There is a seam below the bust, and an o-ring to accent the garment. The super-soft material feels great, while the three-quarter sleeves complete the look.
__

Plus Size Zip Up Hoody
Price: $19.99
Available in sizes: 1X to 3X
Our ultra soft, ultra cozy zipper front hoody, with front pouch pockets and full length sleeves. A great items to have at hand for layering.
__

Your Best Look Solid Black Scoop Neck Swimsuit
Price: $29.00
Available in sizes: 18W to 24W
This figure flattering basic piece features a soft cup bra, stylish double criss cross straps and a slight scoop front. The tummy control helps to smooth and flatten any problem areas. Will comfortably fit up to a D cup!
__

Lycra Garter Dress
Price: $22.95
Available in sizes: QUEEN
Sugar and spice blend together perfectly in this flirty plus size garter dress. Black Lycra makes this saucy number smooth and sexy. Low-cut front shows off your supple body off in all the right places. A hot pink satin bow and matching mesh trim sweetens the deal. There's no question this dress is a recipe for fun! This dress best fits XL or 1X.
We come in many shapes and sizes, but when it comes to shopping for a wedding dress, dresses are usually directed towards thinner brides. How does a curvier bride find a flattering dress that enhances her figure? Use these tips for a happier shopping experience.
Choose the Right Style
There are flattering styles for all body styles. If you're a curvy woman with a pear-shaped body, stay away from this:
Empire Waist wedding gowns: These gowns head straight down — straight down to your hips, that is. Stay away from A-line gowns. They don't flatter your curvy physique and emphasize your thighs.
Mermaid wedding gowns: These are a bit too snug on pear-shaped bodies. It makes curvy bodies look bloated and out of shape.
For pear-shaped bodies, try a loose, simple gown. It should have a nice, wide flair. If you wear a sash, make sure it's on your waistline so it flatters your unique curves. Best wedding gown styles: Ball Gown, Princess or A-Line.
If you're an apple-shaped woman, finding a flattering gown that doesn't emphasize your midsection is tough. Here's what you should stay away from:
Mermaid wedding gowns: This draws attention to your midsection. Avoid it if possible.
Sheath wedding gowns: Sheath gowns are a straight, long gown which flatter thinner, longer body types. This is a bad choice for apple-shaped women – avoid it if you can.
An apple-shaped woman should try gowns that flare out significantly. It minimizes the midsection and gives the illusion of pear-shaped curves, flattering the body. Best wedding gown styles: Empire Waist, Ball Gown, A-Line or Princess.
Choose the Right Texture
Believe it or not, a gown's texture makes the different between a beautiful, curvaceous bride and a frumpy, heavy bride. For both body types choose lightly textured fabric. Avoid beading if you can. You want to keep the design minimalistic so that it adds depth, not distraction.
For ball wedding gowns, make sure the design isn't a dark color. Keep away from flowery textures and avoid top-heavy textures.
For A-Line or Princess wedding gowns, make sure the design is emphasized in the middle to flatter your figure.
Empire wedding gowns should have a light texture. Make sure it's simple but elegant.
Choose the Right Neckline
Choosing a bad neckline is very unflattering for your chest. If you have a large chest, choose these necklines:
Queen Anne
Strapless
Scoop
Square
Sweetheart
If you have a medium-sized chest, choose these necklines:
V-Neck
Spaghetti Straps
Scoop
Square
Sabrina
If you have a small chest, choose these necklines:
Jewel
Bateau
Sabrina
Spaghetti Straps
Strapless
Bring these tips with you when you shop for your gown to ensure a happy, easier experience.
IGIGI are celebrating St Patrick's Day in a big way this year! They are currently running a massive sale, letting you shop and take 50% off already reduced prices! That makes way for some big savings indeed.
I'm sure a lot of items are currently flying off the shelves, so if you have your eye on anything, hurry and shop while supplied last.
To get your 50% savings, make sure you use coupon code greatsavings at checkout. This sales ends on 18th March, 2009. So hurry and shop at IGIGI today!
As the first signs of spring arrive and you shed your heavy coat to make way for lighter fashion, there are still days that you'll need a little extra insulation when the temperature drops. Instead of bringing that wool coat out of storage, why not throw on a stylish cardigan? The cardigans of today are not like grandma's sweaters but have a style and flair all their own. Plus, they're so versatile! Wearing a cardigan can take you from a casual spring day on the beach to an evening out at a restaurant with great panache. Here are some tips for getting stylish wear out of the "oh so versatile" cardigan.
Choose an oversized cotton cardigan for casual spring wear
Nothing feels better for a cool walk on the beach than a tee shirt, a pair of cotton Capri pants and a long, oversized, cotton cardigan. Choose a length extending several inches above your knee for a fashion forward look. A solid color will coordinate beautifully with your other casual spring clothing. If you want a slightly different look, opt for a thick horizontal stripe in black and white or black and khaki. Don't forget to add a chunky eclectic necklace. One made with large wood or ceramic beads will add an earthy look.
Add a belt
Petite people sometimes find a cardigan to be overwhelming. One way to give a cardigan more structure is to add an interesting belt. This can be an excellent way for a petite person to show off a tiny waist. If you have belts in your closet that you haven't known what to do with, get them out and experiment by wearing them over a long cardigan.
Use it to layer
You can really expand the depth and versatility of your wardrobe without spending money by layering items you already have. A cardigan provides the perfect finishing touch for that layered look. Just one cardigan can multiply your fashion options many times. Try belting a long cardigan over a skirt and silk top. Wear a long, loose one over your favorite black dress. A cardigan can add a whole new dimension to your standard office attire. Open your closet and start experimenting by adding a cardigan to your usual outfits and see what works for you.
Button or unbutton?
The look of a cardigan can vary depending on how many buttons you button. If you button it all the way, you can add an interesting belt or a scarf to complete the look. For a more casual look leave it open and add some interesting jewelry at the neck line. Experiment with buttoning just the top button or two for a casual, fashion forward look. It'll be one of the most versatile pieces in your wardrobe.
It's perfect for a cool restaurant
If you're going out for the evening, take along a cardigan. Restaurants are known for being uncomfortably cold and you can feel comfortable and still look stylish when you slip on your stylish cardigan.
Wearing a cardigan can not only expand your fashion options it can help to give you a little extra insulation on those cool spring nights. Is it time to add a cardigan to your wardrobe?
If you're looking for a set of comfy lingerie made for the plus size body, to cater for your everyday needs, then following Hips and Curves' simple formula:
Get a lace trim cotton camisole,
Stock up on comfy cotton briefs, with a 10 pack,
Wrap up your sexy legs with the extra special opaque stay up stockings, 2 pair pack.
And there you have it! The simple recipe for plus size lingerie basics.
Friday has quickly rolled by again, which means it is time for our weekly Frugal Fridays corner. If you are new to this, every Friday we take a look at a couple of plus size clothing items which have been greatly discounted, and so are simply affordable.
We figured these days, everybody is looking to spend less and save their pennies, but that doesn't mean we have to live in yesterday's fashions and styles! So we're pointing your to stylish and figure flattering clothing which are also easy on your wallet!
For a recap of the previous few weeks, have a look at affordable plus sizes dresses, belts, boho chic items, plus size capri pants, gaucho pants and plus size jeans.
Let's dig into today's featured items, peasant tops:

Plus Size Lace Peasant 3/4 Sleeve Top
Price: $22.99
Available in sizes: 1X (14/16) to 6X (34/36)
This comfy and stylish top gathers between two layers of delicate lace making it a perfect feminine top. The elastic at shoulders allow you to wear this top both on or off the shoulders. Available in brown, rust and teal.
__

White Gauze Peasant Top
Price: $19.97
Available in sizes: 0 (10/12) to 2 (18/20)
Perfect for a country picnic, this cute, stretchy peasant top has a smocked hem, sleeves and neckline with keyhole tie detail and black, yellow and red contrast stitching.
Swimsuits For All have recently added a number of new plus size cover ups and tunics to their collection of curvy swimwear accessories, which are both stylish and super affordable.
Let's have a look at some of my favorites…
Pretty N' Prints Plus Size Cover Up Tunic
If you're looking for something bold and chic when this pretty in prints plus size tunic will definitely fit the bill for you. The sheer fabric, deep V-neck line with wooden detailing make this number one of a kind. Currently priced at $29, it's definitely a steal.
__
Seahorse Plus Size Cover Up Dress
If you are more the simple kind of gal, then the seahorse cover up dress could be the right choice for you. Available in brown of black, this cute piece is a perfect choice at only $24.
__
Club Z Tie Dye Short Sleeve Plus Size Cover Up
For the stylish and more vibrant you, the Club Z® tie dye short sleeve cover up is a fun choice. The cheerful design will make you stand out from the crown, whilst the deep V-neck line and empire waist makes this piece truly figure flattering. For only $30, you can be the curvy stylish beach queen this Summer!
__
Jersey Plus Size Hooded Cover Up Dress
If comfort and simplicity is your priority, then check out this Jersey hooded cover up dress. With zip front, cap sleeves and front pockets, which number is simple chic. Available in white, black, brown and tan, it can definitely be match up to any swimsuit.
This is just a small selection of the many stles of plus size cover ups and beach tunics available at Swimsuits For All. To look at all the selection, visit them today.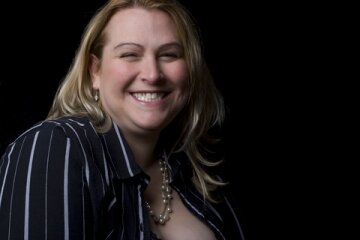 Plus size career women have busy lifestyles. Here are some tips to save money when shopping for professional attire. You have probably heard them before but failed to apply them to your wardrobe. In this tight economy, these tips just make good sense.
The first tip is to work with the seasonal outfits you have in your closet from previous years. You probably have wardrobe items for fall or other seasons that still have the price tags attached. The trick is to go to the store this season and buy a few separates that will go with the clothes that you already own. You can also spice up your wardrobe with cheaper items like a scarf, a trendy pair of shoes, or a bright lacy tank (to liven up your trusty blazers).
The second tip is to buy ahead for next year. Many items that you can buy on clearance now will be acceptable for next year. You can also hit outlet stores for sales from last season that you can wear now. Buy a year behind and a year ahead and save money. The items that you don't need can be put into the back of your closet for use next year.
The third tip is to focus, focus, focus on separates. For example, if you like black, gray, and white, buy pants, skirts, and blazers in these colors. Then you can mix and match them with colorful blouses, sweaters, and knit tops depending on the season. An outfit can even be livened up with an unusual item like a dressy, leather jacket or a light peacoat. Your job is to be creative with what you already have and spend wisely on new additions to your wardrobe.
You can dress as a successful career woman and still save money. In a tight economy, save where you can. Next year you can splurge again on the latest fashions.

Around mid January we introduced you to City Chic, a leading Australian plus size fashion retailer, which was about to hit the US 'virtual shores'.
Well ladies the wait is finally over! City Chic has relaunched their website with a bang, and are now shipping to the USA, UK, Canada, New Zealand, and obviously Australia.
I personally know that the great team at City Chic have been working very hard during the past months to redesign and tweak the online shopping experience they provide at City Chic, and their hard work has definitely paid off. They are back with a great looking and user friendly online store.
Being a plus size lady myself, I love the vast choice online shopping provides, so I am always happy to discover new online stores specializing in plus size fashion, and I can tell that City Chic will quickly become a favorite online shopping spot for many of you.
They provide stylish plus size clothing to suit all times of the day, and all occasions. Their online collection includes tops, vests, shrugs, dresses, denim, skirts, pants, knitwear, jackets and also accessories.
All styles are available in sizes 14 to 24 and their prices are easy on your wallet. Actually everything is currently discounted at City Chic, so everything is even more affordable! To mark their grand opening, they are offering all customers 20% off when shopping online. No coupon code required.
We'll be featuring some styles from City Chic in the coming weeks and months to bring you closer to this unique online store, though in the meantime, go ahead and give them a visit.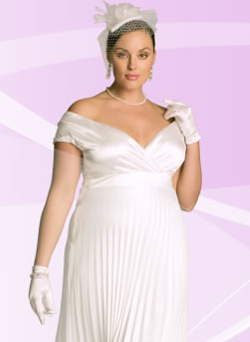 Leading plus size fashion designer IGIGI has just introduced their brand new plus size wedding collection. Made for the curvy bride seeking a stylish and yet affordable gown, their selection of dresses are both gorgeous and figure flattering.
Take a closer look at these new IGIGI plus size bridal gowns:
Angeline Lace Wedding Dress in White – a classy lace option features on or off-the shoulder details and scalloped sleeves.


__

Christelle Satin and Lace Wedding Dress in White – sophistication if the key element which makes this dress so unique, graceful and stylish.


__

Eveline Pleated Wedding Gown in White – pure luxury and elegance, featuring stretch satin and an open neckline.


__

Madelaine Chiffon Wedding Dress in White - a unique pleated chiffon skit, with embroidered and bra friendly lace straps.
But don't just take our word for it, visit IGIG's wedding collection today.