Archive for October, 2008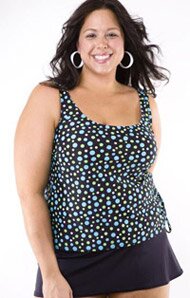 Finding the right plus size swimsuit, which you like and flatters your figure is no piece of cake if you are a plus size woman like me. There are a lot of things to consider when purchasing swimwear, after all you are going to be showing off a lot of flesh, so you do want to feel comfortable, stylish and at the same time confident that your figure is looking its best in the swimsuit of your choice.
Everyone has their own different tastes when it comes to choosing swimwear, but sometimes some guidance it all that is needed to make sure we choose a style which fits and flatters our unique body type. And that is exactly what SwimsuitsForAll.com are currently doing. They have created specific sections within their online store, which inluce style suggestions for different body types.
Do you want to hide your hips?
Do you have a large bust?
Do you have a long torso?
Are you looking to minimize your rear?
Do you have a small bust?
Or perhaps a slim tummy?
If one of the above sounds familiar to you, then head on to SwimsuitsForAll.com to find the swimsuit that flatters your unique and curvy figure.
What's even better than finding a plus size swimsuit that flatters and fits? Finding it on discount! And there is a great chance of that, as right now SwimsuitsForAll.com and having a massive clearance sale, where you can save up to 70% off select styles. So head on there today, to find this swimsuit your curves have been craving for, at a price that will not hurt your wallet.
Kiyonna have recently introduced a brand new collection to their inventory, called 'Le Provocateur'. This new collection is designed to turn heads and have people talking.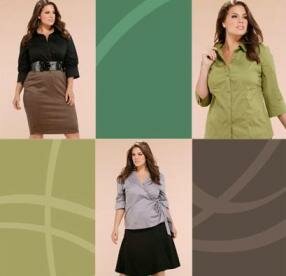 Olive greens and neutral plaids mix colors and textures for a retro chic feel that can transition from day to evening with ease. Well worth checking out.
And remember to be a savvy shopper and get discounts wherever you can. For instance, Kiyonna offers the great rate of only $8 for standard ground shipping, and no coupon code is needed! (Applies to domestic orders only.)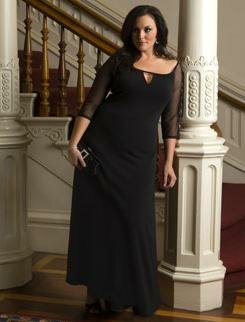 Brand new and just in at IGIGI, right on time for the holidays, is the perfect long black dress.
One of the hottest silhouettes this holiday season, IGIGI's new Donatella dress offers an unfussy design and incredible cut that creates a simple yet irresistible must have for your holiday celebrations.
This is the perfect minimalist dress with chic and sophisticated sheer sleeves and keyhole detail for the plus size fashionista who believes less is more.
All Avenue pants are now $18. Yes that's right, every single pair in Avenue's entire ready-to-wear collection is on sale for $18.
Most of these great pants come in petite, average, and tall lengths to fit everyone's figure. This sale is going on now through October 26th, 2008. So visit Avenue today to check out this great sale.
One of the leading UK plus size clothing stores, Evans, has just launched their brand new Winter 2008/2009 catalog, and there's only one word to describe it, it rocks!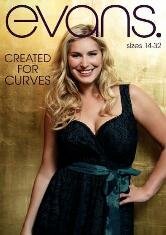 Be the first to view their gorgeous brand new collection of figure flattering tops, dresses, lingerie, as well as shoes. Check out the catalog online today.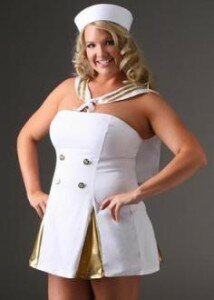 Are you someone who usually enjoys all the activities and going on of the Halloween season, but somehow this year you do not really feel like going out and joining in the festivities? You might feel like just staying in the comfort of your own home this year. Or perhaps you might actually just prefer the comfort of your own bed more than anything else.
That is definitely understandable, as we all get the feeling at time of staying in, all comfy and cuddled up in bed or on the couch. Sometimes quiet nights in are the perfect choice for some well deserved rest and relaxation. But just because you are choosing to stay in this year on Halloween, does not mean you cannot enjoy the night to the full and actually dress up. If you are staying in this year, to relax and spend some quality time with your partner, you can definitely still dress up for Halloween, and have some fun times!
There are several plus size Halloween costume options which you can consider for some 'behind closed doors' dressing up and trick or treating! You can check out your favorite local lingerie store in fact, as these days most of them do stock up on themed sexy costumes and lingerie at this time of the year. Though if you want to stay in the comfort of your own home, and look around many options, I definitely suggest having a look around online. There are various lingerie stores online specializing in plus sizes, and at this time of the year they offer some unique, and very seductive costume and lingerie options, which can definitley help in spicing up your Halloween night in.
A very good place to start looking around in is Hips and Curves. They have a wide range of choice, and they service is top notch. Here are the costumes I recommend this year from Hips and Curves.
Sailor girl
Patent nurse costume
Sexy school girl costume
Eve of seduction
Varsity cheerleader
Though do not stop just there, as you can find a multitude of other options in different stores such as AlwaysForMe and Henry & June Lingerie, so definitely look around and to find the costume which you like best.
So if you have decided to stay indoors this Halloween night, and just feel like cuddling up with your partner, do remember that you can dress up and celebrate Halloween anyway! It just takes a sexy plus size Halloween costume, and a pinch of imagination to organize some spicy and private trick or treating.