Archive for April, 2008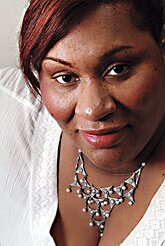 We have seen IGIGI being worn by a number of celebrities in the past, Nikki Blonsky for instance was seen wearing IGIGI fashions on more than a couple of occasions. Well, IGIGI will be expanding the list of well known people it has dresses, as it has lately provided a dress for an award-winning author.
Chamein Canton, the 2007 Reviewers Choice Award-winner for African American Romance, in fact wore a lace short dress in black/red at The Romantic Times Booklover's Convention on April 18th, 2008.
At the convention, Canton received the award for her book "Not His Type," a romance novel about a full-figured, size-16 woman who finds the love of her life in a New York Yankee, no less.
"I'm wearing IGIGI's sexy and romantic red lace dress for a sexy redhead like me and Cathy Chambers, my main character in my book. Red is for dangerous curves ahead!" said Canton.
I'll be giving you more information about Chamein Canton, and her achievements in a future post.
Another one of my favorite plus size swimwear retailers, AlwaysForMe.com, has launched a campaign to promote a brand new line of figure flattering swim suits for curvy women called "Slimmer in Seconds" swimwear. This collection of plus size bathing suits uses special construction and fabric, in addition to eye-fooling details to create the illusion of a slimmer, and shapelier silhouette. Now that's what I think every swim suit should be doing!
"Women everywhere, whether they are plus size or petite, want a bathing suit that makes them look good and feel great, reports AlwaysForMe.com founder, Susan Barone. "There is a great deal of thought and engineering that goes into suits that fool the eye and flatter the figure while remaining stylish, and more importantly, comfortable."
Barone offers the following tips for women to consider as they formulate their swimsuit purchases this season:
If you are bigger on the bottom than the top: pear shaped figures benefit from calling attention to the top half of the body, drawing the eye upward. Try a one piece suit with a patterned top and solid color bottom like Always For Me Chic Collection Ocho Rios suit, or opt for a solid one piece with a deep neckline to elongate the face and neckline like Always For Me Chic Collection Twist Front Solid Bandeau. Two piece suits also work well for the triangle shape, especially skirted versions that float prettily over the legs in a variety of lengths. Look for a suit with detail that calls attention to the area directly under the bust. It is often the smallest part of the body.
If you are bigger on top than on the bottom, your inverted triangle shape works best with solids and/or solid tops and patterned bottoms. Bust and side shirring are wonderful illusion makers, creating a slimmer silhouette and drawing the eye toward center for a narrower look. For larger busted women, be sure to look for suits with underwire support, all around control and thicker straps. And, if your legs are one of your best features, showcase them in any of the adjustable skirt length tankinis like the Always For Me Chic Collection Athena or Goddess styles.
If you are a rectangle shape and want to define your waist or create curves, then take a look at bathing suits with details like piping, rouching or Princess seaming like those seen in the Always For Me Chic Collection lingerie style swim mini. Side detailing such as shirring, striping, or embroidery can draw the eye toward center to define the waist line and create an hourglass shape.
If you want to tame your tummy and control the abdominal area, look for suits with full liners for all around control, or spot control panels where you need it most. Also consider suits with diagonal inserts, side shirring, darting, or Princess seams. Suits with tummy control slim the mid section and create the illusion of a flatter stomach. Side shirring, wrap styles and cross over bodices can add texture that helps conceal bulges. And don't rule out a print when considering a suit that supports and controls. Color blocks (like those on the Always For Me Chic Collection Kingston one piece ) and small, repeating patterns can fool the eye and seamlessly shape the silhouette.
Barone offers a final suggestion for plus size swimsuit buyers. "Be sure to look at the back of the suit when you try it on. You'll want to look your best coming and going!"
OK I admit, I am probably the last one in the plus size blogging industry to report on Chloe Marshall, but ah things have been super duper hectic lately. I am only now getting back into regular postings and regular email checks. So although this news it rather late, I thought it was too important not to mention on the scoop simply because it's not hot off the press. So apologies in advance if you've read up on this before.
Chloe Marshall is a young lady from Englad who is breaking boundaries, challenging stereotypes, and a person who have a very bright future ahead.
A 17 year old from Gulford, UK, Chloe has become the first ever size 16 (that's size 14 US) model to be selected a finalist for the Miss England competition. Chloe, who is a beauty therapist student, beat seven other slimmer girls to the title of Miss Surrey and will therefore now run in the national finals.
Although plus size ladies, and all real women, are super ecstatic about this breakthrough, and genuinely happy for Chloe's success, there are some others who think Chloe does not really deserve to hold her title.
One opinion in particular which made most noise, and caused a lot of discussion (and with reason!), was published on the Daily Mail by Monica Grenfell. You guys seriously have to read the article to believe the kind of things this 'dietician' claimed. It is absolutely appalling, and she should completely be ashamed to call herself a real woman. After reading this make sure you head on to Kate Harding's awesome respone. Kate you rock!
So as you might imagine, I think Chloe should be very proud of her achievement and I wish her the best of luck for the finals. I am sure she has a very bright future ahead.
Here's something you definitely do not see everyday, an all-male plus size cheerleading squad team dubbed the 'Manatees'.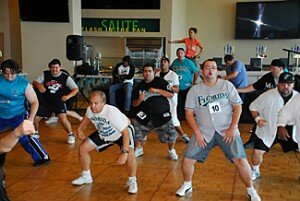 This Florida base baseball cheerleading squad will perform at Marlins home games on Friday and Saturday nights. Set up primarily as a way to bring back fans, the cheerleader boys are finding this experience a fun, rewarding and most of all, liberating one!
The squad range in age from their early 20s to their early 60s, and in build from slightly chubby to a litte bit more. I think this is such a great idea these guys have put together, read more about it at CSmonitor.com.
IGIGI has this week added a brand new plus size dress to it's collection, the Sheath dress. Featuring short sleeves and a figure flattering fit, this dress is simple and yet versatile and extremely chic. It is available in two colors: sage and gray (as pictured).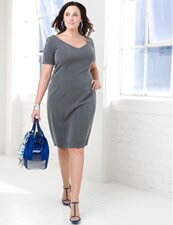 What I really like about this new addition is the fact that it can taken you through all hours of the day; using this dress for different occasions during both day and night is very doable. Pair it up with some dressy court shows and a blazer in the morning for a perfect business meeting outfit. Then dress it down with some sandals, a long beaded necklace and a matching pair of earrings, and you're all set for meeting your loved one for some drinks or a lovely dinner somewhere posh. Have a closer look at the Sheath dress at IGIGI.
I ran across a very interesting article on a Turkish online publication today, which focuses on plus size fashion trends, issues, as well as top tips.
Drawn up up fashion designer Reyhan Yazici, this article first goes to explaining how plus size clothing is nowadays more readily available to women. Although in the past full figured women might have been restricted to boring, plain and dark colored clothes, this is no longer the case.
Further on Reyhan gives some tips to plus size women, tips to take into consideration to make sure one looks chic and stylish. Reyhan suggest seeking out your own individual style, no matter what it is! Although you might think black and darker colors are a safer choice, curvy women should not stick to dark shades all the time. Choose colorful and vibrant designs to create an elegant look which accentuates you plus points, and hides those areas you'd rather keep discreet.
Surprisingly this Turkish fashion design also suggests never to use broad belts. He claims it is better to go for a low-rise version. I guess this belt issue boils down to tastes really. I myself do not feel comfortable wearing belts, I think that is the only accessory that I rarely wear. But that's just me! However he does encourage larger ladies make use of V-necks, although with caution. Steer clear of very plunging neckline; one cannot give too much away! With this I concur.
All in all, pay attention to the details ladies! Even small changes can make or break your look, and definitely steer clear of very loose tops!
I thought this article by Reyhan was very refreshing, and it is always good to read up on what experts in the industry suggest for larger ladies. I'm always open to hearing new and interesting tips! It is also very positive to have a Turkish publication take up and publish plus size related articles. Well done guys, and keep it up.
Ladies, Torrid's infamous 50% off all clearance items sale is back! It kick off today, and will be running up until this Sunday, 20th April.
If you have never visited Torrid during such as sale, then you are really missing out. All items within Torrid's clearance section, will be discounted even further this weekend… they will be available at a further 50% discount. Their clearance section is jam packed with curve flattering items, so do check out this sale if you're looking for something in particular, or if you simply want to shop around.
Remember, this sale runs until this coming Sunday!
Torrid have decided to knock down the prices of all the plus size dresses within their collection this week; they have in fact reduced the prices by up to $20.
So whether you want a dress for going out with the girls, or for that special date, have a look at the vast range of plus size dresses available, all of which are now available at a reduced price. Even the newest dresses within the collection have reduced pricing; isn't that nice!
These discounts are available online until Sunday 20th April, so do not waste any time, head on to Torrid.com and check out those curve flattering dresses.
Jessica London's new Summer collection has just arrived, and I was lucky enough to get the Director of Merchandising at Jessica London to fill me in with their suggested Summer trends, as well as reasons why you should shop at Jessica London.
What are the season's must have trends?
Feminine dresses – flirty sleeves, standout prints and lace trim detail.
Classic & updated blazers – versatile, easy to wear and great fabrics.
Prints & color – everything from tops to dresses, to pants, even shoes.
Shoes & accessories – colorful, comfortable, with special details.
What inspired the Jessica London Summer collection?
From runway shows, to city streets, our product team has taken inspiration from stylish places around the world like London, Los Angeles and New York to create sophisticatd and affordable styles for our unique customer.
Why shop Jessica London?
We are passionate about providing only the best for our customers and it shows!
We make sophisticated style simply with high-quality items at affordable prices.
We distinguish ourselves from other plus size brand with an extensive selection of value-driven career wear.
We have a stylish look for every lifestyle need in sizes 14W to 34W.
Torrid has recently added a good number of items to their clearance section, so that selection is definitely worth a quick look. But what's even better, Torrid has selected a few number of items from their sale rack and reduced them even further. Now I definitely like the sound of that.
For starters, Torrid has hand-picked over 20 gorgeous dresses and priced these at only $9.99. I have just taken a quick look at the selection of dresses on sale, and most of them are great picks for the Spring season, and even more-so, the upcoming Summer season. So if you feel like grabbing a very nice bargain, visit Torrid today and look at their $9.99 plus size dresses. I personally have my eye on Gold Silver And White Knit Flame Stitch Dress (previously $79.00), as well as Olive Floral Halter Dress (previously $58.00). Hmmm… which one should I pick?
Besides these reduced priced curvy dresses, Torrid also have the following reductions going on right now:
Select panties at only $6.99 and $10.00
Select bras at $19.99
25% off select camis and tube tops
25% off select jewelry and hair goods
25% off select bras
25% off select hosiery
25% off sunglasses
To view the items on sale click on the 'Torrid on Sale' link, located towards the bottom end of the left-hand sidebar on the website. So happy savings at Torrid ladies!