Lock And Load: More on the Holiday Hit List
By
Sarah
on December 31, 2009
by Janna Lutz
There are many colorful sayings that we use to express and reiterate our uniqueness from one another: "different strokes for different folks" and "whatever floats your boat" are only a few that people use every day. Every woman is diverse in her shape, preferences, style, and even budget. My mother used to joke that she could send my sister and I into the mall for a white shirt and black pants. We could find almost similar looking items, but I would have spent under $50. My sister would spend $50 just on the top.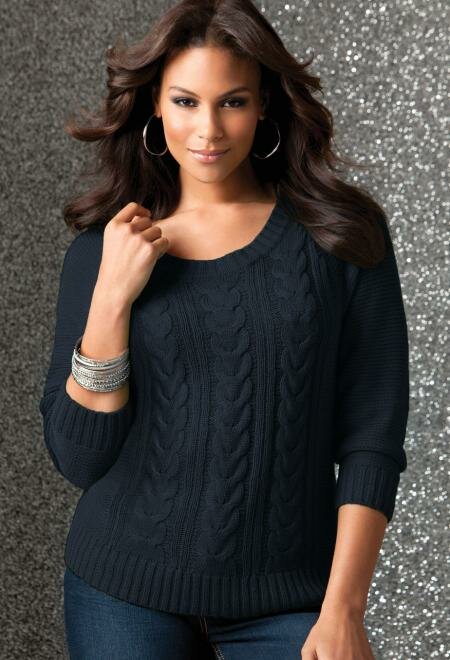 Fashion Bug is known not only for their amazing styles and great quality clothing, but also where you can get the most bang for your buck. The Bug has been most popular among the younger crowd…high school and college students. But chin up all you who are young at heart; their casual trends can easily transcend any age box. The new addition of the "Studio 1940" label will certainly appeal to you saucy career gals.
So what is hot and happen this holiday season at Fashion Bug? More sweaters than you can bat an eye at! From comfy hooded pullovers to soft chenille sweaters with matching scarves, you can find whatever sweater toots your horn. You can even cozy up in a sweater coat that looks like Grizabella singing "Memory." There are also sexy, slimming V neck styles, and simple cardigans that make attractive companions to your wardrobe. The "Marilyn" collar is making a saucy re-entrance this season; so let that foxy siren in you out for a breather. For something more casual, try the popular "Johnny" collar over a layering tee or turtleneck.
Need a fun, sporty outfit? Take a gander at the many active sets on the Fashion Bug sales floor. Whatever suits your fancy…fleece, poly/span, velour, or corduroy. You can find a color and fabric that blows your skirt up. They also make great gift ideas; everyone can use comfy clothing. And to complete the outfit, grab a holiday screen tee or one of the different layered-look long sleeve tees.
The two-fer look is back and big, once again this season. You can find long sleeve casual tops, or a more preppy sweater/button down combo. Pair either one with a pair of boot cut jeans by L.A. Blues, Jeanstar, or Zana Di. Most jeans now come with cool, funky belts. Need a more dress up look? Fashion Bug now offers career pants in three unique fits, each designed to enhance your shape. Now you can find the perfect pant for you!
Fashion Bug has always featured basic, popular styles under their "Priced Just Right" section. Once a small part of their clothing line, "PJR" is filling up! From sweaters to knit tops and pants, to jeans, and now career pieces; The Bug is giving you a better chance to find your cold season basics for a nice warm, toasty price. You can find and array of fleece tops, assorted print henleys, and knit pants to keep you cozy and cute all the way to Spring!
There is still more to come; your favorite store could be next! In the meantime, check out some of the fabulous online stores featured on the site!
About The Author
Residing in southern New Jersey, Janna Lutz has been a budding writer since she was very young. In addition to writing for Pasazz.net, Janna also showcases her unique sense of humor in a monthly column for "The Laughing Gas" online magazine .