Archive for November, 2008
Remember girls, IGIGI is running a fabulous Thanksgiving sale, where you can save as much as 80% off the entire store. This sale runs through December 1st, 2008 and no coupon code is needed for the discounts to be applied.
Plus make some additional savings on shipping worldwide:
Free shipping on continental US orders of $150+
$15 off international orders of $150+
$15 off Hawaii and Alaska orders of $150+
Thanks IGIGI!
Visit our Plus Size Black Friday Sales page for a round up of this year's offers from your favorite plus size clothing stores!
With Black Friday and Cyber Monday just around the corner, one of the most anticipated holiday shopping weekends of the year, I thought it would be best to update you all in advance on the sales which will be going on this weekend at our favorite plus size clothing stores.
Some sales have already started. Some sales will start on Friday. All the details you need to know are below. There is so much going on this weekend, so read well through the information I've provided below to make sure you take advantage of the best sales around.
Kiyonna.com
To celebrate Black Friday and Cyber Monday, Kiyonna.com is now offering a 50% off coupon on their already reduced sale section with coupon code: 50BLACK. Make sure to take advantage of this great deal before it expires on December 2, 2008.
They are also running an exclusive 30% Off store-wide sale from November 28 until December 1, 2008, You must use coupon code Turkey08 at checkout for your discount to be applied!
SWAK Designs
From Black Friday November 28, through Cyber Monday December 1, SWAK Designs will be offering a 15% discount on all purchases. Just shop at SWAK and use coupon code BFCM15 when checking out. It's as simple as that! Also note that SWAK Designs currently also have a Free Standard Shipping offer running and will continue indefinitely (no coupon code required!), so you get a discount, and free shipping! Sounds like a pretty sweet deal.
SwimsuitsForAll
Two great offers available here, this are the details: 10% off any purchase using coupon code 10OFF and free ground shipping on any order using code FREEGROUNDSHIP.
Fashion Bug
3 coupon codes for you to use, and they won't expire until November 30, 2008:
Save 10% on any order of $50 or 15% on $100 with code 776236606.
Free Shipping on orders of $75 or more, use code 776236507.
Save $10 on $50, $15 on $75, or $20 on $100 with code 776236705.
Catherines
Catherines have launched 3 new coupon codes, just in time for the holiday shopping season, won't expire until January 27, 2009!
10% off (no minimum) with code 776902207.
$15 off on $100 or more, use code 776902306.
Free Shipping on $100 or more with code 776902405.
Size Appeal
Get free shipping in any order of $75 or more, no coupon code is needed! Plus, save 20% on any order over $100, just by using coupon code Flawless20. Hurry and make use of these great offers today.
Apple Bottoms
Get 30% off selected plus size styles, 25% off selected plus size tees, and also $25 off select handbags. No coupon codes needed to take advantage of the discounted prices, Some gorgeous and exclusive styles to choose from. Shop today!
Avenue
Save $20 on your $100 order at Avenue.com! This promotion runs through Monday, December 1, 2008. So hurry and shop today.
$15 Sweater Sale November 26 until December 3, 2008.
Silhouettes
Take 20% off any order of $100 or more, simply use code AFF8PC29 at checkout. This offer runs through November 30, 2008.
T-Shirt Offer: Any order over $149 will receive a free Donna Vinci t-shirt, no code necessary!
5 Suit Pack: 5 different suits from the unique collections of award winning designers Lisa Rene, Donna Vinci, DVC Exclusive, and Dorinda Clark Coleworth worth a total of $1,749, available for just $449.
10 Hat Pack: 10 gorgeous special occasion hats worth a total of $1,590, available for just $399. (All above promotions are good through December 31, 2008.)
Danskin.com
For Thanksgiving Weekend: (valid November 25 to 30 2008): 25% off your $100 purchase. Just enter code GOBBLE8 during checkout.
And for Cyber Monday: (valid December 1, 2008): 25% off ALL merchandise – no coupon required, plus as a bonus they are also throwing in an added bonus! Get FREE shipping during lunch, so if you shop from 11am to 5pm EST and 8am to 2pm PST. Just enter code CYBERSHIP8 during checkout to redeem free shipping. Remember: No coupon is required for the 25% discount on merchandise, but to receive free shipping you must enter code CYBERSHIP8 during checkout.
JustMySize

JMS.com, which specializes in plus size apparel (14W – 32W) has launched the following promotions for Thanksgiving weekend:
Casual wear – Buy 1 get 1 50% Off: Select fashions are now on sale at JustMySize! When you purchase one item, you get your second item (of equal or lesser value) at 50% off!
JustMySize Minimizer Sale – 20% Off: Hurry! JustMySize are having a fantastic Minimizer Bra sale. Minimizer Bras shape and slim your bust, so your clothes fit better than ever. Choose the style that best compliments you, at 20% off!
Hanes & JustMySize Hosiery – Up to 40% Off: Hanes and JustMySize Hosiery is now up to 40% off!
Curvaceous Chic Woman
Just in time for Black Friday madness, Curvaceous Chic are going all out by running a clearance sale! A lot of great styles have been discounted, with some savings reaching up to 60%! But that's not all. They're also offering free domestic shipping on orders of $50 and up, simply use coupon code shipping10 at checkout.
Monif C
To give thank to their curvy customers, Monif C have launched some fantastic coupons for us to use, until December 1, 2008. Here are the details:
Liz Claiborne
Liz Claiborne have launched their Friends and Family sale! Now through December 1, take 40% off everything when you use code GIVE40 at checkout.
Plus, don't miss out on the Holiday Clearance Event where you can take up to 80% off clearance items while supplies last! And, shipping is free with orders of $125 or more.
I am sure that even more sales will be announced at the last minute, from even more stores, but rest assured this post will be kept updated with the latest information to keep you all informed. Do enjoy shopping this Thanksgiving weekend, it is a great time to kick start your holiday shopping, and get all the items you need at greatly discounted prices.
As we have been doing all throughout the month of November, outlining specific swimsuit styles to address specific problem areas women face when choosing swimwear, today we are looking into what I think is the number one problem area facing women worldwide: the tummy area. Over the past three weeks we have looked into minimizing the hips, supporting large busts and concealing big booties. Today we're looking at swimwear styles that are great at creating the illusion of a slimmer tummy.
Visit our Plus Size Black Friday Sales page for a round up of this year's offers from your favorite plus size clothing stores!
Thanksgiving day is fast approaching, and therefore everyone seems to be getting in the Holiday season mood slowly but surely. Unfortunately things seems a bit dreary this year, especially compared to past year. With the economic downturn, which is definitely effecting everyone, things do not look as bright for most folks.
However it's good for us to take some time out and enjoy these special times with our family, friends and loved ones. Time like these, when everyone gets together help make us stronger and have a more positive outlook on life.
If you're worried about not being able to handle Christmas shopping and buying the different holiday gifts this year, then take our advice and wait until next week, when the day after Thanksgiving comes along and the holday shopping season really starts with a bang.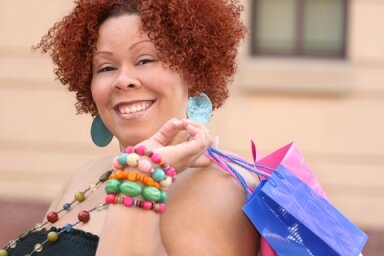 The day after Thanksgiving, which is more commonly known as Black Friday is a day characterized by massive sales and discounts in major stores. So it is a perfect time for you to get your shopping done, and gift all settled, whilst savings money. But that is not your only chance to save!
The sales which kick off on Black Friday usually run throughout the whole weekend, so you do have some time to shop around and compare prices. More importantly wait for Cyber Monday to come along, which falls on the Monday straight after Thanksgiving, and which is also characterized by more sales and discounts being offered.
Sounds like sale heaven doesn't it? If you're thinking this is the perfect time to shop around, and are planning to head on to your favorite mall to shop and takje advantage of the sales, then brace yourself for crowds and queues. These days are infamous for very large shopping crowds, so unless you want to battle the crowds, read on and consider our advise.
Shop Online
It might sound obvious. To some it might sound a little impersonal. To us it sounds logical and so convenient. Think about it this way: you do not have to battle through any crowds; you do not have to wait in any lines; you do not have to fight for the last remaining items on a shelf; you do not have to carry hefty shopping bags around all day; you do not have to rush at making your purchase decisions. Opting to shop online will give you the comfort to shop around more than one store to compare prices, without having to actually visit all the stores. You still get to benefit from the sales, plus you get the comfort of home delivery.
Benefit from Online Offers
Besides offering the regular Black Friday sales, many stores online actually opt to offer extra and exclusive online offers. So you will probably end up saving even more by shopping online for your gifts and needs.
You're probably wondering, but how am I going to know about all the sales going on? Well the first thing you have to do is, visit the stores you have in mind on Black Friday and Cyber Monday, and any offers will clearly be displayed on the website.
However if you do not have any particular store in mind, then do not worry. Check back at this plus size clothing blog on Thanksgiving day, and all throughout Thanksgiving weekend, as we will be updating you with everything you need to know about the sales going on at our favorite plus size clothing stores.
Year after year our favorite stores have launched some great offers for you to take advantage of, and I am sure this year will be no exception. So if you're planning to do some Christmas shopping, wait until next week and shop around for your fashion needs and gifts on Black Friday and Cyber Monday!
Wear now, Wear later…wow now, wow later. These picks from the OneStopPlus fashion Editor are all timeless looks.
1. Wraps - an exclusive collection at OneStopPlus

Natalie Wrap Dress
Get fashion's hottest wrap look without the 'opening' issue with this flattering faux-wrap silhouette from Avenue's® exclusive Soft Collection.
2. Prints - functional and very chic

Animal Wrap Print
Keep away the chill in this stylish and functional wrap with chic animal print.
3. Chiffon - gorgeous and flowing

Flutter Sleeve Gown
This chiffon dress could be called the "Flirter" or flutter with its feminine, flowing movement. The sleeves give just enough coverage and the rhinestone pin at the waist gives great curves.
During the month of November, we have been looking at specific swimsuit styles that address certain problematic areas women usually are faced with when shipping for their special swimsuit. So far we have looked at styles perfect for concealing the hip area, and also style which are perfect for plus size women with large busts.
Today we are moving down again, and addressing the big booty scenario. Here are styles perfect for plus size women with a healthy behind, who might feel a little apprehensive about wearing a swimsuit. Well ladies, with the styles below your booty will be supported and conceal, but the suit is made to flatter the curvy figure, so you have no reason to fear wesring a swimsuit. Click on each style to check them out more closely.
Last week we took a look at Old Navy's brand new plus size collection, which they have just recently introduced in time for the Holiday season. We also had a look at 3 dressy and elegant plus size holiday outfits, all of which can be cooked up from top to bottom at Old Navy.
Since the festive season is not all just about parties and holiday do's, today we thought of looking at 3 casual outfit ideas instead. These outfit works perfectly for work, to a coffee out with friends, or shopping around with mom.
Casual Look 1
Rosette cardigan at $39.50
Pleated satin top at $29.50
Tummy-trimmer jeans at $25.00
Chain-link leather hobo at $59.50
Ankle-strap boots at $39.50
Grand total of: $193.00
Casual Look 2
Cable-knit sweater at $34.50
Denim pencil skirt at $32.50
Color-block satin clutch at $16.50
Grand total of: $83.50
Casual Look 3:
Belted wool-blend coat at $82.00
Lattice charmeuse top at $34.50
Flirt boot-cut jeans at $25.00
Patent ribbon-trim Mary-Janes at $39.50
Grand total of: $181.00
Again, I want to stress that the accessories and shoes are just ideas. Be creative and incorporate the items you already have at home into your holiday plus size outfits. So just grab yourself a new top, coupled with a new pair of jeans perhaps, and then work with these new items the shoes and accessories you already have.
Keep in mind the colors of the items you already have to make sure that the new pieces you buy match and work together, to create a brand new and stylish figure flattering casual outfit.
This month we are looking at select plus size swimsuits which address particular 'problem areas' women often are faced with when choosing swimwear. Last weed we looked at specific plus size swimwear to go for, if your main concern is your hip area, and you want to take the attention off that problem area.
Today we are addressing those plus size women who have been very lucky with the bust area. Having a large bust may sometimes hinder you from easily finding the correct swimwear. The ideal swimsuit should have enough support for your back, and should of course fit very well so that you are neither over-emphasizing your bust, but of course not completely concealing it. So here are our top choices for plus size simwear perfect for large busted full figured women.
WomenSuits.com, the specialist in women's plus size suits, church suits and special occasion wear are currently running a special offer. You can save 10% on orders of $275 or more. Simply use coupon code WSSAVE10, which expires on November 16th, 2008.
This is a great opportunity to save on a brand new suit, especially if you have been thinking of grabbing yourself a brand new one in time for the holiday activities. Perhaps you have a special occasion coming up in the next few weeks? Then check out some suggestions below. Of course more is available at WomenSuits.com, and don't forget that coupon code: WSSAVE10.

1. Suit (2679): Luxurious Women's Suit by Donna Vinci Knit – Sparkling Royal blue 2pc set in cut and sew knit combined with rich velvet.

2. Suit (2476): Luxurious Women's Suit by DVC Exclusive – Flared skirt in elegant back satin is printed in shades of green and gold. The jacket carries out the theme with its trim of metallic lace accented by sparkling sequins that complement the print.

3. Donna Vinci Women's Black Denim Jean Suit: Luxurious Women's Suit by Donna Vinci Jeans – They have taken a classic trench style jacket and dressed it up by adding some elaborate embroidery and accenting it with lots of sparkling rhinestones.

4. Suit (2525): Luxurious Women's Suit by DVC Exclusive – 3 Pc. Set in black lace touched with silver Lurex. Jacket neckline is finished with a pleated organza ruffle and trimmed with a subtle mix of black sequins, beads and rhinestones. Jacket style lines are accented by insets of white satin.

5. Pant Suit (2479): Luxurious Women's Suit by DVC Exclusive – Dramatic, couture-inspired jacket closes at the neck with an elaborate rosette of satin and brocade, centered by an elegant brooch of bead, rhinestones and enamel work. Dressy pants have side inset elastic waist for comfort and a satin tuxedo stripe down each leg.

6. 3pc. Suit (2488): Luxurious Women's Suit by DVC Exclusive – Ropes and ropes of pearls accented by rhinestones create all the embellishment that is needed on this elegant jacket. A beautiful enamel and rhinestone buckle closes the front.

7. Fashionable Black Designer Suit (9708): Luxurious Women's Suit by The Dorinda Clark Cole Collection – Layers of black metallic sequins trim the jacket neck, front edges and cuffs of this 3pc set. Jacket has 5 pleats across the back to give it a new looking 'trapeze' shape.
As I announced earlier today, Torrid this weekend are running their fab 50% off clearance sale again, this time running through November 11th, 2008.
Of course I was browsing through the items to see what's on sale, and within the dresses categories I found a good number of dresses, which are now available to purchase for less that $20! I've selected my favorite 10 below, most of which can work perfectly as a Holiday season dress, which you can wear at an upcoming function you might have.
So do check them out below. Remember the prices quoted below are the clearance sale prices, not the final 50% off clearance sale prices. So to view the discounted price (all under $20) click on the 'Read More' links to have a closer look at these gorgeous plus size dresses.