Archive for June, 2009
If you work in an office or business setting where you're expected to dress in a conservative manner, it can feel a bit stifling. While you may long to wear flowing dresses with a soft, feminine touch, the dress code may dictate that you wear a woman's dress suit or other conservative attire. The good news is a woman's business suit can look decidedly feminine if accessorized correctly. Here's how to make a woman's business suit more stylish and less masculine.
1. Wear it With Heels
Nothing takes a business suit out of the masculine realm more quickly than pairing it with sleek stilettos. After strapping on your stilettos, add a pair of softly textured hose in a matching color and you'll turn even the most conservative woman's business suit into feminine, but professional, office wear. If stilettos are too uncomfortable to wear during your busy day, choose a feminine pair of pumps with a wider, more moderate heel.
2. Add Some Silk
To enhance the look of a woman's dress suit, skip the turtleneck and pair it with a soft, silky tank top instead. The contrast of soft silk against the heavier fabric of the business suit will remind the world that you're still a female even if you are "the boss". Plus, the silk will feel sensual brushing against your skin.
3. Add a Silk Scarf
Spend some time shopping for beautiful silk scarves to wear with your conservative woman's business suits. Look for ones with lots of color and interesting detailing. They'll add a beautiful splash of hue that will soften the angular lines of your suit. Learn new ways to tie the scarves you select so you'll never run out of feminine looks.
4. Add Some Color
Who says a women's dress suit has to be in basic brown, black, or neutral? When shopping for suits for work, look for ones in more unusual colors such as soft, pastel pink or a muted yellow or gold. This can be a welcome change from darker, more conservative suit colors, particularly in the spring and summer months.
5. Get it Fitted
Another way to make a woman's dress suit more feminine is to have a tailor alter it so it fits perfectly. A poorly fitting woman's business suit has a tendency to look dowdy. It may cost a little extra to get it altered but you'll be rewarded with a suit that'll look like it was custom made for you.
6. Add Some Glitter
Jewelry is another way to soften the look of a business suit. Add a beautiful antique brooch to the lapel of your suit jacket or wear a pair of eye catching earrings with an artsy touch. Concentrate on one accessory and make it a statement piece rather than weighing yourself down with a bunch of smaller pieces.
When you add the right accessories, a woman's business suit can be transformed from masculine and boring to chic and feminine. Have fun experimenting!
Summer 2009 has now officially kicked off, and to make sure we all hit this new season in style, I'm sharing with you some of the best of the plus size swimwear selection available from leading online store, OneStopPlus. Here I present, what I think, are the top 10 swimsuit choices available from this store:

1. Inches Off (R) O-print plus size swimdress
This Inches Off (R) O-print plus size swimdress hides any figure flaws with a sweep of a skirt. With a solid overlay on printed top, this swimsuit features soft foam cups and high straight back for additional bust support. Sizes available: 14W-34W.

2. Oval Splash Swimdress with Waist Control
A graphic oval print and ruched waistline make this flirty swimdress ultra-flattering. It features sewn-in soft foam cups and elastic underbust band enhance and support. The empire waist comes with ruched banding and ring detail. Sizes available: 16-28.

3. Plus Size Swimdress Enhanced with Jewelry
This plus size swimdress sparkles with a lovely attached gold-tone brooch enhanced with purple jewels to complement the swimsuit. Includes keyhole design, with attached brooch and a figure-flattering empire waist. Sizes available: 14W to 34W

4. Resorts Plus (R) 2-Piece Overlay Stripe Empire Tankini
This tankini is designed to enhance the bust, tame the tummy, whilst flattering your hips and thighs! Shirred V-neck top has contrast stripe overlays, soft foam cups, and adjustable straps. Sizes available: 14W-28W.

5. Swimsuit Halter Skirtini
A feminine two-piece plus size swimsuit with adjustable drawstring skirt for a little or a lot of coverage. Features a V-neck, empire-waist tankini top. Includes also bust-enhancing soft foam cups for shape and support. Sizes available: 14W-34W.

6. Plus Size Tankini Swimsuit
This gorgeous plus size tankini swimsuit provides the look of a one-piece with the ease of two. The blouson tankini top conceals tummy and waist, whilst the matching solid brief creates a smooth, slim look. Featurs removable straps, perfect for suntanning. Sizes available: 14W-34W.

7. Plus Size Swimdress Swimsuit
This versatile swimsuit by Delta Burke has adjustable sides that can be cinched up or pulled down for the exact coverage you need. The side ties keep it all in place and add a pretty touch. It is chlorine-resistant for longer wear. Sizes available: 14W-34W.

8. Plus Size Floral Swimdress
Another cute plus size floral swimdress, which is detailed with princess seams for an ever-so-flattering shape. It features soft cups, a V-neck front, and U-back. Sizes available: 14W to 36W.

9. Plus Size Sunbird (R) 2-Piece Swimdress Print
This is a best-selling piece at OneStopPlus! Features a shirred-yoke tunic with adjustable back-button straps. Includes optional string-tie belt, and powernet shelf bra for great support. Sizes available: 16W-40W.

10. Plus Size Floral Swimsuit by Robby Len (R)
This floral swimsuit by Robby Len features a stunning giagonal print which helps slim the waistline. It comes in yellow, which is the most popular trend color of the season. Sizes available: 14W-28W.
Shop through IGIGI today, until tomorrow 22nd June, to take advantage of some amazing deals. IGIGI have been running a special sale on select items for the past number of weeks, and have now reduced these items even further.
They're saying goodbye to Spring and hello to Summer in a very stylish way! The season finale sale features:
Shop no to grab these super prices items. No coupon code needed!
Also, get Free Shipping when you spend $50 or more, offer also running until tomorrow 22nd June.
It's been a couple of weeks since our last Frugal Fridays corner, which I completely apologize for ladies! Lately I have been super busy with planning my upcoming October wedding, that I have barely had time to sleep.
But the weekly discounts post it back with a bang! I've chosen three gorgeous plus size swimdresses today, which will definitely come in handy for you all during the hot summer months. Without further ado, here are my picks this week:

Teal Fusion Plus Size Swimdress
Was: $49.00
Now: $39.00
This fresh plus size swimdress features and comfy soft cup shelf bra, which give you all the support you need, Side princess seams which helps slims the torso; The very handy tummy control feature helps smooth and flatten the belly area. Will comfortably fit up to a D cup!
__

Beach Belle Midnight Garden Plus Size Swimdress
Was: $68.00
Now: $44.00
This style again features the comfy and handy soft cup bra; Plus it also features contrast thin double straps and cute contrast piping along neckline; Tummy control is also incorporated in this style and it will comfortably fit up to a D cup!
__

Floral Illusion Plus Size Swimdress
Was: $49.00
Now: $39.00
A soft cup shelf bra is incorporated in this swimdress, which features side princess seams which is a touch added to help slim the torso. This swimdress also includes tummy control and will also comfortably fit up to a D cup.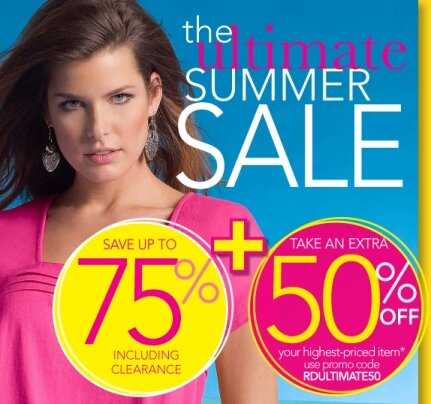 Roaman's is holding what it has called the ultimate summer sale. You can save up to 75%, including clearance items, and take an extra 50% off your highest priced item! Just use coupon code RDULTIMATE50 at checkout. This offer ends Saturday, June 20th.
But that is not all, you can also save on one of the summer's hottest items: tunics! Buy 1 tunic and get the 2nd tunic for just 99c. Simply use promo code RDTUNIC99 at checkout. This offer ends on Monday, June 22nd.
So there you have it, 2 great ways to save whilst shipping at Roman's. Make sure you share these codes with your friends and family, everyone loves a bargain.
So you've haphazardly thrown a pair of your beloved denim jeans into the dryer only to discover that upon the next wear you look like you've grown three inches. Your most comfortable and flattering jeans that once rested perfectly just below the ankles have undeniably shrunken to an awkward, unflattering length. After tugging, jerking and wrenching in vain, it's apparent the jeans that once made you feel like a million bucks are now making you feel like you're waiting for the flood.
Before you toss your beloved denims into the trash, or even worse, cut them into shorts (which by the way has been a bad idea since 1989…) know that you can gain two or more inches in length with some strategic stretching. With a little tugging action you'll have your favorite jeans back – and you'll be manipulating the length of all your shrunken denim without having to call grandma to whip out her infamous sewing machine. (Note: Call grandma anyway to tell her how you've magically revamped your entire wardrobe; she'll think you're a genius).
First and foremost, let's touch on jean care as to prevent the costly damage of any future denim purchases. Denim, which is made of cotton or a cotton blend, will undoubtedly shrink when exposed to hot water or a hot dryer. If your new jeans already fit perfectly, be sure to always wash them in cold water with "like colors" to keep the color from fading, and hang them to dry to keep the fibers from shrinking.
If your jeans were mistakenly exposed to damaging heat, and they've crept up an inch or two, follow these simple steps:
Toss your jeans back in the wash (this time in cold water) and begin the stretch immediately after the spin cycle has completed.
Either by yourself or with a friend (you'll gain more length with the strength of two people), stretch one pant leg at a time, one seam at a time. Begin by placing one hand at the crotch of the jeans, and the other at the hemline of the inseam and pull slowly and steadily.
Repeat the same stretch on the outer seam, directly across where the initial stretch was performed. Finish the stretch by performing the same steady, pulling action in the middle of the jean leg, holding the jean material at crotch level with the other hand firmly on the hem. Repeat the same steps with the other leg.
Be careful not to tug too violently as weak, damaged denim can separate and tear. Denim with lycra/spandex blends can gain three to four inches through stretching, so carefully stretch a little at a time until you come to the ideal length.
To accurately measure your progress without trying on the wet jeans, hold the crotch seam of the jeans to your own while standing, and observe where the hem falls around your ankle. Additionally, fold the jeans in half on a flat surface, and line up the seams to ensure both legs are equal in length.
Most denim jeans can be safely altered using this simple method. Some jeans can also be stretched for additional width (depending on the direction of the threading) to gain an extra inch in the thigh, hip, waist, and lower leg. Not only will denim stretching save you some money, you might even gain a little muscle in the process. Five minutes is all it takes to revamp those jeans – and to avoid that "waiting for the flood look" forever!
Almost everyone feels a bit self conscious in a swimsuit. To walk out onto the beach revealing so many inches of skin you have to feel self confident. One of the best ways to boost your confidence level when wearing a swimsuit is to choose a bath suit style that really flatters you. Many women make the mistake of picking a trendy swimsuit style that does nothing to enhance their natural build or body type. Nowhere is this more true than when choosing a swimsuit for wide hips. Choosing the correct swimsuit style can help to even out a pear shaped body and give the illusion of more narrow hips. This can be a real confidence booster when you take off that beach cover up. Here's how to choose a bathing suit for wide hips:
1. Use the Power of Color to Camouflage Wide Hips
Whether you choose a one piece swimsuit for wide hips or a bikini, the color you choose can have a big impact on how large your hips appear. Dark colors tend to make areas look smaller while light colors expand them. If you opt for a one piece swimsuit, choose one that has a dark color block around the hip area and a lighter color on top. The lighter color will call attention to the chest, waist, and shoulders while the darker color on the bottom will visually reduce the size of your hip area. You can use the same principle for a two-piece or bikini. Choose a dark color for the bottom and a light color for the bikini top. A bold graphic bikini top will also call attention to the upper half of your body and draw attention away from your wide hips.
2. Choose a Swimsuit for Wide Hips with a High Cut Leg
Another way to deal with wide hips is to choose a swimsuit that makes your legs look longer. One of the most effective ways to do this is to choose a suit with a high-cut bottom. This will visually add length to your legs, making the hip area less noticeable. A higher cut leg will also make your legs appear slimmer.
3. Choose a Swimsuit for Wide Hips with a Mini-skirt Bottom
A mini-skirted bikini bottom can be quite flattering on wide hips as long as you stay away from too much detail. Forget the ruffles on the skirt. Concentrate the ruffles on the upper half of your body to call attention away from your lower half. A simple, ruffle trimmed mini-skirted bottom in a dark color may be all that's needed to slenderize your hips.
4. Draw the Eye to Your Upper Half
When choosing a swimsuit for hide hips, select a swimsuit top with bold graphics or lots of pretty detailing to draw the eye upwards. Wear some fun sunglasses or a big straw hat to balance out your lower half. Add a pretty pendant on a chain that catches and reflects the light.
5. Choose a Swimsuit for Wide Hips with Diagonal Stripes
Choose a swimsuit with diagonal or vertical stripes along the sides of your torso and hip area. This will give you a natural slimming effect and can make your torso look longer and slimmer.
6. Wear a Fashionable Cover Up
One of the best ways to cover up wide hips and still look fashionable is to wrap a sarong around your bathing suit bottoms Add a pair of sandals and you're ready for a casual lunch on the boardwalk.
Don't forget to fake a good tan by wearing a self-tanning cream. Tan skin gives you the illusion of being slimmer and more toned. Most of all, enjoy your day at the beach!
These days everyone is watching what they spend, and not many people can afford to splash out on any piece of clothing they like. However this doesn't mean you have to be stuck with last year's styles and trends. This year you have to learn how to shop smart, choosing items of clothing which you can mix and match with other items to create a number of different outfits, to suit different occasions.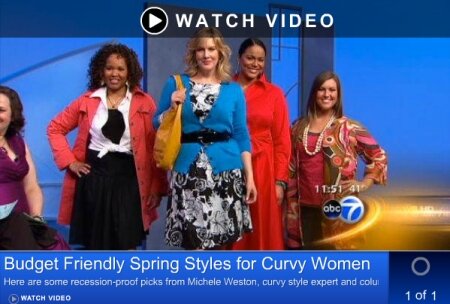 I ran across this very informative video the other day, from ABC 7 news, which showcases a number of different budget friendly outfits options. Michelle Weston, the curvy style expert features in this video also shares a number of useful recession proof style tips; watch the video today!
When it comes to maternity swimwear, there's never been a greater selection and diversity of styles available. In the past, most pregnant women either avoided the beach entirely or do their best to cover their growing abdomen in conservative swimwear and a cover up. Times have certainly changed. In this day and age, it's not uncommon to see a woman eight months pregnant sporting a bikini. While this may be true, most pregnant women still feel more comfortable in a one piece but that doesn't mean it has to look matronly. Here's how to choose a one piece maternity swimsuit that's stylishly practical:
Decide if you want to look pregnant or cover it up.
If you don't mind showing off your pregnancy a bit, you can choose from a variety of one piece styles that will show off your expanding abdomen such as an empire tank or a keyhole style swimsuit. If you're a bit more modest, you can opt for a style with a flouncy skirt such as a baby doll style with a halter back. A flouncy skirt can look stylish while making you feel a bit less self conscious about your expanding abdomen.
Plan for your expanding abdomen.
As your abdomen continues to grow in size, you may not want to invest in another swimsuit. To avoid this, choose a suit with tie closures as opposed to clasps. As your abdomen distends, you can simply adjust the ties to accommodate your expanding girth. This can be a big time and money saver.
Reconsider basic black.
Although a solid black swimsuit is slimming when you're not pregnant, it does little to distract the eye away from your growing abdomen when you are. Try on a print one piece maternity swimsuit and you may find the pattern draws eyes away from your abdomen and towards your upper body and face. A print halter swimsuit top with a center pleated skirt paired with a simple tie bottoms can be very flattering. One piece maternity swimsuits come in such an array of colors and patterns these days that there's no need to stick with basic black. Experiment a bit and find a shade and pattern that expresses your personal style and makes you feel good.
Be sure you're supported on top.
As your breasts expand in size, you're going to need adequate support. The best option may be a shelf bra with underlying elastic. If you're smaller breasted, a bandeau style or halter top with soft cups or even a strapless style may work best although a strapless style may be impractical if you plan on swimming laps in the pool.
Choose your material.
Cotton is a nice fabric for swimwear because it bleeds but a suit with some lycra has its advantages because it expands as your abdomen does. That added stretch can be important as your pregnancy progresses.
Decide if you'll be swimming or merely sunning.
If you plan on swimming laps in the pool for exercise, a tank style one piece is probably your best choice. If you'll be spending most of your time in a beach chair or walking along the shoreline, you can choose a less practical and more stylish type of one piece maternity swimsuit.
You don't have to dread shopping for a one piece maternity swimsuit. The fashion world has responded to a woman's desire to be stylish during her pregnancy by design lots of flattering options. Have fun selecting your suit!