Archive for October, 2006
It's a breath of fresh air to see a company working for a truly positive cause. And when that cause is to help women and girl worldwide to build up their self-esteen and recognise their tru beauty, definitely puts a smile to my face. I'm sure most of your have seen those Dove commercials were real women are shown being comfortable with their own bodies. Dove seems to be investing a lot into these initiative launching the Campaign for Real Beauty and more recently, the Dove Self Esteem Fund.
I urge you to visit these links, learn more about Dove's initiatives and check out the abundance of information and resources available at these sites. Moreover, share these links with your friends, family, colleagues and everyone you can about as this truly gets you thining.
One item which you definitely should not miss checking out the video which is currently highlighted on the main page of http://www.campaignforrealbeauty.ca/. This 1 minute short film reveals the illusions behing the "beauty" we see everyday in the media. It's a little reminder that even supermodels do not looks like supermodels.
Finally a company making some sense!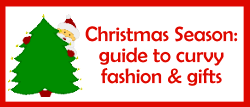 With Christmas soon on the way I couldn't help but already start shopping around to see what holiday styles have already been made available at my favorite plus size clothing stores. I have been shopping around particularly for a formal dress, one to use during the Christmas season, to wear at parties and gatherings. Many beautiful styles and outfits are available already, so I decided to draw up a list of the top 5 plus size dresses which I think are perfect for plus size women during the Christmas holiday season. I am calling this my 'preview list' because I am sure within the coming months plus size clothing stores will bring out and reveal new dresses and styles made especially for the upcoming holiday season.
So take a look at the preview list of top plus size dresses which I recommend full figured women take a look at. This top 5 list will be updated (and also expanded) next month, including newer styles and options.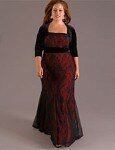 1. Fiorella Lace Gown with Shrug in Red from IGIGI
A true winner from IGIGI., this is my top choice! A beautiful gown, which screams out "Wear me for the Christmas holiday season!" The red color is perfect for the season and the lace make is look chic and warm at the same time. This unique gown created especially by IGIGI creates a feeling of mystery and romance, what wonderful elements to bring to your romantic Christmas Eve dinner. Beautiful stretch lace has an iridescent effect due to a contrasting lining. Details include a skirt that is flared from the knee due to a number of the sheer chiffon godets; empire waist is trimmed with a velvet panel. I love this dress because if also comes with a velvet shrug. I love buying gown that some with simple accessories, as this makes them feel complete, and also save you the added hassle of finding matching shawls and shrugs. IGIGI has taken care of this for us! This dress is currently available in sizes 14 to 32.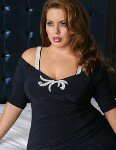 2. Dangerous Beauty Gown in Cobalt from IGIGI
Another beautiful gown from IGIGI; one which I love because of its simplicity and detail which, elicit a sense of sophisticated glamour. A top position contended in out plus size Christmas dresses list, this gown evoked the essence of a seductive Courtesan of the 17th century French Court. Bare shoulders are adorned with the rows of dazzling rhinestone bands in a bra-friendly style, while provocatively plunging neckline showcases hand-made crystal ornament. The rhinestone detail gives this gown that extra special touch and make is stand out from other gowns in its category. Women looking for a special dress for the Christmas holiday season should definitely give this gown from IGIGI a look or two, as it is perfect for both Christmas and New Year's Eve. Sizes currently available are 14 to 32.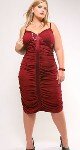 3. "Nikki" Little Red Dress from Monif C
We have included this dress in our top list of recommendations for all those plus size women who want to make an impact and a statement this Christmas. Be sexy! Be daring! Knock them dead in this sexy little number from Monif C. The little red dress comes in the most comfortable rayon jersey fabric, which is ruched to enhance and maximise your womanly curves. Monif C added a dusty purple silk to outline the full figured body and make the most of it. You will look sexy and sophisticated all at once this Christmas if you go for this original and one of a kind outfit. Currently this dress is available in sizes 14 to 24.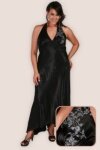 4. Black Sequin And Flower Print Satin Halter Dress from Torrid
I must say I am not a big fan of the color black myself, I love vibrant colors, however I couldn't help but fall in love with this black satin halter dress available from Torrid. It looks beautiful, feels lovely and fits like heaven. Wear this dress this Christmas season to vamp it up with a femme fatal look in this long black satin dress. It has a gorgeous pale flower print, sequins and ruching, giving is sophisticated details. With an elastic back, it is made for curvy comfort. At the moment this dress is available in sizes 14 to 26.
5. Velvet Dress with Brooch from Silhouettes

A classic piece indeed. Beautiful, sultry and feels wonderful to touch. This gorgeous stretch velvet dress from Silhouettes comes with a double v-neck that's shirred in front. In my opinion, the highlight of this dress, besides the beautiful flowing fabric, is the vintage-style brooch which is placed at the lowest point of the v-neck. It adds that touch of class, completing a great dress made to be worn on very special ocassions. Currently, this dress is available in size 12 to 26.
I hope this list gives you a good heads up, as to what is available to plus size women at the moment. Keep a look out at the scoop, as next month the list will be updated and expanded further, to reveal the final list of plus size Christmas holidays dresses recommended!
Our very favorite plus size swimwear store, SwimsuitsForAll.com, have recently added some new styles to their stock from the Maxine of Hollywood Plus Sizes and Misses line of swimwear. The new styles available are very colorful and include 'skirted' swimsuit options; perfect for those ladies who, like me, are somewhat concious of their inner-thigh area and would feel more comfortable by the pool if this area was covered up a little bit.
What's good about the Maxine of Hollywood line is that a number of their swimsuits include a 'tummy control' feature, which will help trim your figure's imperfections whilst maximizing your curves.
Most styles are priced at $64.00, however check directly at SwimsuitsForAll.com for actual pricing details.
Visit the Maxine of Hollywood plus size swimwear line at SwimsuitsForAll.com today!
BeautyPlusPower.com is inviting all curvy ladies to a celebration in honor of their 2007 calendar, "LUSCIOUS – Women with Curves". Several of the models that appear in the actual calendar will be on hand to autograph copies of the calendar, plus there will also be fabulous goodie bags and an amazing raffle for cool prizes.
The party is going to be held on Saturday October 21st, at 9:30pm. The venue is Sin-Sin, 248 E. 5th St. (corner of 2nd ave), New York, NY 10002.
To receive an invitation please send an email to .
Following our piece last week on the Top 10 Plus Size Halloween Costumes, we come back again this week to update you a little bit on the Halloween related plus size costumes available to us. This time we're looking at Henry and June.
Although Henry and June is primarily a lingerie retailer, they have a great selection of Halloween costumes which are good for both those playful, intimate moments, as well at others! In fact Henry and June have over 200 Halloween costume style available, and I truly recommend you take a look at this selections! This so much choice we're certain you will find something to suit your fancy!