Archive for April, 2009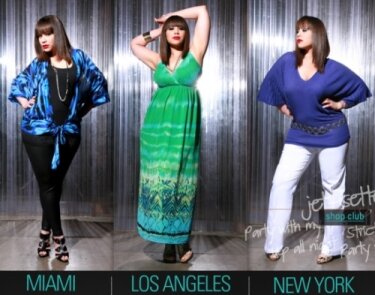 The Miami Look
Get it poppin' in aquatic prints, flowing fabrics and snake-print leggings. How to get this look:
Blue Chiffon Watercolor Wrap Top
Matte Black Snake Print Leggings
Black Lace Hemmed Tank
Black Finella City Gladiator Heel
Silver Filigree Teardrop Earring
Silver Multi-Circle Link Necklace
The Los Angeles Look
I love this! Party in Malibu in a tie-dyed chiffon maxi dress and beachy accessories. Just follow these instructions to cook up this look:
Gold Turquoise and Brown Bead 5-Row Necklace
Green Pheasant Feather Photo Print Finella Heel
Gold Bangle Bracelet 24-Pack
Hammered Silver Bangle Bracelet 12-Pack
The New York Look
Be part of it in a kimono sweater, serious silver hardware and fierce wildcat heels. Getting this look is easy, here's how:
Purple Ribbed Kimono-Sleeve Sweater-Knit Top
White Textured Twill Flared Pant
Beige Wild Cat Photo Print Orsen Heel
Silver Dotted Oval Chain Belt
Silver Concentric Circle Cuff Bracelet
The beach is a great place for people watching as people of all shapes and sizes play in the sand and surf enjoying the first days of summer. No longer burdened by the heavy attire of winter, people arrive in an interesting array of swimsuit styles. Some of these beach fashions are flattering while some can be down right horrific, particularly if worn on the wrong body type. Here are some of the worst swimsuit styles you could see parading down the boardwalk, and which you should avoid at all costs:
1. The Monokini
This may be one of the worst bikini styles inflicted upon women so far, although it's unlikely you'll see it on the beaches of America. This is not because there aren't people willing to wear it but because they might get arrested if they do. The monokini is really just another term for a topless bathing suit. This swimsuit was the brainchild of a European designer by the name of Rudi Gemreich who introduced this swimsuit style to the world in the mid 1960's. Needless to say, it brought a firestorm of criticism from more conservative institutions and met with only short term commercial success, lasting only a season. Its influence is still being felt today as swimsuit designers use this principle to create skimpier swimsuits with less fabric. Although monokinis are still being manufactured, you probably won't find them in their original form on the racks of most mainstream department stores. They've been transformed into bathing suits with strategic cutouts that are more socially acceptable but still a bit risqué.
2. The Thong
After Gemreich introduced the monokini in the mid 1960's, he wasn't finished yet. Undaunted by the lack of long term, commercial success of the monokini, he introduced the world to another ridiculously revealing bikini style, the thong. This little number was met with greater enthusiasm and more commercial success even though it still left a great deal of skin exposed. Even more significantly, the bikini thong wasn't going to win any awards for comfort. Leaving most of the butt exposed to wondering eyes, it's a bikini style that's not for the faint of heart. It also requires a few trips to the gym if you're over the age of twenty. This style is probably best worn in the bedroom.
3. Metallic Styles
There's already enough glare on the beach. Why add to it by wearing a shiny, metallic bathing suit? Metallic styles run the gamut from solid colored suits in bright silver, gold, copper, and even a variety of metallic colors to bikinis with metallic accents. Although these styles certainly attract attention so does a metallic red fire truck. Both are probably best found off the beach.
4. Sheer and See Through
The monokini in its original form might not be around any more but you can still reveal almost everything in a sheer or see through bathing suit style. It's nice to know there's freedom of choice but some things are better left to the imagination.
Fortunately, with so many flattering styles of swimwear available, you'll never have to fall victim to these swimwear disasters. When someone suggests you try one of these swimsuit styles, do yourself a favor and just say no. You'll be glad you did.
In this week's Frugal Fridays corner we're looking at some deeply discounted items, currently all available from Avenue for under $10. Let's dive straight into it…

Avenue Smocked Crew Neck Tunic Womens Plus Size
Price: $9.99__
__

Avenue Smocked V-Neck Tunic Womens Plus Size
Price: $9.99
__

Avenue Seamed V-Neck Tee Womens Plus Size
Price: $9.99
__

Avenue Picot Trim Cami Womens Plus Size
Price: $8.90
__

Avenue Scoop Tee Womens Plus Size
Price: $9.99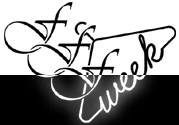 Fashion Week has grown into a prestigious event recognized worldwide for its success in presenting stunning couture fashion shows in upscale venues. For the first time in history, a partnership of independent fashion designers, retailers, event producers, models and plus industry businesses, will join forces to bring the fashion week experience to the curvy consumer. Full Figured Fashion Week (FFFWeek) will proudly launch in New York City, June 25-27, 2009.
In America alone, there are 40 million women over size 14, spending $25 billion a year on clothing, or a quarter of all clothing sales, according to American Demographics. So, why isn't there a Fashion Week event dedicated to showcasing fashions available to the curvy consumer? There wasn't…until NOW!
Produced by DeVoe Signature Events, a special events and management company, specializing in events for plus size consumers for over 10 years, the organizers of FFFWeek are very excited about creating an event that will not only showcase plus size designs, talented designers, retailers, local boutiques and "real size" models, but it is hoped that the event will also increase economic development in the area of plus size fashion design, clothing merchandising and plus modeling.
The ancillary events for FFFWeek will create even more networking opportunities for designers, boutiques and businesses as this highly anticipated three-day fashion extravaganza will debut before an audience of over 1500+ plus size fashion enthusiasts, style mavens, models, boutiques, vendors and the media, while providing an inaugural showcase of talented designers, models, stylists and plus industry businesses that specialize in the needs of the plus size consumer.
The grand finale event, which will be held at 6:00 PM on Saturday, June 27th at The Cathedral, one of New York's most preeminent and fashionable venues, will feature the collections of high-end plus size fashion boutiques, retail stores and local and out of state independent designers.
Sponsors for this inaugural event include, Plus Model Magazine, The Voluptuous Woman Company, Diva's Unlimited Inc., IPNY Travel and a number of other businesses devoted to the advancement of plus size fashion and consumer product marketing.
Sponsors, Designers, Models and Vendors interested in participating in the event should visit http://www.fffweek.com/registration.html and download the applicable forms.
For press/media inquiries send email to: .
It's one of the hottest looks for the spring. It's time to give your straight dresses and skirts a breather and make room for the ultra-feminine flare dress. This fashionable little number is being made popular by such celebrities as Renee Zellweger and Eva Mendes who look chic and "oh so girly" sporting these trendy dresses. If you've accustomed to wearing straight skirts and dresses, you may feel a little awkward giving this style a try. The good news is once you slip one on, you'll wonder how you lived without it.
The flare dress dates back to the 1950's when this style dominated the fashion world for several years. When you look back at photos from that era and marvel at the tiny waist lines on the women of that day, you'll understand the magic of the flare dress. This dress style can visually shave a few inches off the appearance of your waist line. It's particularly flattering for women with a natural hour glass shape. If your shape is not quite voluptuous enough, this dress can give you the curves you've always wanted. If you're carrying around a few extra pounds in the hip area, a flare dress will skillfully hide the truth underneath feminine billows of material.
How do you choose a flare dress that's right for you?
Full figured women should choose a flare dress in a dark color with a longer, flared skirt. Avoid one that has ruffles or too much detailing. Steer clear of bright colors and prints. Simple will be more flattering to you.
If you have a toned upper body and a firm bust line, try one of the off the shoulder or strapless flare dresses that will be so popular this spring. This is a wonderful look for a daytime wedding or a nighttime summer party. If you're petite and slender, choose a flare dress with a little less flounce at the bottom to avoid overwhelming your small frame. This look can be dazzling on your figure type.
What's the best way to accessorize a flare dress?
This look is so feminine and dramatic that it looks best with simple accessories that won't detract from the drama of the dress. If you're wearing a strapless flare dress, resist the urge to add a heavy necklace and let your neckline go bare instead. Scoop your hair up into a loose, feminine up-do and add some eye catching dangle earrings for the perfect party look. Don't forget about selecting the right shoes. Flare dresses are perfectly suited for feminine stilettos and high heels. A backless mule type heel is also a pretty look.
Because all trends eventually run their course, resist the urge to buy a closet full of flare dresses. Buy one or two basic ones to take you through the spring season and enjoy wearing this very pretty look while it lasts.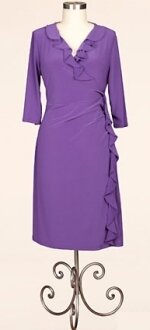 Do you need a black dress? You will definitely want to opt for a more colorful option when you see Kiyonna's newest colorful options.
With a brand new collection of little bright dresses adorned with cleverly feminine details, you're sure to find your dress du jour!
Here is an overview of a couple of options within this collection:
Tory Cinch Dress: Getting dresses will be a cinch with the styling of this chic faux wrap dress. The gentle gathering to one side and a cascading ruffle details create a slimming hourglass figure that is sure to turn heads.


__

Ciara Ruffle Chiffon Dress: This gorgeous dress features cascading chiffon ruffles, which lend s whimsical couture charm to this curve skimming silhouette. Give you classic black dress a break and indulge in a little color therapy. Strong vibrant colors balance this lightweight chiffon confection. Perfectly paired up with stilettos and a clutch bag.
Every year Torrid launches a fashion forward and stylish range of plus size swimsuit, and this year is definitely no expection. Torrid have just launched a range of colorful, trendy and stylish swimsuits for the Summer of 2009, all suit made especially for the plus size figure.
In this post I'll be showcasing my top 5 favorite swimsuits from Torrid's fabulous new line, though I encourage you to go ahead and visit Torrid to look at their complete range.

1. Black and White Zebra Print Halter Swim Top
This has to be my favorite style at Torrid this season. It's sassy and sexy, and will definitely help you get noticed on the beach this Summer, for all the right reasons of course! This very flattering swimsuit features silver O-ring detail on tie halter straps and a gathered empire waist. Just pair this top up with a black ruched swim short or a black swim skirt and you'll be all set!

2. Black White Polka Dot Sweetheart Halter Swim Top
Another one of my ultimate favorites, this plus size swim top will have you looking like a sexy and curvaceous pinup girl! This halter swim top features large white polka dot print and a gathered sweetheart bust.

3. Black Neon Star Print Halter Swimsuit
Be the colorful one on the beach with this trendy and fun swimsuit. It features an allover neon star print, and ruched sides with star charm ties. The molded cup shelf bra. and buckle detail at bust ensure maximum support and comfort.

4. Black Power Mesh Monokini Swimsuit
Definitely a classic, this swimsuit style is always a winner, and will always having you looking hot! Thanks to power mesh side panels, this style gives a great figure flattering shape, whilst adding support and comfort.

5. Aqua Fuchsia Brown Olive Waffle Print Tankini Swim Top
This is a funky, cute and definitely colorful tankini styles swim top which will definitely help you make a fashion statement! In features a ruffle trim at the top, molded-cup shelf bra and removable adjustable straps for a perfect fit.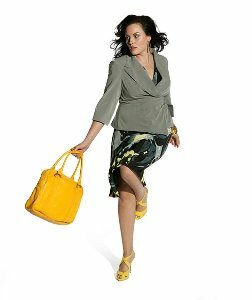 The Spring styles, newly available at IGIGI let you mix and match several items to easily create different, chic and stylish outfits perfect for work. So now you can wow your colleagues and your boss each time, just by mixing up and matching different items within this collection. So now you can look forward to creating a different outfit everyday!
IGIGI have named their new Spring collection the Timeless Architecture Collection. Mix it up now, and check out the items in this collection here.
Now you can, build your own plus size bathing suit, by shopping through SwimsuitForAll's extensive range of curvy swimwear separates.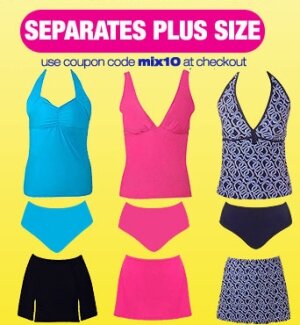 What sounds better than to create the perfect, custom swimsuit to fit your unique curvy figure? Many women find that when shopping for things like suits and swimwear, they would need different sized tops and bottoms; this is because many of us wear a bigger size at the top, and smaller size at the bottom, or vice versa. But two piece swimsuits usually come in set sizes, and many stores do not allow you to mix and match sizes.
Well ladies, SwimsuitForAll have solved this problem for us, because we can simply shop through their large selection of plus size swimsuit separates to create the perfect bathing suit for our figure. So we can easily select the right size for our top area, and our bottom area with super ease! And why not buy 3 separates instead of just two, this way you can actually create two swimwear styles with just 3 separates. In fact, SwimsuitsForAll currently have a great offer running which let us do just that and save.
They've also go a super offer currently running: buy 3 and get an extra $10 off! Just make sure to use coupon code mix10 at checkout for the discount to appear.
Recently we introduced you to a brand new plus size clothing store, City Chic. Hailing from Australia, this store provides a wide selection of styles, and has now recently expanded it's reach and also completely revamped it's website. With so much going on lately at City Chic, we wanted to get to know more about this unique new store and City Chic general manager Phil Ryan, was very kind to talk to us about City Chic, who they are and what makes them one of the hottest curvy stores currently online. So what follows, is a quick interview between Pasazz.net and City Chic…
1. Tell us a bit about the early days, and the start of City Chic. When was the store founded?
"The store was founded in 2004 and the first store was in Melbourne, Victoria. It was super exciting to be the pioneer for the fashion forward plus size industry in Australia. The customers and the public just loved it. Once word got around we had people from all over Australia come to shop with us."
2. What was the motivation behind opening up a curvy focused store?
"I had loads of plus sized friends and they were always complaining that they did not want to look like their mothers and wanted the latest fashions to suit their shape. We took a risk and thought that people would support the venture and they did. I love fashion and have always worked in the fast fashion area, as we are able to produce hot fashions fast, seeing the looks on our customers face when they walk out of the store with something they love and is on trend is all the motivation I need to continue on this exciting journey."
3. What style of clothing do you specialize in, and what sizes do your clothes come in?
"We are bold, sexy, sassy and chic, it is all about the latest fashion looks and what's HOT in sizes 14 to 24. Dresses are our best selling category, with the cuts of our dresses suited perfectly to the shape of our curvalicious customer. We offer formal and casual dresses in the latest styles and prints. We want our lady's to look and feel sexy on a night out and on the edge of fashion for a day out with the girls. Our jeans are a fantastic cut and fabrication, with the extra stretch allowing them to suit all body shapes."
4. Are the size cuts, tailored for the plus size figure?
"It sure is! Our design and production team have years of experience in plus size fashion. Our designer is a curvy lady who knows what works for our girls. We take the latest looks and adapt them to the plus size figure."
What makes City Chic clothes perfect for the plus size figure?
"We do all of our patterns in a size 16 and then grade them up from there. This gives our garments the shape you need to make the most of your curves. Many brands start in a size 10 and by the time they get to an 18 or 20 all shape is lost. Our shapes are designed in sizes 14 to 24 with style and end use in mind."
5. What are currently your top 3 selling items?
"This changes every week, with the fashions, but right now here are the top three.
i. In the Jeans it is the Glamourazon boot cut. This is our most popular jean as it is an amazing fit and suits every shape.
ii. In dresses the Lace Bodice dress with satin trim. This formal dress looks amazing for a wedding with classic accessories or for a night out on the town with chunky heels and OTT accessories.
iii. Tops it is the Knit Basque Chiffon, this garment is so flattering and will be back in store in a few weeks. The shape is so flattering and can be worn on a night out with some dark jeans or dressed down with lighter jeans."
6. You recently revamped your online store completely, and also expanded your shipping reach. What's new in the revamped site?
"We looked at of all the best websites in the world and developed a cutting edge website that says fashion and is bold sexy sassy and chic, like our clothes. The functionality is much better so it is easier to navigate the site to find what you want. It is also heaps easier to shop on the new site, with exceptional levels of security for payments."
7. Where do you now ship to, and what brought about this expansion?
"We ship to the USA, UK, Canada, NZ and Australia. I get to travel the world with our design team to get inspiration for our range and I have not seen anyone giving the curvy women the latest fashions like we do at city chic. We have had such a positive response from the customers in Australia, we wanted to bring this to the world. We think curvy women everywhere should look and feel sexy, and that's what we do! We also offer a free return service to all of these destinations if you are not happy with the fit or look, to take the risk out of shopping on-line!"
8. What exciting new things are coming up at City Chic in the next 3 to 6 months?
"In April we have our second Designer Dress Range from Billion Dollar Babes coming into store, with 4 formal dresses that are absolutely amazing. It is the first time a high end Australian designer has done work with the Plus Size industry. Our first range in November 2008 was a great success and this one looks even better.
Boots are being added to the range in April. These are custom made in 2 styles, heeled & flat; for the woman who struggles to find boots that will do all the way up. We have shown our store team and they love them. These will be our next hottest items. Each week we have new deliveries of the latest fashions from around the world, so check out the website each week to see what's in."