Archive for May, 2008
Missphit has been a fashion forward plus size clothing line, offering figure flattering tops and jackets, made with the woman's plus size figure in mind. Season after season their styles have evolved to move along with the trends, and this season Missphit have lived up to their reputation by launching a set of gorgeous and sexy tips, truly fit for a diva.
Although their full summer line is yet to be launched, Missphit have already rolled up a number of styles which set the pace for what is coming up. Today I'm taking a closer look at a couple of these gorgeous styles, to give you some insight into what is available at Missphit.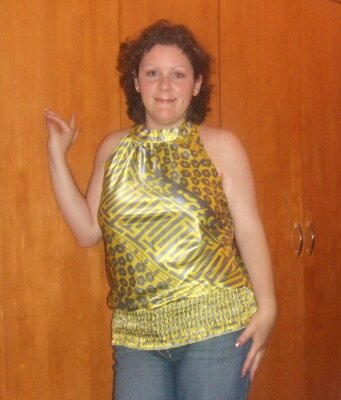 First off let's have a look at my favorite… the Satin Diva. This halter-neck top brings to mind the Diva Halter top, which was worn by Lakisha Jones during one of her performances of American Idol. It is in fact an updated version of this popular style, which completely screams style and celebrity. Their famous floral and geometric combination print, with metallic glitter sits on a beautifully soft and sleek satin fabric. For added comfort, Missphit have the fit-to-figure bottom elastic smocking band which really helps in flattering your curves. Besides, they have also added the breathable lining inside to prevent any unwanted stickiness. At just $39, the Satin Diva top is a steal!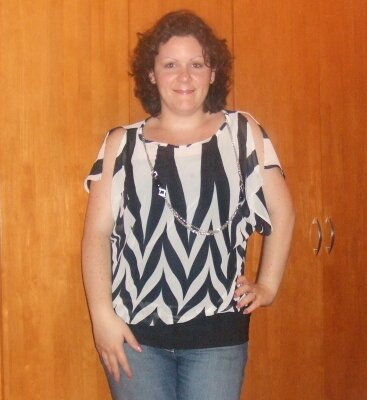 Now we move on to the Zig Zag Tunic, which is definitely going to be one of my favorite wears this summer. This unique top comes with a tunic-length chiffon top, featuring a fun zig-zag border print, which will make you stand out from the crowd… for good reason of course! There's a stretch fabric band at the bottom to fit all curves snugly along with a full tank top underneath. The top also comes with a beautiful necklace that detaches for easy washing, or if you prefer to wear the top without it. Extremely trendy and one of a kind. The Zig Zag Tunic goes for $45… a bargain for a designer plus size top.
Visit Missphit for more information on these, and more tops, and of course to order your own.
What good is a fashion trend if it doesn't come in your size? This season's hottest fashion craze is the maxi dress. Thanks to contemporary plus size designer Monif C. curvy women have options when it comes to dressing on trend this summer.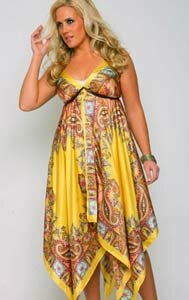 With the click of a mouse, plus size shoppers worldwide can find the most important fashion item this season, the maxi dress, at popular online boutique Cherished Woman. The popular store has recently added new dresses from contemporary plus size fashion designer, Monif C., to their summer 2008 collection.
Founded by former plus size model Nancy Baum, who makes it her mission to seek out the hottest plus size designers for her trendy online boutique so that she and other curvy women can dress just as stylish and fashion forward as their thinner peers. Following fashion forecast reports that indicate maxi dresses are the hottest fashion item for 2008 Baum knew she needed to add the Monif C. label to her collection. "Monif's dresses are right on trend for this season," says Baum, "Her flirty and feminine designs combined with superior craftsmanship are a must have for the woman who demands style without compromise."
In addition to Monif's sexy plus size dresses, Cherished-Woman.com is also featuring Monif' C.'s new collection of designer plus size swimwear. The Monif C. swimsuit collection showcases well constructed swimsuits that are as functional as they are stylish. High quality swim fabric lifts, shapes, and contours. In addition, padded bra cups and adjustable leg ties compliment the fashion forward styles on this sexy swimwear collection. Gold tone hardware and exotic beads add fantastic fashion touches. Monif says, "I have been craving the opportunity to design a plus size swimsuit collection. As an avid traveler and unabashed sun and sea worshipper, I needed a swimsuit that reflected my style and need to feel as sexy and feminine as other women on the beach!"
Monif C.'s popular collection is flying off Cherished Woman's shelves as the demand for contemporary and stylish plus size clothing increases. Contemporary designers like Monif C are helping full-figured women achieve their goal of looking sexy and trendy in a market place that is still promoting muumuus and tent dresses despite customer demand for trendier and more curve-conscious options.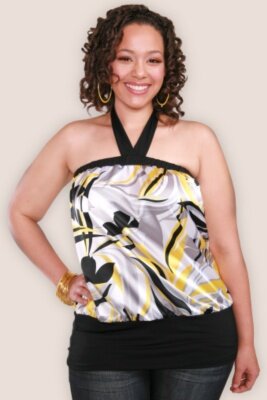 You've got the attitude. You've got the curves. All you need now is a winning outfit for you to wear, to hit the clubs on the weekend with your best girls. If you feel stuck for choice, I have some ideas for you. Among Torrid's 'New Arrivals' section lay some very interesting and funky options, perfect for the curvy girl wanting to make a lasting impression.
Here is my suggestions on what items to pick to create a winning clubbing outfit, from top to bottom:
Black Yellow and White Geometric Floral Halter Top at $44.00
Torrid Basic Black 32″ Pant at $44.00
Large Hammered Silver Teardrop Earring at $7.50
Turquoise Mirror Bangle Bracelet 12-Pack at $9.00
Black Pointed-Toe Kitten Heel at $28.00
Torrid diva 1.7 oz Eau de Parfum Spray at $29.00
This year's winner of America's Next Top Model is 'plus size' contender Whitney Thompson. Whitney is curvy, and she is definitely not apologizing for it.
At size 10, Whitney is not the convential girl you would call 'plus size', but in the modeling industry she is what is considered plus size. So although by my standards Whitney is slim, I am still glad that she won the contest, another step ahead in the fashion industry perhaps?
Let's hope we see even more curves on the catwalks and covers of magazines in the future.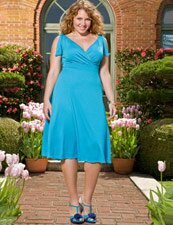 IGIGI have this week added a selection of fun and flirty plus size dresses, which may well be what you're looking for as a new addition to your summer wardrobe. These 5 cool and comfortable colorblock dresses are made of luxurious stretch viscose jersey, and were made with the savvy fashionista of style and substance in mind.
Have a look at these new dresses at:
Polka Dot Dress in Red/White with Shrug
Blissful Summer Days Dress in Aqua
Blissful Summer Days Dress in Daffodil Yellow
Colorblock Maxi Dress in Black/White with Shrug
Colorblock Maxi Dress in Red/White with Shrug
Diana Mathias, writer at The Epoch Times, carried a very interesting article last week, which introduces us to Chanel Clark and the Miss NYC Plus organization. The organization was created based on the need to have an avenue where to showcase plus size fashion and models in NYC, something which had so far been extremely difficult to do.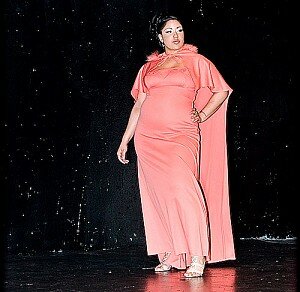 Founded by Chanel Clark, Miss NYC Plus produced its first pageant in March of this year. During this event, women wearing size 12 to 26 where given the chance to gather at an event focused exclusively on plus size fashion and celebrating curves. The pageant proved to be very successful, receiving an overwhelming amount of response. During this event, one particular model was named winner of the 2008 Miss NYC Plus Pageant. The winner for 2008 was Nic Moore.
The next event the organization has planned is a march down Fashion Avenue during New York Fashion Week in September as "a peaceful rally so that people can see how beautiful these ladies [size 12 and larger] are," Clark said. "We really want to make a statement."
Definitely watch out for more updates from Miss NYC Plus over here at the scoop. In the meantime if you would like further details, do visit them at MissNYCPlus.com.
Addition Elle, a leading Canadian plus size store, has come up with a new 16-piece collection designed in collaboration with Loulou magazine.
"With no mainstream plus-size magazines, many plus-size women turn to regular magazines for fashion inspiration", says Claude Laframboise, executive editor of Loulou.
Loulou has added a plus size section to the online version of the magazine, as well as adding a supplement about curvy fashion within this month's issue which includes various tips and information on current trends.
The 14+ section of the online magazine offers a very nice selection of reads. It includes details on the limited edition collection created by Addition Elle, a collection which you can browse through on the magazine itself. A very interesting read is the Model Q&A section with Canadian plus size model Liis Windischmann, where she talks about life, fashion and modelling. The Spring Trends 101 section is a tell-all guide to wearing this season's hottest looks.