Festive Plus Size Clothing
Guest post by Michael D Taylor
When you look around the average office Christmas party, you'll see men milling about in red and green sweaters, or perhaps in an ill fitting suit and the same pair of brown leather loafers they wear to work each day. This year, don't be that guy! As I always say, there's nothing wrong with being the best dressed man in the room, regardless of where you are. And with party attire, you have quite a bit of freedom in terms of style and creativity. So use it to insure that you look your best at the Christmas parties you attend this year.
The first factor when considering what to wear is appropriateness. If the party is a black tie event, you wear a tuxedo, no questions asked. If it is semi formal, this is a little more open to interpretation. An evening event will be more formal than a daytime one. A party at a sophisticated candlelit restaurant will be more formal than one at a family style restaurant. Pay attention to the details of the party to figure out how formal it may be.
Guest post by by Jamie Simpson
Every woman knows that the right pair of shoes can make or break an outfit. This is especially true for Christmas parties. Women must dress to impress as there are bound to be countless old friends and acquaintances in attendance. And let's face it, we want other women to envy our style.
There are several factors to keep in mind when selecting a pair of shoes for a holiday party. The first thing to consider is the time of day. Is the party to take place during the day or in the evening? A daytime party is often less formal and may not require the same calibre of attire as would an evening party.
Roaman's, a Redcats USA women's apparel brand and fashion leader in the plus-size market, announced an offering of the largest collection of plus-size sweaters, featuring over 60 styles– from basic to contemporary – with something for everyone. These fashionable sweaters are the hot look this season, as well as the ultimate gift, all at prices any budget can afford.
Even better, Roaman's is making holiday shopping easier and more enjoyable by offering free express shipping on any order using coupon code RDSweater between today and January 2, 2012.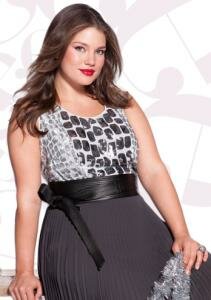 eloquii has all of your holiday must haves. Some of their holiday collection features sequenced tops which can be worn day or night, plus size dresses and blouse with lace and of course that little black dress which every woman should have.
With the holiday season upon us, many people will be preparing for the upcoming festivities and Christmas parties. And many women will be searching for the perfect outfit to wear and eloquii by The Limited will be able to help women with their plus size clothing needs this holiday season.
eloquii by the Limited is an online clothing retailer which carries designer clothing which is geared towards plus sized women who are between 25-35 years old who either yearn for great fashion. This plus size clothing line carries clothing which ranges from size 14 to 24. Each piece in the eloquii by The Limited collection has been designed from start to finish, with attention paid to fit and comfort during the design process. eloquii by The Limited offers an assortment of pieces which are sharp, professional and fashionable classics that have been taken straight from the runway, keeping in mind that everyone woman deserves great fashion .
Yes ladies, I'm still slightly sequin obsessed this week! You might recall yesterday I posted about 10 party perfect plus size sequin dresses. But you might not want to, or need to, wear an all over sequin dress. Perhaps the party you need a new outfit for is a little more toned down, and doesn't call for a super glamorous outfit. However, you can still add a touch of festive sparkle to your holiday party outfit, by choosing to wear a sequin embellished top.
You can wear any of the 10 tops I'm highlighting below with you favorite pair of denim jeans or classic black trousers. You can also wear a simply shrug or waterfall cardigan over many of these to help tone down you outfit even further and keep you warm, whilst still obtaining that fun festive look.
So there today I'm suggesting 16 plus size sequin tops and blouses, ideal for any Christmas do, and even office parties!

1. Tank Top in Black Sequins
by Peggy Lutz Plus
'Tis the season to sparkle and indeed sequins, along with metallic fabrics, are one of the hottest trends this year!
Whilst window shopping, both outside and online, I've been running through a variety of holiday inspired dresses and tops in an all-over sequin style, and they don't just come in one color! Shades of gold, black, silver, blue and even multi-colors are available.
So If you want to make a sparkling impression this season, why not consider a plus size sequin dress for your upcoming Holiday party or event?
I've hand-picked some of my favorites to share with you today, which are available in plus sizes.

1. All Over Sequin Dress
by South from Very.co.uk
Here is a round up of the holiday shipping deadlines, as announced by various of our favorite plus size stores. This will help you plan your online shopping, to ensure you get in your orders in time for delivery by Christmas Day!
To receive your order of in stock items by 24th December, you will need to order by 3PM (EST) on the dates below, depending on the shipping options you choose,:
Thursday 15th December with Standard delivery
Monday 19th December with Express delivery
Wednesday 21st December with Super Fast delivery
Thursday 22nd December with Next Day delivery
Friday 23rd December with Next Day / Saturday delivery
Guest post by by Julie Ann Amos
The office Christmas party must surely have been responsible over the years for more damaged and destroyed reputations than any single other event. Maybe it is all those emotions which have been pent up throughout the course of the year and simply have to be expressed before the New Year comes over the horizon, or perhaps it is simply the only opportunity to be entertained at the company's expense in the course of each twelve months, but whichever is the case, all too often it sees ordinarily respectable individuals acting totally out of character.
In many cases, it is a combination of things which lead people to cross boundaries which would normally stay firmly in place. Alcohol, or rather too much alcohol, undoubtedly has much to answer for in terms of provoking inappropriate behavior, and probably the mere informality of the whole event causes many to forget themselves. Ultimately though, office Christmas parties frequently cause people to disgrace themselves by their actions, as well as by the way that they look.
by Sheridan Salter
You've spent more of the Holiday season, shopping and celebrating with friends, but now New Year's Eve is steadily approaching and you have no idea what to wear! With more and more retailers moving plus size fashion out of stores, where do you begin your online search for trendy plus size dresses to ring in the New Year in style? Here is a short list of online stores offering the trendiest, most glamorous dresses fitted for plus size women:
Torrid creates beautiful designs in plus size fashion with the youthful crowd in mind. With a target demographic of 18-35, you'll find plenty of dresses that appeal to your sense of style and glamour. The reason why Torrid is one of the leaders in the plus size fashion retail industry is because of their close attention to detail to current fashion trends. These aren't simply cookie-cutter dresses that are really designed to fit a size 4 and then made in bigger sizes. Instead, you will find that these fashions are made especially to fit the curves of women size 12 and up.
Social events like parties often require wearing a fashionable dress for the season. Whether that special holiday party is coming up or it's a business event that requires wearing something sophisticated and chic, the perfect party dress for the season will vary. Despite differences in formality, party dresses often fall under different categories to help match personal taste and the party needs. Here are some top tips to ensure you look the part this season:
1. Ladylike
Ladylike dresses are a fashion must this winter. Think graceful gowns, flowing dresses and girly hues for those sophisticated and elegant parties. This type of attire is elegant, chic, stylish and classy. This look preserves a woman's modesty allowing for a more refined appearance.