Archive for January, 2010
So yesterday I was rummaging through my closet to see if there are some things I should get rid of, but more importantly to see how the evening dresses I have fit me. I have 3 weddings coming up in June you see, so wanted to check whether anything I already have is fitting for these occasions. I know, June is still far far away but don't you get days when you feel like dressing up just for the sake of it, even if you don't have anywhere to go?!
So I did find two dresses actually that I had bought on sale from IGIGI which, I haven't even worn yet! Shock! Horror! Anyway, one is a black velvet dress which is gorgeous and I even have the perfect shoes to wear with it. The other is a stunning green dress, but no shoes to match!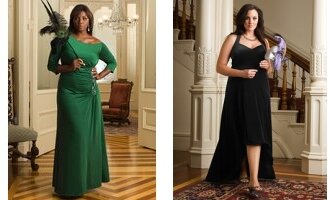 Perfect excuse for shoe shopping isn't it? So I headed on to Ebay to see whether I can get some Evans shoes at low prices, and I managed! Here is what I got…
The first is a pair for black, high heeled, peep toe shoes, with jewel detail. Got these for only around $16. Steal isn't it! So this is the one I needed to match the dress. But then I saw another one, in pink, which I just had to have… and so I got…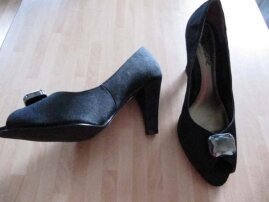 This little number right here. Another bargain at only approx $23!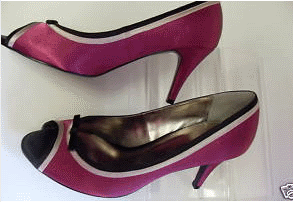 I just cannot wait until these arrive!

Looking for tips or some new fashion ideas? Then you must check out the newest fashion blog on the scene, launched by Blouse House.
Called Tre's Corner, within this new blog plus size model Tre Alexander shares her techniques and advice on how to look terrific. Tre is a high energy individual who does both professional modeling and acting. She likes to be center stage but also loves to help others.
What's on your 2010 list? Post your thoughts or stay connected at Tre's Corner by Blouse House.
Fashion Bug's Clearance Sale is almost over ladies! Now through February 3rd, you can get up to 60% off original prices at Fashion Bug. Sounds tempting doesn't it?
Winter is an inspiring time of year when new and exciting fashion trends kick into gear. With a slight chill in the air and winter weather nipping at our heels, there are a variety of fun and savvy styles that will help us hang on to our sunny disposition for many months to come.
Booties
B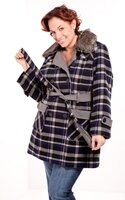 ooties are also known as ankle boots and are a chic way to add appeal to any look. From boyfriend jeans to business suits booties add an element of style and creativity that will make it look as though you just stepped off the runway.

Graphic Lines and Bold Prints
Stay inspired by wearing a variety of bold and graphic prints. Pick one piece and take it to the next level by pairing it with a graphic or bold design. A vest, blazer, jacket or skirt with a unique pattern will give your look some pep and help boost your style from trendy to trend setting.
Fun Accessories
Pull an outfit together by adding a funky pendant, bangle bracelets or a pair of dew drop earrings. The key to accessorizing is originality. Look for new and original pieces or find some fabulous and fun costume jewelry.
Eco Friendly Shoulder Bags
Chic and environmentally friendly handbags are a surefire way to look fabulous while remaining eco-conscious. If you are looking for a way to stand out from the crowd try a handbag made from recycled chopsticks, candy wrappers, felt, bamboo, truck tarps and inner tubes. While this may not sound fashionable – one look at these eco friendly handbags will show you just how fun and fashionable recycled products can be.
Belted Coats
Cream colored belted coats with large collars and ¾ bell sleeves are the must have of the fall and winter season. The ¾ bell sleeves add a feminine touch while the belt allows the coat to be tied at the waist creating a lovely v shape. The length and fabric used to create a belted coat varies as do the price ranges. Pick one coat in a cream color to last for many seasons to come.
When it comes to creative style and fashion flare don't be shy! Style is an expression of one's inner self but it doesn't mean you can't try something new or out of the ordinary. Pick one or two fashion trends and add your own spin on it or embrace something new, unique or visionary and add it to your wardrobe.
A while back I bought 4 tops for plus size focused online store called Figuresque. It was my first time ordering from this store, so I was not sure what to expect in terms of overall shopping transaction, and fit of the clothes. However the attractive prices, the cute styles, and the fact that at that time I had a coupon at hand, made me decide to give this store a try, and I definitely do not regret it.
Watch the video below for a review of the items, and to see me actually wearing the tops. (I apologize in advance for the poor lighting, I'm new to shooting videos, so please bear with my while I brush up on things!)
These are the tops I bought:
Purple 'N Gold Stripe Sweater - A gorgeous top, great for a casual outing or a night out. It's not too thick but keeps you nice and cozy. The banded bottom hugs your hips nicely, flattering your figure. This is also available in black and gold.
Peek A Boo Sweater Top in Berry – Gorgeous color, and matching gorgeous detail. The embellishment at the keyhole neckline is a very nice touch and gives this top a touch of glamour. Again this top is not too thick, but keeps you cozy enough in the winter months. It's also available in purple.
Red Braided Sweater Top – The favorite top from my order; I received a lot of compliments when wearing this. Besides the bold color, and flattering fit the the ruching at the side, this top's winning feature in the neckline. It featured a braided embellishment with silver beading, which catches the light very nicely, giving this top a sparkly look.
Silver Studded Sweater Top in Teal - The 'party top' in my order, this is a very comfortable top, perfect for those days when you want to avoid wearing anything tight fitting, and you just want to hide the tummy bulge! It feaures a trendy wide scoop neckline with stylish silve studded embellishments on the chest.
Shipping costs were very reasonable and delivery time was satisfactory. Delivery depends on a lot of things really, which most of the time are not dependent on the actual store, but the mail service. Having said that, order processing was very swift and dispatch of items was also quick.
So all in all I am very happy with my shopping experience at Figuresque and will definitely be shopping here again.
I want to point out that this was not a paid review. This was an actual order I placed and that I paid for.
Yuliya Raquel, the founder of IGIGI shares a little story about how IGIGI begun, and what her vision for IGIGI is for the future. Discover who inspired Yuliya to kick off the IGIGI collection. It's definitely worth a watch!
ASOS has today launched CURVE, a new plus size line to complement the range of clothing they offer women.
CURVE offers items in sizes 20 to 26 and designs are very stylish and trendy from what I have seen so far. This is definitely a great addition to the curvy shopping options we already have.
A number of lucky bloggers already have had the chance to try on some pieces from CURVE by ASOS and most have loved the pieces. Have a look… Young, Fat and Fabulous, Plus Size Tall, Big Girls Browse and also Ma Grande Taille.
What do you think of this new line?
With the tunic being this year's must have for every wardrobe, finding just the right one is simple. But what does one do when the seasons and weather change? No one wants to cover up the perfect ensemble with a coat. That's why sweater tunics offer the perfect solution. Sweater tunics provide needed warmth while keeping up with today's hottest trend.
Which knit is just right?
Well that depends on the look desired. Thinner knits tend to have a nice drape. This is perfect for the tunic with a high waist or thin belt. The fabric moves beautifully adding grace and flow. Hand washing is usually recommended, however there are some knits that are machine washable. Thinner knits are great for layering making it perfect for chilly outings in milder climates.
Thicker bulky knits are best for outdoor activities in cooler climates. Wear with jeans or thicker opaque leggings. Footwear such as up to the knee boots finish the look. If more warmth is still needed, try wearing a long sleeved tee hidden underneath. With the added warmth anyone will be ready for hayrides, walks in the woods and any other outdoor activities coming up.
Putting together the perfect ensemble with thicker knits is a cinch and finding the perfect fit is just as easy when keeping a couple of things in mind. The first is that unless the knit is fairly thin, belts are not recommended. Belts with thicker knits create a chunky appearance with added weight. No one wants that. Lastly, thicker knit tunics look best when the fit is relaxed and straight shaped. Unless the wearer has the body of a runway model, snug and form fitting tunics can be a disaster.
The sweater tunic is comfortable, warm, trendy and stylish. Whether worn with jeans or tights, the sweater tunic is this year's hottest fashion trend that can be worn from fall through winter.
SWAK Designs is currently running a very tempting blowout sale on their winter coats. I review this sale more closely, and also go through some of the coats on sale, in the video below… which is another episode from the newly launched Plus Size Fashion TV.
If you are having trouble watching the video, click here to view it.
Today we're introducing you to the newest section of Pasazz.net, Plus Size Fashion TV. Watch the video below to find out what it's all about, and make sure to tune in weekly for new videos!