Archive for June, 2006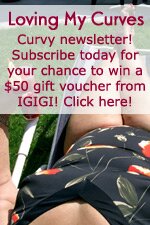 It's an exciting day for us here at Pasazz.net! Today we are officially introducing to the public our upcoming plus size clothing newsletter called Loving My Curves.
Why another newsletter you might ask? Well we felt that we needed another medium to keep curvy women updated with what's going on in the plus size fashion scene. Maybe some of you do not have time to come to the website, or read this blog, or browse around the Internet looking for what you need. So why not bringing what you need straight to your inbox? It sounded like a good idea to us and that's how Loving My Curves was born.
Loving My Curves is going to be a great resource for all the curvy women who love their curves, and what to make the most of them! This bi-monthly newsletter will bring you information on the latest fashion trends and will also let you know about the hottest sales going on. It will also bring you beauty tips and industry gossip.
And that's not all. All subscribers of Loving My Curves will have the change to win some great gifts. In fact, anyone who subscribes to receive Loving My Curves until the end of July stands the chance of winning a $50 gift voucher from our good friends at IGIGI!
More gifst are in store for subscribers throughout the rest of the year from leading plus size stores including Alight and Torrid; Pasazz.net goodies will also be given away!
So what are you waiting for? If you love your curves, you definitely want to be reading Loving My Curves! Subscribe today for your chance to win a $50 gift voucher from IGIGI.
Curvy celebrity, Oprah Winfrey's, favorite swimsuit is now available at AlwaysForMe.com. This particular swimsuit was showcased in Oprah's show last Thursday, and also in the O Magazine. Moreover, Dr. Phile featured the Carol Wior swimwear collection on his show last Friday.
AlwaysForMe.com have a multitude of Carol Wior merchandize coming in stock on a weekly basis. Check out these favorite swimwear collections and get yourself a celebrity swimwear look for the summer!