Archive for December, 2008
Cozy up in style this winter, with some of Torrid's plus size winter essentials. This month Torrid have added a great selection of plus size sweaters and cardigans to their collection, below are my favorite five pieces.
1. Grey Striped V-Neck Sweater
Priced at : $38.00
You're ready for whatever the day has in store for you in this rugby-inspired sweater. It featured light and dark grey stripes, a V-neck and ribbed trim on the neck, cuffs and hem. A great little piece!
2. Purple, Blue, Green, Grey and Ivory Striped Deep V-Neck Sweater
Priced at: $38.00
This is the ultimate plus size casual winter basic. This sweater features a deep V-neckline with ribbed trim, wide ribbed hem and cuffs. Pair it up with your favorite pair of jeans or black pants, and you're all st for a casual winter afternoon.
3. Red Cowl Neck Kimono Sleeve Sweater
Priced at: $38.00
Sweaters do not need to be boring, and plain. They can definitely be as stylish as you are, and this little red piece from Torrid surely fits the bills. It comes in a very flattering cowl neck, short kimono sleeves and a ribbed waist. Make a statement in this bold winter piece.
4. Gold Lurex Elbow-Sleeved V-Neck Tunic Sweater
Priced at: $48.00
If you want to add a touch of luxury to your winter days, then have a look at this unique plus size sweater which features sparkly gold lurex. It comes with a ribbed trim on a V-neckline, elbow sleeves and wide hem. It can easily take your from day to night in a snap.
5. Charcoal Textured Buttonless Cardigan
Priced at: $44.00
One of my definite favorites this season! This textured knit short-sleeved buttonless cardigan is a very versatile piece. It can be matched up with a simple top for the daytime, and even a day at the office. Though it can also be a winner with an evening outfit if matched up with stylish accessories. This curvy cardigan features a gathered empire waist and banded trim.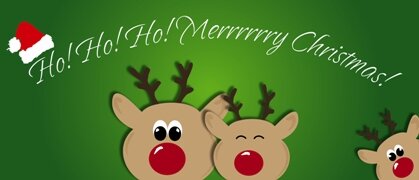 To all my readers around the world, Merry Christmas! I hope you have a wonderful day with family, friends and loved ones.
Christmas is forever, not for just one day,
for loving, sharing, giving, are not to put away
like bells and lights and tinsel, in some box upon a shelf.
The good you do for others is good you do yourself…
- Norman Wesley Brooks, "Let Every Day Be Christmas," 1976
Torrid have added a great selection of plus size party tops this week, most of which will easily help you create the perfect holiday party outfit. Just match any of these up with your favorite little black skirt, black pants, or even a pair of comfy denim jeans and you're all set. Here are my 3 favorite picks:

Red Rosette Satin Sleeveless Top
Priced at $44.00
This is such a gorgeous piece, one which will definitely have you receiving compliments all night long. Red is the rose of passion, so triple yours with this satin sleeveless top featuring three rosettes at the neck. This top also features a tie keyhole back and tie-backs for a perfect fit.

Emerald Matte Satin Drop-Waist Flutter-Sleeved Top
Priced at $44.00
What a vibrant color! This stylish satin top has a smocked elastic drop waist, a gathered square neck trimmed with lace and pretty flutter sleeves

Black and White Zebra Print Drape-Neck Top
Priced at $38.00 (currently on sale at $28.00!)
This is a Torrid internet exclusive, which means that you can only get this top online, it is not made available in Torrid's regular stores! A very sexy plus size slinky knit top, featuring an allover zebra print and a drape neck.
Check out these 5 picks from Avenue, all for under $20.00! Great wardrobe essentials, which make great gifts and stocking fillers too!

1. Pull On Ponte Pant at $14.99
These comfortable pants are also stylish, easy to care for, and versatile. Need I say more? Classic fit-designed to sit at your natural waist. Elastic waisted!

2. Flyaway Cardigan at $15.00
This ultra soft cardigan has elegant silky buttons and a modern silhouette for a dressier look. 3/4 length sleeves. 3-button closure with subtle ruching at yoke. Rib trim at hem and cuffs.

3. AVX Yoga Pant (Also in Petite and Tall) at $10.00
A great fitting bootcut yoga pant provides all-day comfort with an easy relaxed fit. Modern Fit-Designed to sit slightly below your natural waist. Wide elastic waist with drawstring closure.

4. Denim Legging (Also in Petite and Tall) at $16.90
Comfortable denim legging in stretch cotton for that great fit you want. Original Fit-Designed to sit above your natural waist. Small slit at hem. Elastic waist pull-on legging.

5. Curvy Tunic Sweater at $16.88
This stylish sweater has a flattering fit and shows your body in its best light. Get it in every color! V-neck. 3/4 length dolman sleeves. Ribbed empire waist with rib trim at hem and cuffs.
Treat yourself (and a friend) to these great deals. You deserve it! For a limited time, SWAK Designs are offering free shipping on all orders, world-wide via standard USPS. No coupon necessary! Take advantage of this offer while it lasts!
Camille Tie Cardigan – This cozy light weight cardigan blends comfort and elegance so perfectly. Wear buttoned with or without waist tie or simply leave open to your liking. It's all about versatility in layering this season so bundle up. 3/4 Sleeves. Available in brown and black. Regular price: $41.00 but use the coupon code below for 15% off!
Shawl Collar Cardigan – Brrr…it's cold out there. What better way to bundle up than with this ultra soft open cardigan shown here in Gray. The perfect layering item this season. Deep pockets built in at the hem provide function and a unique element of style. Available in gray and black. Regular price: $38.00 plus 15% off by using coupon code below.
Use coupon code SSWEATER15 for 15% off your online purchase of the Camille Tie Cardigan or Shawl Collar Cardigan. This sale expires this thursday 18th December. So hurry and grab yours today.
Are you still looking for your perfect holiday party dress? Don't worry! You're still in time to order your perfect dress and save on it too!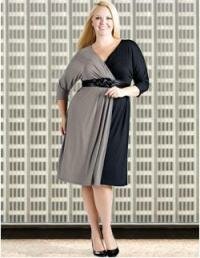 Save on the season's hottest styles! IGIGI have knocked 30% off all dresses, only until this Thursday 18th December. Here are some of the lowest priced dresses found at IGIGI, which are overflowing with style:
Contessa Asymmetrical Dress in Black at $89.00
Little Black Dress at $87.00
Delicate Lace Cocktail Dress in Black/Nude with Shrug at $91.00
Colorblock Dolman Sleeves Dress in Black/Grey at $68.00
Plus, IGIGI are also giving us 2 ways to save on shipping:
Only $10 for 2nd say shipping on all US orders of $150 of more, until 22nd December.
Free shipping for continental US orders of $150 or more; $15 Off shipping for Hawaii and Alaska orders of $150 or more; and $15 off shipping for international orders of $150 or more.
Do you have an office holiday party you're off to, but have no clue what to wear? Perhaps you're going to be entertaining at home over the Christmas holidays, and yet you are not quite sure what is best to wear at home. have a look at the suggestions below from Kiyonna, which offer some hints as to what you can opt for.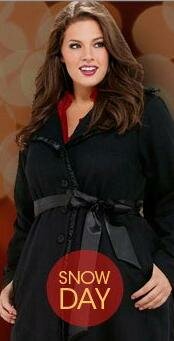 Out and About in the Cold and Snow
If you are off for a day out shopping with the girls, or if you need something to keep you warm when you're out and about, check out Kiyonna's super gorgeous London Car Coat. At $250, I think this elegant and timeless piece is a steal. This classic coat has been given a unique looks with a satin ruffled trim along the placket and fold over collar.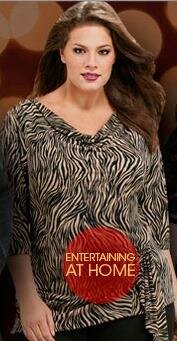 When Entertaining at Home
If you're entertaining at home this Christmas season, look no further than this striking and yet sophisticated plus size cowl neck. It features an asymmetrical cinch gathered at the side which give this a stylish twist. Pair it up with a pair of blank pants, and you're all set and ready to impress your guests!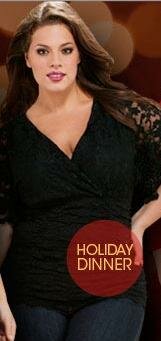 Romantic Holiday Dinner
Invited to a romantic holiday dinner? Then consider this feminine lace blouse, which is surely set to impress your date, with your sense of style. This blouse gives an air of vintage romance, the surplice neckline accentuates your décolleté and the ruching at the side seams ensures a figure flattering fit. Pair it up with your favorite pair of hip hugging jeans for a casual look, or a pair of black pants for a more formal look.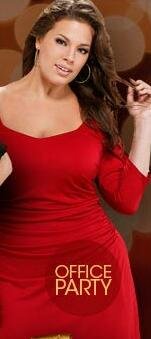 The Christmas Office Party Dilemma
The office Christmas party is an event were your outfit of choice is crucial. You want to make a great impression on your colleagues and your boss. You want to show off your sense of style, and at the same time you want to look sexy. But you have to be careful not to overdo it. Seems like a pretty lengthy wish list isn't it? Definitely! Though the new flaunt cocktail dress available at Kiyonna seems to pretty much fit the bill. This curve hugging dress will make you feel like a million dollars! It features ruching at the waist which ensures a figure flattering fit, perfect for your plus size figure. Available in both black and red, this dress is a true winner.
The holiday season is now in full swing, so I wanted to take a moment and have a closer look at the holiday plus size dresses made available to us this year by our favorite curve loving stores.
This top 10 list includes some stunning dresses made for the full figured woman to wear during the Christmas holiday season. Let me not babble too much, but leave you to enjoy the stylish dresses in our list below.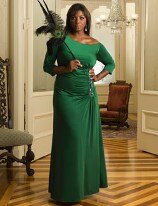 1. Magdalena Asymmetrical Jeweled Gown in Verdant Green by IGIGI
This gorgeous piece from IGIGI is in my opinion this year's all round winner. It's a unique and yet timeless piece which combines a stunning asymmetrical design with ageless, royal jewels. The dress feature an extremely sexy cut, as the asymmetrical design exposes one shoulder. The ruched bodice creates a slimmer waistline, whilst the exclusive hand beaded jeweled inset adds a touch of royal glamor. Perfect for a gala evening during New Year's Eve. Available in sizes 12 to 32.
2. Starlet Halter Dress from Avenue
This beautiful red mesh halter dress is a very sexy and yet elegant choice. It comes with an adjustable tie halter, to ensure a perfect fit. The empire waist with pleated satin cumberbund is perfect for the plus sized figure, as it hugs the tummy. I am so sure wearing this dress would be so much fun! Why? I can just imagine myself wearing it at a party, dancing the night away, with the gorgeous flowing skirt following my every move. It has quite a vintage feel to it as well I think! Anyway, this is definitely one of my favorites. Colorful, and striking. Comes in sizes 14 to 24.
3. Black Chiffon Tiered Tube Dress from Torrid
Create an effortless elegant look with this chiffon dress, which features three ruffled tiers and a gathered satin elastic empire waist. The elastic bust adds comfort, whilst ensuring the chest is well supported. What a gorgeous piece, perfect for a holiday party. Match it up with some classic pearl accessories and black pumps to create a very elegant look. Otherwise you can play this dress up with pairing it up with striking colored pumps, and matching accessories. Think pink or red, or blue! Available in sizes 0 to 4 (10/12 to 26/28).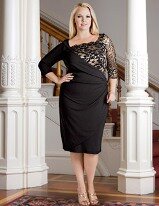 4. Cecille Asymmetrical Lace Dress in Black/Gold from IGIGI
Another one of my favorites this year. If you are a chic curvy fashionista, this one must be your choice. IGIGI always manage to create some exclusive designer dresses, and this lace dress is nothing short of impression. It features an elaborate floral lace, which is accentuated with metallic flakes of gold. This intricately designed dress with an elegant, asymmetrical neckline has definitely been created for the sophisticated woman radiating that extra edge of modern appeal. Available in sizes 12 to 32.
5. Women's Plus Flutter-Sleeve Dresses in Monaco Plum from Old Navy
One of the season's best party dresses is this sumptuously silky dress, featuring fabulously feminine flutter sleeves and a tie-sash that makes it a cinch for glamorous gatherings. The gorgeous Monaco Plum color is a refreshing change from the usual holiday colors we see. This dress is available in sizes 1X to 4X.
6. Flaunt Cocktail Dress from Kiyonna
This curve hugging dress makes a lasting impression from both front and back views! Make an exit that will leave them talking, with the bra-friendly plunging scoop open back designed to show off all of your best assets. Again this dress featured ruching, which is so beneficial for plus size women, as it is a detail which helps create more of a waistline. Available in sizes 0X to 5X (10/12 to 30/32).
7. Tile Accent Dress from Avenue
The shiny tile details are what make this chic knit dress, glamorous. It comed in comfy 3/4 length sleeves and a scoop neckline. The stylish tile accents are placed on the neckline, hem, and sleeves. Available in sizes 14 to 32, I think this is another true winner, a dress which can easily take you from the holiday party to a romantic night out any other time of the wear. So if you're looking for convenience and re-usability, this is it.
8. Teal Twist Bust Banded Bottom Dress from Torrid
This gorgeous striking dress is a Torrid.com online exclusive! So you are sure to be unique, and stand out of the crowd when wearing this silky knit dress. It features a twist detail bust, gathered shoulder straps and a banded hem. The empire waist with back pleat detail is perfect for hiding those imperfect areas, and creating a flattering silhouette. I think this dress is perfect for the young plus size ladies, looking for that perfect dress to celebrate New Year's Eve with friends. Available in sizes 0 to 4 (10/12 to 26/28).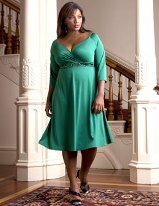 9. Lucia Jeweled Empire-Waist Dress in Verdant Green from IGIGI
IGIGI this year has managed to get 3 beautiful dresses included in our top 10 plus size holiday dresses list. With reason of course! All thee dresses give big beautiful women the change to wear something stylish, and exclusive. If you want to treat yourself to some glitter, then choose the Lucia Jeweled Empire-Waist Dress to celebrate the holidays this year in the season's hottest jeweled look. This dress is completely versatile as it can be worn both on or off-shoulder. The draped bodice and empire waistline create a flattering look, whilst the hand-beaded jeweled belt is also removable, in case you prefer not to wear it. This dress is available in sizes 12 to 32.
10. Tie-Back Chiffon Dress from Jessica London
A stunning flowing crinkled chiffon dress perfect for the holiday season, in this deep red shade. The dress features a crisscross empire waist line which helps create a slimming effect, and also comes with an adjustable tie back for ultimate figure flattery. Perfect for Christmas Eve, or New Year's Eve events. Available in sizes 18W to 24W.
This holiday season there are a lot of plus size dresses to choose from, which would make the perfect holiday dress. Whether it's a party you are going to, an office do, or you're planning just a New Year's Eve night out with friends, make it special this holiday season by finding a brand new figure flattering dress.
Today we're taking a look at the finest 5 plus size holiday dresses available at Torrid. Their selection includes a much larger choice, however here are our recommended choices.
1. Purple Satin Beaded-Neck Sleeveless Dress
Such a perfect holiday dress. Both cute, elegant and so very stylish. Look super-deluxe without even trying in this sumptuous satin dress, which comes in a gorgeous colors, with shiny black beads on its pintucked scoop neck. The ruched band detail above hem is very original and flattering, letting you make the most of your sexy legs.
2. Black Satin Tuxedo Halter Dress
An elegant, and yet unique dress at the same time. This super sleek satin halter plus size dress has a daring collared neck. It features a covered-button front, two pockets and comes with a matching belt. Match it up with a pair of striking red pumps, a matching red clutch bag and you're all set to rock the scene this Christmas season.
3. Black Mock-Neck Ruched Dress
Now this isn't your usual 'little black dress'. It's a black dress with attitude! This very sexy slinky black knit dress features a ruched mock neck, short pintucked sleeves, a ruched seam down the center back and a very flattering ruched drape detail down the left hip. If you want to make a lasting impression this holiday season, this might be your winner.
4. Blue Watercolor Leather Trim Maxi Dress
If you want to make a statement in something more colorful this season, then have a look at this feminine but funky satin maxi dress, which comes in a watercolor print in blue, purple, yellow and green. The black faux leather straps give it that 'different' feel, and the empire waistline ensures your curves are flattering. Definitely a great choice for the extra special night out.
5. Black Zigzag Sweater Dress
If you would rather go for something a bit more cozy and comfy this holiday season, then this might be the right choice for you. This gorgeous sweater dress features a flattering V-neck, three-quarter sleeves, and a zizag pointelle knit in blue, purple, grey and white. Very stylish, trendy and cute.
So there you have it! These are our favorite 5 plus size holiday dresses available from Torrid this Christmas season. As I already said, Torrid have many more dresses available in their collection this season, so do check them out to view the entire collection, and take your pick.
Okay so our special plus size swimwear series was scheduled to run only in November, but we felt there was till one problem area which we did not yet address, so it we had to extend this to the first week of December for one last post in the series. Over the past four weeks we have looked at:
Today we're looking at styles perfect for those plus size women who have a small bust. These pieces are styles, figure flattering and have that extra something incorporated into them which make the perfect for small busted women. Have a look: