To make sure you keep up to date with our latest posts subscribe to our RSS feed. You can also receive updates via email, subscribe for free here!. Thanks for visiting!
Looking for an outfit this summer that is perfect just for hanging out with friends, or going out shopping? Take a look at our plus size outfit suggestion for today…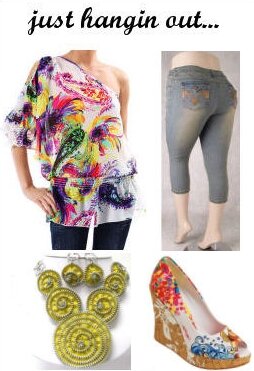 Top: Plus size top from Figuresque, the Single Shoulder Top in White, available in sizes 1X to 3X at $31.95. This top can actually also be worn as a mini dress, to this is a versatile and multi-use piece. The sexy single shoulder designs comes in a vibrant white chiffon print design. Includes stretch smocked chiffon cuff and waist.
Jeans: These cropped Vintage Leather Denim Capris are also from Figuresque, and include leather embellishments on the back pockets. These plus size denim capris feature destroyed design on the front, and a great stretch for that perfect fit! Available in sizes 14 to 22, and currently prices at $28.95.
Shoes: These funky wedges are from Ed Hardy, available from Love My Shoes at $69.98. This is a vibrant graphic print, peep toe platform wedge perfect for the warm summer months, and truly goes well with the single shoulder top. These wedges come with a lightly padded insole, 1 inch platform and 4 inch wedge. Available in sizes 5 to 10.
Accessories: Zipper Art Fashion Necklace Set in yellow from Figuresuqe, a chic and yet trendy item, which is priced at $14.95.