Archive for May, 2009
If you're looking for an inexpensive way to accessorize your clothing, a belt can be the answer. A well chosen belt can take a simple outfit and turn it into fantastic. Choosing the right belt can also subtly alter the contours of your figure, making your waist and hips look larger or smaller. Here's how to choose the right belt to flatter your figure.
1. If You're Short Waisted
It can be a blessing to be short waisted since you're probably blessed with long legs. Short waists look best with thin, narrow belts since they're less likely to overwhelm the midsection. It also helps to wear belts as low as possible to add length to the torso. A narrow belt slung low on the hips can be flattering and gives the illusion of a longer torso. Avoid big bulky belts which can overwhelm your mid-section.
2. If You're Long Waisted
A long torso provides lots of length for a belt in a wider width. To add the illusion of longer legs, wear your belt as high on the waistline as possible, preferably with higher waisted pants. Try to match the color of your belt to your pants to give a long, unbroken line from waist to hips. Belting a dress or a tunic slightly higher than your natural waistline can add the illusion of length to your legs and call attention away form a long torso. Save the narrow belts and hip belts for those with shorter waistlines.
3. If You're Petite
Large, bulky belts can overwhelm a petite figure. Stick with belts that are three inches or less in width to enhance your shape without looking too bulky. To give the illusion of greater height, wear a single color from neck to toe with a coordinating belt and shoes. Avoid wearing brightly colored belts or belts that contrast with your outfit.
4. If You're Heavy
Choose a belt that's similar in color to your outfit. Avoid wide belts in contrasting colors which can make your waistline look larger. Keep the buckle understated to avoid calling attention to a wide waistline. The key to de-emphasizing a heavier build is to keep it simple when it comes to choosing the right belt.
In general, you can't go wrong with a simple, leather belt in a width of around three inches, preferably in a dark color. Dark, matte belts with simple buckles are naturally slimming and tend to be the most versatile. It can be difficult to wear a wide or brightly colored belt unless you're tall with a slim waistline.
Always try on a belt before buying it to make sure it fits comfortably. Generally, your belt should be around two inches larger than your natural waist measurement. When you purchase a belt, take it home and try it with variety of outfits. Be sure it fits through the belt loops of most of your pants. If not, return it to the store. A well chosen belt should give you lots of versatility.
Torrid's popular sale is back ladies! Shop through Torrid's clearance section from now until Monday 25th May, and enjoy an added 50% off all clearance items.
With a very wide variety of items within their clearance section, you will definitely be spoilt for choice here. So if you're looking for something new, and very affordable, check out the Torrid's 50% clearance sale today!
Remember, sale runs through Monday 25th May.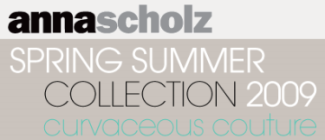 Renowned plus size fashion designer Anna Scholz has recently launched a brand new fashion collection, as well as a brand new clothing website.
The new Anna Scholz website is fresh and includes information on Anna's life, her design inspirations, as well as her favorite pieces in the new collection. This particular section of the website gives you the chance to get a more, up close and personal look at Anna Scholz.
Anna's new Spring/Summer 2009 collection includes a flirty wrap dresses, maxi dresses, summery linens, gorgeous knitwear, and many more glamorous items.
Visit Anna's brand new website today, and check out the new collection, at http://www.annascholz.com/.
Some women fear the onset of warm weather because it brings with it the dreaded task of swimsuit shopping. Slipping on that form fitting bathing suit simply reminds them of the extra cupcakes they ate during cold weather months when their bodies were covered in loose sweaters. The good news is this. No one's body is perfect and your own eyes are much less forgiving than the eyes of the general public who also feel a bit self conscious in their swimsuit. If you're feeling out of shape, why not try using color and pattern to help you choose a fabulous figure flattering swimsuit?
Color and pattern play a key role in how a swimsuit looks on you. Subtle gradations in color and pattern can trick the eye visually and give the illusion of slimmer tummies and firmer behinds. Here are some tricks that will help you select a figure flattering swimsuit that naturally enhances the beauty of your body:
Use the Power of Color Blocks or Stripes
Blocks or stripes of color are a great way to hide those areas you're not so proud of and enhance the ones you feel more comfortable with. Keep in mind that dark colors cause an area to recede while lighter ones create fullness. Bright colors also tend to give the illusion of more volume. When you select a one piece bathing suit, keep these principles in mind. If you'd like to play down your hips, choose a swimsuit with a dark color block in that region. You can further draw attention away from your hips, by having a light or bright color block on the upper portion of your body. As an example, for wide hips a simple one piece, tank style bathing suit with a black color block on the bottom and a white one on top can be flattering.
To make your bust line appear fuller, choose a suit with block or stripe of bright color around the chest area. Another trick to slim down the body is to choose a tank style bathing suit with a black color block extending down each side. This tends to give the illusion of a more narrow body. If you want to look taller and slimmer, select a tank with vertical stripes. This principles can really work to enhance your natural physique.
Use the Power of Prints
Prints can also trick the eye and have an impact in how you look in a bathing suit.
If you're self conscious about being too thin, look for a figure flattering swimsuit with a bold, exciting print in bright colors. This applies to both one piece suits and bikinis. If you're heavier and want to play down your size, you can still wear prints but choose a smaller one with a dark background and less contrast. This tends to have a slimming effect. You can use the color block concept here too. If you have a boyish upper body but carry a little too much around the hips, choose a swimsuit with a bold, graphic top and a simple, dark bottom. Prints have the power to subtly alter the way your body parts look in a swimsuit.
Use Fabric Texture Contrasts
Another principle to consider when choosing a figure flattering swimsuit is the texture of your fabric. If you have a slim, boyish figure, swimsuits made of shinier materials can be flattering as they tend to make you look larger. If you're trying to play down certain areas, choose darker, duller, more opaque colors which will cause the eye to recede. Again, use this principle to play up the parts you want to enhance and draw the eye away from figure flaws.
Using the principles of pattern and color to select a figure flattering swimsuit can make the job of bathing suit shopping much more fun. Think of it as an artistic challenge and create the beach body you want to have this summer!
If you happened to miss the 'Sale of the Century' which IGIGI ran in the last few weeks, well consider yourself a very lucky curvy girl because IGIGI is now giving you another opportunity to save on their fabulous dresses.
IGIGI has today launched a dress sale, where you can save up to 75% off gorgeous plus size evening dresses. But this great sale it only running for 24hr, so ladies hurry and check out IGIGI's dress sale today!
If you live outside the US you'll be glad to know that currently you can also save 50% off international shipping when you spend $150 or more. No coupon code required. (Runs until 25th May)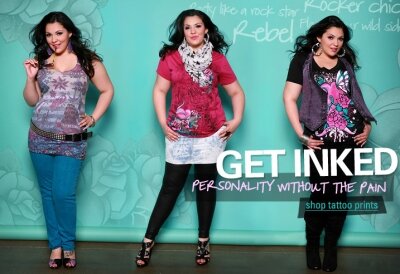 If you're looking for tattoo print syles tops, which make a statement, and which are available in plus sizes, your go to place is definitely Torrid.
Torrid carried a wide range of tattoo print items, packes with personality. Here is a selection of these items, for you to have a look at:
Purple Nautical Tattoo Print Sublimation Lace-Hemmed Tank
Fuchsia Pink Rose Heart V-Neck Tee
Black Fuchsia Gemmed Heart and Roses V-Neck Tee
If you'll be getting married in 2009, you'll want to start thinking about your wedding dress early. After all, this isn't just another party.
It's the most important day of your life and you want to look your best. Selecting the right wedding dress takes a lot of thought and planning. You'll want to choose the dress that's most comfortable and flattering to you, but being aware of wedding dress trends for spring 2009 can help you make the difficult decision of which dress to buy for this important day. Here are some of the wedding dress trends that are being shown for 2009:
1. Shorter Dresses
If the look of the traditional wedding dress has never really appealed to you, you can be ultra chic and modern on your wedding day with a short wedding dress. Shorter wedding dresses being shown for 2009 have fitted bodices with full skirts that stop at or just above the knee. Many are strapless or have thin spaghetti straps. These dresses may be appealing if you'll be having a casual, outdoor wedding and if you have the figure to carry it off. Of course, many women will prefer the more traditional look of a floor length wedding dress.
2. One Shoulder Dresses
The one shouldered gown so popular for winter 2009 has extended over into wedding dresses for the upcoming season. This chic, distinctively modern look in wedding dress appeals to those who like a slightly less traditional look.
3. Detailing
Spring 2009 wedding dresses emphasize detailing with added embellishments such as subtle beading, ribbons, bows, and, of course, lace. This distinctively feminine look is played up by the contrast of soft chiffon and silk fabrics that flow with the body. Look for subtle detailing that's both ultra-feminine,
yet elegant. These small added details and embellishments can be immensely flattering if not overdone.
4. Vibrant Color
Yes, white is still the traditional favorite when it comes to wedding dresses but color is the new trend for 2009. Not only will softer pastel shades be popular but warmer splashes of color including scarlet red make their appearance. On the runway, designers showed wedding dresses in brilliant shades of crimson with gold accents designed for the bolder, less traditional bride. If this look is too overwhelming, you can add subtle color by selecting a dress in a pale pastel such as lavender. This is one year you don't need to be afraid to embrace your love of color when it comes to selecting bridal wear.
With so many choices when it comes to wedding dress trends for 2009, you'll have lots of options available to you when you make the important decision of what to wear on your wedding day. Enjoy making your selection!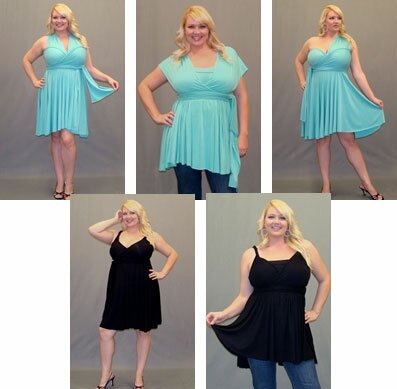 Introducing the Anastasia interchangeable wrap dress from SWAK Designs, a dress made for the plus size figure which you can wear again and again, everytime creating a different and unique dress!
But how is that possible with only one dress? Well the Anastasia wrap dress features two 9 ft long panels of luxury fabric, which you can use to drape around your upper torso in an infinite amount of ways, that way creating different styles of dresses. You can wear this dress as a halter, spaghetti strap, tube, one shoulder, or another other way your desire. Furthermore you can also wear this dress as a top just by moving the waist band up above the bust.
A dress which can fit up to a size 6X (size 34/36), the Anastasia interchangeable wrap dress is a versatile addition to your wardrobe, you don't want to miss out on!
Over the past few week in our weekly Frugal Fridays corner we've looked at swimwear, plus size bridal gowns under $500, jeans, peasant tops and also wide width shoes. Although we have taken a look at plus size dresses in the past, I thought another look at plus size dresses is in order as I have found a great selection of dresses available at under $30.00! Talk about being frugal! Here are my findings:

Berry Bohemian Tank Dress with Marigold Sash
Was: $74.00
Now: $19.98
Available in sizes: 12 to 20
Simply delicious, this dress has a Bohemian print in hues of sweet summer fruit accented with a cinch bow sash. Features a figure flattering surplice empire bust, elastic back and comfy back zip entry.
__

Black Velvet Jacquard Tube Dress
Was: $58.00
Now: $28.98
Available in sizes: 0 (10/12) to 4 (26/28)
Get behind the velvet rope in this velvet dress with a horizontally pleated bust, a skirt flocked with dotted flowers, a bubble shape and a banded hem.
__

Navy Chiffon Origami Ruffle Halter Dress
Was: $58.00
Now: $28.98
Available in sizes: 0 (10/12) to 4 (26/28)
Know when to fold 'em. Four rows of pleated "origami" ruffles trim the neck of this sleeveless halter dress. Features a gathered elastic ruffle hem and navy under layer.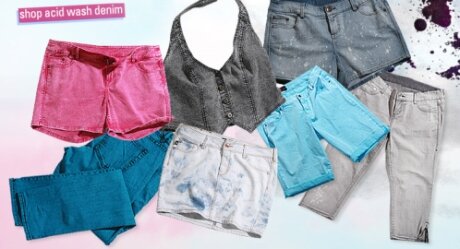 Various acid wash denim styles have been added to Torrid.com over the past few weeks, and the new styles ladies are radder than ever. If you've been looking for stylish acid wash denim styles in plus sizes, then you'll be glad to know that Torrid carry a vast range, in sizes 12 to 26.
Here is a selection of what hey offer:
Torrid Denim Purple Acid-Washed Miniskirt
Lip Service Grey Acid Wash Skinny Leg Jean Regular
Lip Service Purple Acid Wash Skinny Leg Jean Regular
Pink Acid Wash Denim Short
Purple Acid Wash Denim Halter Vest
Grey Acid-Wash Denim Halter Vest