Archive for August, 2007
Labor Day weekend is practically with us. I'm sure all readers from the U.S. are preparing for a weekend full of celebration and activities with friends and family.
Besides all the parks being busy with lots of picnics being organized this weekend, our favorite plus size clothing stores have been busy preparing for this special weekend. They have actually been busy putting together fantastic sales, which we all can take advantage of during this Labor Day weekend.
In this post I have outlined all (ok… perhaps not all… but most!) of the sales going on this weekend at full figured fashion stores. So if you're in a shopping mood, now's the best time to shop, as great savings can be made!
Sydney's Closet
Say goodbye to Summer in style with Sydney's Closet! FREE shipping is currently being offered now through Labor Day Weekend. Just use coupon code SUMMER07 at checkout. Offer ends September 4th.
OneStopPlus.com
Now through Wednesday, September 5th, shop the Labor Day clearance section at OneStopPlus.com. Your chance to save up to 70% on stylish plus size fashion, including: tops, tees, swimwear, dresses, shoes, bottoms, denim and much more. Plus, also get $5 shipping on any order! Use coupon code WW14178 at checkout.
Henry & June Lingerie
Get FREE standard US shipping at Henry & June Lingerie. Just enter code FREESHIP at checkout and you'll be set!
Jessica London
This weekend only, take 30% off your favorite item at Jessica London. Use coupon code JLW4571, expires on September 4th.
Torrid
This weekend you can save big at Torrid. They have taken an additional 50% off all clearance items! Sale ends September 3rd.
Fashion Bug
All plus size denim is now on sale at the Bug! Get 30% off on every size, every wash and every fit is denim jeans. Shop now throug September 4th.
IGIGI
A massive end of season sale is currently going on at IGIGI. You can save up to 70% off selected items. Shop now for the best selection and before favorite items are gone! Sale is on now through September 7th.
Blair.com
Blair.com are celebrating Labor Day in a big way! They are taking 20% off the price of all their products from tomorrow Friday, until Monday September 3rd. This sale will be good on all Blair.com products, including clearance items.
SwimsuitsForAll.com
Get 15% off any purchase until September 9th. Just use coupon code sfa15 at checkout! Do not forget that the clearance sale here is still going on! Shop well-known brands like Delta Burke®, Christina®, Liz Claiborne®, Jantzen®, JAG®, Penbrooke®, Longitude® & much, much more, all 40-70% off at SwimSuitsForAll.com. And until September 9th, save an extra 15% with coupon code sfa15!
I'll try and update this post as new promotions are rolled out. So do save this post and come back to it during the weekend to check for new items!
Happy Labor Day!
I a couple of weeks ago I ran across a plus size clothing store I had never visited before, and this one was indeed a store with a difference. Specializing in plus size clothes for girls aged 7 to 12, It Chick Clothes, has made it their mission to make plus size clothing for girls that is anything but boring!
It Chick Clothes was founded by Emily Palit and Chatherine Price, after they realized that only a limited number of girls can actually wear 'standard sizes' at most retailers. So they joined forced to create a shopping experience for girls which is fun, and stylish. Their collection includes dresses, top, skirts and trousers, which are fun and colorful.

Recently I had a quick chat with Emily, one of the founders, who was kind enough to give us more of a closer look at It Chick Clothes.
What inspired you to create It Chick Clothes?
We both love clothes and fashion, and we saw a need for girls who were being left out of the fun clothes that "other girls" were wearing. The girls we've spoken to have used the words "other girls" when describing what they want to wear; you can hear that they feel marginalized. There's a catch-22 for these larger girls: they're told they can wear the trendier clothes if they lose weight, but this is pretty discouraging. In contrast, we want girls to feel good in our clothes, no matter how much they weigh. We love the lit up faces that we see on girls who wear our clothes.
How long has this online store been in existence?
We started on eBay two years ago, and we opened http://www.itchickclothes.com in early 2006.
Do you ship internationally?
Yes!
What's the main goal behind this one of a kind online store?
Our goal is to offer really cute clothes for girls 7 to 12 who may have a harder time shopping at traditional retailers. The end goal is to offer the same styles in the right sizes for our clients. The thing is that these retailers offer "half sizes," but some of our clients need a much bigger waist size than a half size bigger.
Visit It Chick Clothes today to take a closer look at this great store.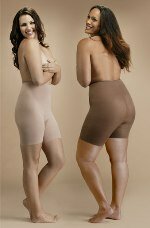 The ever favorite, plus size SPANX body shapers, are now available in new shades to match your skin!
So ladies… what color are you in the nude? Your search for your favorite body shaper ends here. SPANX brings you the body shaping qualities that you long for in the size and color that you need… all for $25!
With no leg bands, you can enhance your curves in a comfortable body shapers that is invisible under your clothes. Find your perfect nide (Bare or Cocoa) to go underneath your favorie styles.
The SPANX body shapers, available at Kiyonna:

smoothen tummy, thighs and rear
are a close match to the real nude!
are available in sizes C to G
are priced amazingly at $25!
Take a closer look at these body shapers today.
This post was kindly submitted by SizeAppeal.
1. Go for the right fit, not the size tag of a garment.
Try on different sizes, as all brands have their own size charts. Buy the size that fits you best, not the size you wish you were. A piece that is too tight will always make you look heavier than a piece in the next bigger size that fits you right.
2. Wear heels!
Don't worry, there is no need to walk around all day in 5-inch stilettos and get swollen feet that hurt (although they would surely make you stand tall!). A 2-inch heel will give you extra height while being comfortable to wear for most women in their daily life. You will get the longest line by wearing pointy toes in the same color as your pants or hosiery. Avoid ankle straps that cut your leg line.
3. Your pants have to be long enough to cover at least half of your heel.
A straight leg or slight boot cut elongates your legs. Don't wear French pleats or cropped pants. Your pants should fit snugly, but not too tight. Check for unwanted excess fabric in your butt area making you look shapeless.
4. Accentuate your assets.
Emphasizing your best features distracts from the ones you don't like that much and makes you look slimmer overall. If you have a slim waist, wear a belt around it or a shirt with a cinched waist. Got nice legs? Wear a knee-length skirt. If your arms are slim, go sleeveless or try cap-sleeves.
5. Wear garments with vertical lines.
It is true, they are elongating and slimming. It doesn't matter if the lines are created by seams, pinstripes, topstitching, prints or anything else. They all have the same effect. Vice versa, horizontal lines add unwanted volume to your silhouette.
Although the Scoop had been revamped only a couple of months ago, I felt a change was needed! Things were looking too cluttered, and a lot of items were distracting attention from the most important content… the posts! So this weekend I rolled out a new template, giving a new look and feel to the Scoop, which I think is more fresh and sleek. Tweaks here and there will still be made over the next couple of weeks, until I iron out minor issues. I do apologize if you run into any problem. Of course, let me know about these so I'll fix them right away.
Comments and feedback about the new look are most welcome!
Jessica London have recently expanded the collection of styles they offer to curvy women, by adding their brand new Fall collection.
Further to that, Jessica London have now introduced two great offers to let you purchase your favorite Fall items, save and pay later! Here are the details:

Save 20% off your favorite item! Just use coupon code JLW4547 at checkout. This offer expires August 15th, 2007.

Order now and pay $0 until November, 2007! All you have to do it use coupon code JLW4548. To take advantage of this offer, you need to order by August 31st, 2007.
Just as you smile and open the wedding invitation, a sense of dread falls as you see the words "Dress Attire". You start thinking – what am I going to wear??
Here are my simple quick tips to demystifying the code:

Formal affair: Make an entrance in a sophisticated scalloped dress.
Semi-formal (after 6pm): Perfect little black dresses will never fail you.
Semi-formal (daytime): Opt for flirty jersey frocks in everything from earthy browns to vintage prints. To avoid deadly glares, do not wear red or white.
Phew! That was a close one. All eyes are set on the bride – but you're sure to steal a few glances too!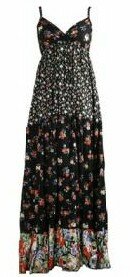 Ladies, only one week left to enter our plus size maxi dress giveaway!
If you're just reading about this now, we are currently giving away a stunning plus size dress (in size 16/18), and all you need to do is to subscribe to received Plus Size Clothing Scoop updates via email.
Just type in your email address on the box located on the top right hand corner of this page, just under 'Subscribe via email:' and hit the 'Subscribe now!' button. After doing so, you will receive an email in your inbox with a link which you must click on in order to activate your subscribtion.
Contest ends next week, on August 14th… so hurry and subscribe today!