Archive for February, 2009
Our weekly look at affordable plus size clothing items is back, and this week we're taking a look at a staple item for well, pretty much everyone: belts. Just a quick memory refresher, or in case you missed it, last week we looked at two boho chic style pieces. Let's get down to business:

Black Covered Small Buckle
Price: $11.98
Available in sizes: 2 (18/20) to 4 (26/28)
This sleek plus size belt features a tasteful round covered buckle, and it is 1″ wide. Simple. But works!
__

Black Brass Stud Perforated Flower Belt
Price: $14.98
Available in sizes: 1 (14/16) , 2 (18/20) and 4 (26/28)
This plus size belt is beautifully Boho chic! Here is a black belt for you, which features a perforated floral design accented with tiny brass studs.
Most people including fashion models and celebrities don't have flawless bodies although it can appear that way when certain camera angles are used to portray their bodies from their best perspective. The world of modeling is all about portraying an illusion. You too can use that principle to your advantage. One way to give the illusion of a well proportioned body is to use fashion to enhance and minimize figure flaws. One figure flaw that many women want to address is the problem of wide hips. One of the best ways to minimize the look of wide hips is to wear a skirt that visually plays down hip size. Here's how to choose and wear a skirt if you have wide hips.
Think A-line
Of all the skirt styles available, the a-line skirt is easily one of the most attractive skirt styles for wide hips. When you shop, choose an a-line skirt that gradually widens as it approaches the hem line for maximal figure flattery. Although overly detailed skirts usually don't flatter wide hips, an a-line skirt with soft pleats can be pretty and can actually draw attention away from the hip area.
Avoid Bias Cut Skirts
One style to avoid is any skirt that's bias cut. Bias cut skirts have a tendency to cling to the widest part of the hips and make hips look fuller and wider. If you have wide hips, choose a skirt style that allows the bulk of the fabric to drape softly over the hip line.
Think Dark on the Bottom and Lighter on the Top
When you wear a skirt in a dark color on the bottom, you visually draw the eye away from the hip area. If you accentuate your upper body with a lighter shade or interesting pattern, you can further de-emphasize wide hips. Choose eye catching tops in lighter shades and bolder patterns to play down the appearance of less than perfect hips. Remember bold patterns and lots of detail accentuate areas while dark, solid colors de-emphasize them.
Choose Vertical Stripes and Avoid Horizontal
When you wear a skirt to play down your hips, it's best to avoid busy patterns and bold graphics. One exception would be a skirt with a vertical stripe. Vertical stripes give the visual illusion of a longer, slimmer line and can subtract inches off of hip width. As flattering as a skirt with a vertical stripe can be, a horizontal stripe will only accentuate wide hips. Try wearing a black a-line skirt with vertical pinstripes. Accentuate your upper body with a pretty white blouse and a stunning necklace that catches the eye and your wide hips will be much less obvious.
Choose Accessories Wisely
Stay away from accessories that accentuate the hips such as low slung belts. Draw the eye upwards with an unusual statement necklace or bold earrings. When you wear a skirt, choose a shoe with a moderate sized heel. Flat shoes will make you appear shorter and heavier while heels that are too tall may draw too much attention to the lower body. Keep your lines clean and smooth by wearing hosiery or tights that match your skirt and shoes.
If you have wide hips, you don't have to avoid skirts. A carefully chosen skirt worn with the right shoes and accessories can look fabulous on less than ideal hips and you can step out in style.
Today, in our weekly installment about affordable plus size clothing, we are going to take a look at some options for those women interested in the boho chic style. To give you a quick reminder or past items we've taken a look at, last week we looked at some super affordable plus size capri and gaucho pants, whereas the week before that we looked at options to consider for the essential plus size jeans. But without further ado, let's get into this week's items of focus:

Long Flowing Boho Skirt
Price: $18.99
Available in sizes: 1X (14/16) to 6X (34/36)
Effortlessly charming, this fluid long plus size skirt is neither too dressy nor too casual. It's just right! Super comfy, you will definitely love the way it feels against your skin. Pair it with a basic tee for an easy breezy appeal. This skirt is available from SWAK Designs, which offers free shipping on all orders worldwide via standard USPS (no minimum order, and no coupon code required). Again, super!
__

Forest Green Medallion Print Empire Waist Top
Price: $20.97
Available in sizes: 0 (10/12) to 2 (18/20)
Beachy. Boho. Beautiful! This lightweight cotton top features an allover medallion print in green, purple, brown and ivory subtly accented with glitter. Perfect for both those long summer days, or nights.
The secret to paying less without looking like a discount is to stick to a few essentials. Shopping is a money issue, and like all money issues, you should look at every purchase as an investment. Most people go to the mall intent on making their budget stretch by paying a little bit of money for a bunch of things. This is how you overspend for nothing.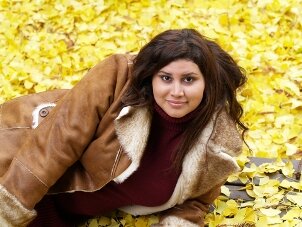 You have a closet full of clothes, but you find yourself at the mall the day before what's-her-name's wedding or the formal Christmas party, pawing frantically through racks of clothes. By buying for just one occasion, you end up with another inflexible piece of cheap clothing. It's a vicious cycle. 'Nothing to wear' is an excuse that keeps you from going places.
When you buy the bare minimum, you eliminate this problem. You will always have something to wear and you will always look good.
Pants & Skirts
Wool and tweed blend well with other colors and materials, so buy the following pieces in those colors. One of your pairs of black pants should come with a jacket. In other words, buy a black suit.
Pair of black dress pants for day-time.
Pair of black dress pants with a fuller leg for evening.
A-line or bias cut skirt that drapes.
Pencil skirt in black.
Neutral colored skirt.
Jeans
Jeans come in every shape and size for different body-types. If you have generous hips, wear a straight legged jean. Avoid stressing and stylized fading on jeans, as this can highlight your trouble spots.
To get a perfect fit, there is nothing wrong with getting your jeans tailored, in fact, you will probably have to. This is an expense that's worth it because jeans travel well, pair with almost any top and are appropriate for almost any occasion besides church, the opera or a banquet. The hem of your jeans should brush the toe box of your shoe.
Hemmed pair of jeans to go with heels.
Hemmed pair of jeans to go with sneakers or flats.
Tops
Sweater in the same shade of black as your pants and skirt.
Sweater in a neutral shade.
A lilac, olive or salmon sweater. Something with a rich tone that pairs with tweed or camel..
White button down shirt.
T-shirts.
Jackets
Tailored jacket that matches pants.
Bomber, motorcycle or windbreaker jacket in a refined fabric. Think leather, suede or corduroy.
Coats
Trench in neutral or black.
Knee-length for day and between seasons. Look for leather, suede or lightweight wool.
Winter coat of the highest quality you can afford. In colder climates, look for a calf-length coat. In milder ones, the lightweight knee-length will suffice.
Dress
Absolute must have: a little black dress.
Accessories
Classic leather style bag that works with everything.
Evening bag , envelope style or square-top handle.
Tote bag for running errands.
Pair of black pumps with 2 1/2 to 3 1/2-inch heel. Get kitten heels if you don't like heights.
Comfy evening shoe in black satin.
Pair of tall black boots.
Bad weather boots.
Pair of cool retro sneakers.
Remember to look for deals at your favorite stores to ensure the best quality possible. Fit is important, so get the styles that are most flattering to your shape. Retail clothing is one size fits all so count on having a few alterations. Don't be afraid to use a tailor.
Since you've bought fewer clothes, you can afford the best fit. Every piece you buy can be a designer piece. Same budget, better clothes. These are the essential basics that you really need-the rest is gravy.
Today we are taking a look at a stunning plus size halter dress, which is also available at a great price at SWAK Designs.
The Charlotte halter dress is comfortable, elegant, and sexy both on the dance floor and off! Stretchy polyester and spandex hug your curves in all the right places. This hot little number is definitely en fuego!
This dress is available in eggplant, brown, and black, to suit all tastes and needs. It's available in sizes 1X (14/16) to 6X (34/36) at only $42.99. Get yours today!
Remember that at SWAK Designs you save all shipping costs! They offer free shipping in all orders worldwide via standard USPS (no minimum order). It really cannot get better than this.
In this week's installment of Frugal Fridays, we're continuing to look at pants available at greatly reduced prices. Whereas last week we looked at two selections of plus size jeans, today we're having a look at capri pants and gaucho palazzo pants.

Plus Size Capri Pants
Price: $13.99
Available in sizes: 16W to 26W
Style and function meet there match with this curvy essential from SWAK Designs! Who says you can't work and play too? These stylish Capri pants are the embodiment of just that. Very versatile piece which can be matched up with a tailored shirt for a perfect work ensemble, or a funky top for a casual day out.
__

Plus Size Gaucho Palazzo Yoga Pants
Price: $15.99
Available in sizes: 1X (14/16) to 6X (34/36)
These sexy gaucho pants combine all the comfort of sweats with the style and elegance. They stretchy fabric allows for optimal movement and comfort. A great piece, again both for casual and special occasions.
Both of the items featured in this week's Frugal Fridays corner are available from one of our favorite curvy stores SWAK Designs. Which means that, if you purchase one of these items (or any item from SWAK Designs), you benefit from free shipping on your order! SWAK Designs offers free shipping on all orders worldwide via standard USPS (no minimum order). Fantastic!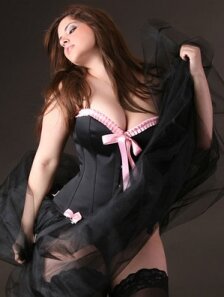 This week Hips and Curves are presenting their newest creation: The Duchess, an authentic steel boned corset. This gorgeous piece of plus size lingerie, which is European made, truly epitomizes of elegance and luxury!
Whether you are in love, or out of love. Whether you are heartbroken, or the heartbreaker. This is the season to love, love, love and love again! Whether you have your designs on the guy next door, your life time love or a perfect stranger, let this stunning Duchess plus size corset from Hips and Curves bet the #1 tool in your lingerie arsenal this Valentine's Day!
So go on, have a closer look at the Duchess corset.
Join Monif C and other curvy ladies for the very first Annual Curvy Girls at Sea cruise.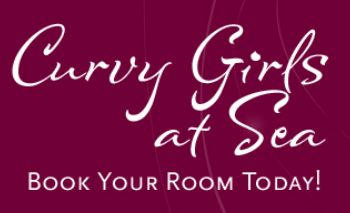 This is a very exiting cruise happening from August 29th to September 3rd, 2009. A fun and exsiting 5 night cruise to Bermuda is jam packed with activities, which include: a Monif C. Fashion show, discussions on personal fashion, learning valuable tips with girlfriends on board, relaxing and recharging on Royal Caribbean's Explorer of the Seas!
I've been on this ship about 5 years ago with my girlfriends, and I can say that it's truly grand! I wish I could make it myself to this cruise! Click here for further information on this cruise.