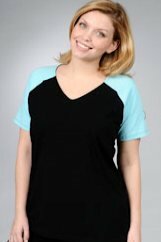 Are your a full figured woman looking for plus size activewear that is comfortable, of great quality, and most of all fits? Need something specific for a yoga class you have been wanting to join, or perhaps something for cycling or running? Perhaps you've been searching for a good quality plus size sports bra?
Then, browse through our list of recommended online stores which carry a vast selection of plus size active wear.
Editor's Choice
Activeista Sizes 1X to 6x (14 to 36)
Activeista is a pretty new store, though it has quickly become the go to place for plus size active wear at affordable prices. Whether you are looking a sports bra, or something to wear during yoga, running, cycling, water aerobics or simply working our, you will find a very wide selection of sportswear at Activeista. Their prices are very competitive, and they carry items up to size 36 (6X).
Recommended Stores
Junonia Sizes 1X to 6X (14 to 40)
One of the best online stores available to plus size women, which carries a great selection on sport and active wear in plus sizes. A great place for full figured women to turn to in their search for sports wear, Junonia's mission is to inspire the great beauty and women to enjoy life to the fullest with high-quality innovative active clothing.
Always For Me 16W to 26W
Besides specializing in plus size swimwear, AlwaysForMe.com also carry an extensive range of plus size activewear which is definitely worth a visit.
Just My Size Sizes 14W to 40W – Bras 38W to 58J
Just My Size carry one of the largest selection of bras you will ever find online, in sizes up to 58J and among these you will definitely also find great plus size sports bras. But that's not all: Just My Size also offer a great range of workout wear including tops, bottoms, sweats and more.
Alight Sizes 12 to 34
Alight carries a large selection of plus size apparel from a variety of designers, and this also includes ones specializing in plus size sportswear such as A Big Attitude (ABA Activewear) and Taffy Activewear.
Style & Substance Sizes 12 to 30
Style & Substance carry a wide range of styles for all occasions made for the fuller figure. They also offer a good range of quality sportswear for designer Loko Sport. The also offer a shopping guide, to help you choose the most appropriate styles for your body shape.
Champion 1X to 4X (18W to 32W)
Champion is a very well known brand and an obvious leader in sportswear. Though did you know they have a section specifically for plus sizes? That's right! In their online store you can find a section dedication only to plus sizes, where offer everything tanks, tees, shorts, crops pants and anything else you might need! All in sizes up to 32W.
Our Top Plus Size Activewear Picks
| | | |
| --- | --- | --- |
| A Big Attitude® Plus Size Reglan V-Neck (1X-4X) | Women's Plus Size Activewear - Always For Me Eco-Friendly Active Bindu Tank - Style#DV529X - Sizes XL-4X - NEW COLORS JUST ARRIVED | A Big Attitude® 4X-6X Sweetheart Cami Bra |
| Champion® D/DD Underwire Sports Bra | A Big Attitude® Plus Size Contrasting Stripe Capri Pants (1X-6X) | Danskin® Plus Size Zip Front Jacket (1X-4X) |
| Danskin® Plus Size V-Neck Cotton Stretch Tee (1X-4X) | As Seen On NBC's Hit Show "The Biggest Loser" - Women's Plus Size Workout Clothing - 9557A Plus Size Bike Short - Sizes 1X-6X | Women's Plus Size Work Out Clothing - Scoop Neck Cami Bra 1X - 6X - Style #9506 |