Archive for December, 2009
If you want to look your best this holiday season, but you're on a tight budget, then make sure to watch this video for some tips on what type of dress to wear. In this clip All You magazine's Amy Goodman showcases 5 different dresses, for 5 different body types, all under $100.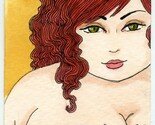 I've recently spoken about various plus size clothing options being available at Etsy, and today we're taking another look at what this super site offers, though this time we're not talking fashion, we're talking art. Hat tip to Francesca at Manolo for the Big Girl! for leading us to a great little gem on Esty: LadyAtLarge, a talented artist who "glorifies the full female form" through her artwork. Her work is absolutely beautiful and I definitely recommen you look through it.
I am still in the process of decorating our apartment, and once of these pieces will made a wonderful addition to our decor. Now off to choose this once to purchase. Hmm… decisions, decisions!
In this video. Stephen Hadley, designer and owner of GenerousFashions.com, talks about fit, fabrics and fashions as they pertain to plus size garments for special occasions. Lots of tips and tricks that will help you look fabulous this holiday season, whatever occasion you need to attend.