Archive for June, 2007
It's the Voluptuous Woman Company's 10th Anniversary this year and in order to celebrate this special occasion, they are iniviting plus size women to attend their Anniversary Fashion Show and Gala which will be held on Saturday, November 10, 2007 at the U.S. Chamber of Commerce in Washington, DC.

Further details will be given in a couple of months, so stay tuned for more details on the event!
Hearing wedding bells? If you are planning your wedding, the last thing you need is added expenses. If you are a plus size woman who wants to look fabulous on her wedding day, and dressing up the bridesmaids in gorgeous dresses, without breaking the bank, I suggest you take a look at the bridal collection at IGIGI.
IGIGI carry a select number of unique items within their bridal wear collection, which are created to flatter the curvaceous figure, helping you look like a star on your big day. So you can look great, make a lasting impression (on the guests, as well as the groom

) whilst keeping within budget. Take a look at some of my favorite dresses:
Lace Wedding Gown – If I were getting married tomorrow, this is the dress I would choose. It is a gorgeous lace dress, very romantic and a dream at only $229.
Chloe Lace Gown in Ivory – Another extremely elegant piece, the contrasting lining featured in this dress create a wonderful feeling of sophistication for a feminine look. Only $219.
Exquisite Evening Gown in White/White – This Grecian inspired iridescent gown and will without a doubt make you a start on your special day. Only $189!
Don't fret about your bridesmaids, as IGIGI has got them covered as well! Just visit the bridal collection at IGIGI to take a look at the gorgeous dresses available for your wedding party.
If you're in need of a little inspiration, remember that this summer the trend is mixing up the styles for your bridesmaids, using the same dress in different colors. Let's say you choose the Exquisite Evening Gown in White/White for yourself. Why not get the Exquisite Evening Gown in Blue/Sky Bluefor your bridesmaids, this will create a sharp contrast that will look bold and very stylish.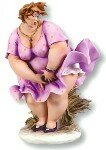 chunkEbusiness.com, a fat friendly art gallery and gift shop, last week announced an exciting addition to their range of products. They have added a new line of statues, the Beautifully Big statues.

The little big pieces are gorgeous, and a great addition to you decor if you want to show off your plus size friendly attitude through your home decor. These statues are imported from Italy, are cast in resin and are individually hand painted.

I guess you will either love or hate these pieces. Myself, I love them!
Today I am very happy to be able to give you a closer look into the clothing provided by our store of the month: SWAK Designs.

As detailed in previous posts, SWAK Designs is a band new plus size clothing store, which aims at providing plus size women with trendy and fashion forward clothing at prices they love.

Brad, and the lovely staff at SWAK Designs, were kind enough to send me a package with some of their offerings, and this is what I'm presenting to you in the next couple of days.

Today let's take a look at the casual pieces the sent over, pieces which are colourful, figure flattering and great for those summer days. Read the full review here.
Plus size teens in El Paso looking for trendy and fashion forward clothing, and who perhaps do not like to shop online, will be very pleased to hear that Torrid have just found a new home in El Paso!
The grand opening of this new Torrid store happened last Wednesday, June 13th and the management are Torrid are very excited to be able to open up a store in this area.
The new Torrid store is located at Cielo Vista Mall, and as with all Torrid stores, it will cater to girls and young women aged 15 to 29 in sizes 12 and up. El Paso's store marks Torrid's 134th store in the U.S.
In a bid to widen their store offerings to plus size women all over the U.S., Maurice's stores have started adding a new plus size section to their collections. In fact, out of their 575 stores across the U.S., three-fourths of them will now include a plus size section which will focus on sizes 16 to 24. With a lot of customers coming in for this new plus size range, just a few days after its introduction, Maurice's are already calling this company-wide launch a success. It is great to see more stores adding a plus size range to their store offerings. Besides opening up new fashion choices to plus size women, such initiatives also encourage other stores to expand their range of apparel and accessories to accommodate the curvier side of the nation. Kudos to Maurice's!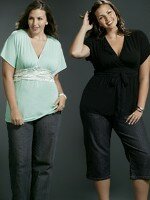 Kiyonna has always provided some excellent options to full figured women looking for sexy and curvy hugging jeans. Now their premium line of denim is back in new washes and silhouettes. Superfine ring spun yarns infused with just the right amount of stretch result in an amazingly comfortable and flattering fit.
Dressier plus size jeans are also available at Kiyonna, just have a look at their figure flattering Wide Leg Trousers or their perfect for summer Dark Rinse Cropped jeans.
Kiyonna's all time favorite Signature Jeans is also back in two contemporary washes. With these select styles you are sure to find your favorite!
Note that Kiyonna are also offering free ground shipping on orders of $100 or more. This offer applies to domestic orders only and no coupon code is needed.
I am very pleased today, to be able to publish a recent interview I held with Nancy Baum, founder of Cherished-Woman.com and successful plus size model.
It was both a pleasure and an honor to get to the chance to speak with Nancy and get a closer look at her work, her career and her new online store.
I recommend you head over to the interview with Nancy and read it, as it is very interesting to get to know how the women behind the leading plus size clothing stores close up. In this interview, Nancy talks about how she got started with her career as a plus size model, and then obviously moves on to speak about her new venture and passion: Cherished-Woman.com.
So find out the scoop about Nancy and Cherished-Woman.com, read the interview today.
It has been a few month now since I discovered Just As Beautiful magazine, an online free magazine hailing from the UK dedicated to plus size women. This truly is a magazine with a difference, and one of the reasons why I like it is because it is real. It features stories written by and created for big beautiful women, and topic covered range from fashion, health, beautiful and entertainment issues.
This weekend the May issue of Just As Beautiful magazine was sent out to subscribers, and it is chock full of interesting stuff including:
A great piece on how Trinny and Susannah (two famous UK stylists) teach a plus size couple what to wear, and what to stay away from!
A story on how Lisa Marie and Cher Rue, founders of Club Bounce, met and started off on a great journey of curvy success.
A piece on Britain's largest teenager, a 34 stone 19 year old, who recounts some tough times she passed through, during what was supposed to be the best time of her life.
A great real life story of how diet pills nearly turned a woman's life into a horror story!
If you would like to add more to your plus size focused reading, then definitely add Just As Beautiful magazine to your list of 'to read items'!