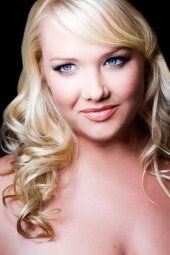 Designer of plus size clothing and lingerie Cherished-Woman.com is going the extra mile to support the curvy models featured within their online store and material, by sponsoring one of them in a model search.
Top plus size model Danielle Line is competing to be the next plus size cover girl in Shirley's Sexy Model Search, being run by Shirley of Hollywood. Danielle is one of eight finalists in the plus size division and Cherished-Woman.com are sponsoring Danielle as she epitomizes sexiness and wholesomeness all in one.
I wish Danielle, as well as all the other contestants within the plus size category the best of luck within this contest. Furthermore I truly commend Cherished-Woman.com for supporting Danielle, and encourage all other designers and stores to support their models wherever possible.
Read more about the contest, and make sure to check out the other finalists and cast your vote. The winners will be announced live on 25th September, 2008 in the Bahamas.