Last week the August 2008 edition of Just as Beautiful Magazine was released, and as always, this new issue is jam packed with exclusive stories, fashion tips and news.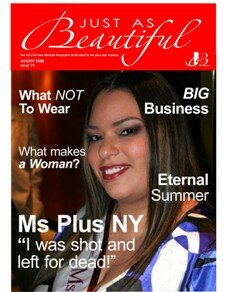 Read the latest issue and:
Find out how plus size model Isabel Garcia was shot in the face and left to die, but is today the reigning plus size queen of New York and campaigner for abused women across the world – an exclusive story carried by Just As Beautiful magazine.
Get to know some top hair tricks to slim your face, from celebrity hairdresser, Anita Cox.
Get fashion tips on "What Not To Wear" in this month's Size & Style.
Find out 'What Makes A Woman'.
Find out how to have an 'Eternal Summer'.
Find out how a UK couple turned high quality (but low priced) plus-size fancy dress costumes into Big Business.
Subscribing to Just As Beutiful magazine is absolutely free of charge, so there is no reason why you should not be subcribed to this great monthly magazine, which is made by and made for plus size women. To sign up, and start receiving the latest issues conveniently in your inbox every month, visit http://www.justasbeautiful.co.uk/.