Plus Size Modeling
Full Figured Fashion Week™ has announced the return of their "Face of Full Figured Fashion Week" Cover Model Search for 2010, sponsored by Daily Venus Divas.
If you are interested in a chance to win a round trip ticket to New York City during Full Figured Fashion Week 2010, an opportunity to host the red carpet VIP reception and gain online and local media exposure, visit FFFWeek for details on how to enter!
You can click here to register to be a contestant. Otherwise to vote for your favorite contestant click here.
Contest ends on Thursday, 29th April, 2010. Good luck to all who enter!
The wait is over ladies! Online submissions for plus size runway models for Full Figured Fashion Week are now being accepted. Here is the application which you will need to fill out if interested.
Here is some other essential info you need to be aware of before applying. You must have professional runway skills to apply, no exceptions. If you live out state (i.e. outside of NY, NJ, CT, etc.) and you submit an application, you must read the directions on the application and send FFFWeek a link to a small video clip of your runway skills. It does not have to be you in a fashion show, it could be something as simple as a friend recording your walk (in heels, etc.). Please read the info on the application very carefully before submitting. If you live out of town and you do not send FFFWeek a link to the videoclip, your application will be automatically voided. FFFWeek is doing this because they realize the costs associated with traveling to NY to audition and they want to be sure you realize that they are looking for the best of the best. So, please read the info on the application very carefully!
If FFFWeek are interested in seeing you, they will contact you directly to attend their closed casting which will be held in April.
If you have any questions email . Good luck to all!
Related Tags:
plus size models in new york city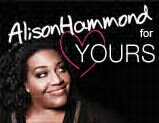 The Alison Hammond range at Yours Clothing is due to be launched at the end of March and Alison is currently recruiting real plus size women who can help her to model her range once launched.
If you think you could model the Alison Hammond range then send a photograph of yourself to or to the following mailing address: Yours Clothing Press Office, 1184 Lincoln Road, Werrington, Peterborough, Cambs, PE4 6LA.
The closing date for entries is Friday, 26th March at 5p.m. Three winners will be chosen by
Alison Hammond herself and will receive an all expenses paid trip to the exclusive launch. They will also receive items from the range that they can personally select!
What are you waiting for girls? Send in your photo! Good luck to all.
Related Tags:
yours clothing model
model yours clothing
sarah scholtz peterborough
what size clothes does alison hammond wear
yours clothing model search