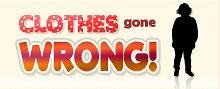 One of my favorite plus size clothing labels, Missphit, has just launched the "Clothes Gone Wrong" plus size model contest.
This is a contest with a twist, because unlike practically all other model contests, you do not need to be a beauty queen to win! In fact this contest is seeking photo submissions of your worst fitting clothes, for a chance to win a wardrobe makeover and become a Missphit top model.
I think this is such a great idea from Missphit's part, and I am sure the lucky winner will have an absolute blast with the makeover, and with the whole experience of becoming a Missphit top model! I'm very excited to see how this contest will progress over the coming weeks, and I am even more honored to be part of it by being one of the judges.
Here are the nitty gritty details from Missphit themselves on the contest, and what you need to do to get involved:
Style conscious plus-size women struggle constantly to find clothes that not only look great, but fit their body shapes in all the right places. According to a recent Cotton Incorporated Lifestyle Monitor™ survey, 21% of female respondents reported wearing a size 15 or greater yet 70% of these women stated they couldn't find clothing they liked in their size. Known for their detail oriented focus on both fit and trendy styles, Missphit is acknowledging this frustration by offering a chance to replace tired duds with fresh new looks that flatter their fuller figures.

Starting this month and continuing bi-monthly for the rest of the year, Missphit will begin seeking photo submissions from frustrated fashionistas showing off their worst fitting outfit for a chance to win $200 worth of free Missphit clothing and an opportunity to bask in the spotlight. Winners of the bi-monthly contests will be awarded a mini wardrobe makeover and be featured on the Missphit Web site with "before" and "after" pictures to show their transformation.

In addition, contest winners will be entered for consideration to become the next Missphit Top Model. The grand finale winner will be flown to Los Angeles for a complete makeover and fashion shoot to be featured as Missphit's new Top Model. For more information about the contest, please visit Missphit.com.

More About Missphit
Missphit is a Los Angeles based clothing line dedicated to bringing trendy and sophisticated styles to plus-sized women. The company, run by husband and wife team Christina and Yul Kwon, brings 20 years of design and manufacturing experience to the table. Christina studied fashion design at Esmod in Paris and has honed her trade with experience in top design houses such as Christian Dior and John Galliano among others. Missphit is sold nationwide in select stores and is available for purchase online at Missphit.com.