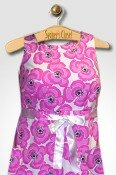 Sydney's Closet, the specialist in plus size dresses for any special occasion, right now has some of the most goregeous plus size summer dresses.
Whether you are off to a beachside bash, drinks by the pool, or perhaps you have been invited to a fancy fete, the wide selection available at Sydney's Closet means there is something perfect for you! In fact here are some of our recommendations:
Beachside Bash
Choose the pink and floral Flower Power A-line dress. Made out of cotton, you will definitely stay cool in this dress! Currently on sale at $49.00, this dress is a steal!

Drinks by the Pool
Choose the Donna Ricco's Blue Lagoon, a gorgeous plus size cocktails dress. The V-neck give the dress a sexy summer look, whilst the empire ensure your curves are correctly flattered.

Fancy Fete
Go for the elegant Milky Way piece. This Aurora beautiful plus size dress can be worn either with straps or without, so you can easily customize depending on your tastes and on the nature of the occasion. This is a must see!
Currently you can also take $15 off party dresses just by typing in PARTY7 at checkout. This offer is available on any dress until 31st July.
Tip: To find these particular dresses within Sydney's Closet, just enter the dress name into the 'Search' box, which is located in the top right hand corner of the Sydney's Closet website.