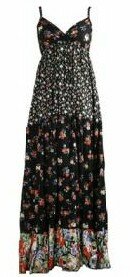 I have a stunning and very fashionable maxi dress to give away, and I'm giving it away right here on the scoop!
This fabulous dress is a must have item this summer. Coming straight from the UK, it has a black background with flower designs, as seen worn by many celebrities this season! The dress is a size 16 (US), but it fit a bit bigger so I figure it will fit a size 18 very comfortably.
So what do you have to do to win this great dress? All you have to do is to subscribe to receive Plus Size Clothing Scoop updates via email!
And how do you do that? Just type in your email address on the box located on the top right hand corner of this page, just under 'Subscribe via email:' and hit the 'Subscribe now!' button. After doing so, you will receive an email in your inbox with a link which you must click on in order to activate your subscribtion.
Very easy… don't you think? So subscribe today to enter the dress giveaway. The contest ends on August 14th! So hurry, and submit your entry today.