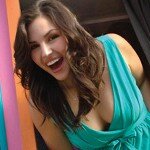 Torrid are really adding lots of new selection to their range of offerings lately. Their latest creation is the Carnivale collection, which is one of the most vibrant and colorful collections Torrid has launched this year.
Just like any fun and booming carnival scene, this new collection is filled with coral, purple and turquoise. But that is not all. Bold print are aplenty, coupled with shoulder-bearing styles, making for a bring and beautiful, picture perfect summer afternoon!
Like all the collections launched recently by Torrid, the Carnivale collection includes a selection of tops, bottoms, dresses, shoes and accessories.
I hand picked my favorite today, and added them to my wish list, which seems to be getting longer everyday! Hmmm…

Tops: Peacock Print Kimono Top
Bottoms: White Crochet Panel Skirt
Dresses: Turquoise Blue Floral Print Tank Dress
Shoes: Black Double Strap Charlie Wedge Heel
Accessories: Black Web Hoop Earring
So what do you think of my picks? And more importantly, what are you favorites from the Carnivale collection? Let me know by commenting to this post.
Trouble Finding Carnivale?
If you're having a little difficulty finding out where the items in this collection are on the Torrid website, just point your mouse over the 'Torrid Collection' link on the left-hand side menu, and that should pop up a smaller menu where you can find all the collection available. Browse