Over 25 new styles have been added this week at Figureqsue…and they're going out almost as fast as they're coming in! This week, Figureqsue have brought back trendy army fatigue print, curvy corals, luscious limes, and the oh-so-sexy and trendy black & white prints. Below have a look at some of my favorites from these new arrivals.
But in the meantime let me fill you in on some specials going on…
Check out the Clearance items section as many items have now been lowered to just $14!
Take 15% off all orders over $50 with coupon code MAY15.
Also get Free shipping on orders over $75 in the U.S
In the meantime, here are 4 favorites from their new arrivals…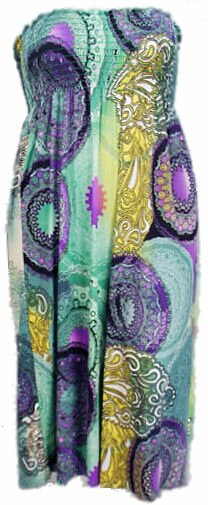 Smock Strapless Maxi Dress in Paisley
Maxi dresses are all the rage this Summer, and this is a colorful, affordable casual option to consider. It features a beautiful paisly print, and stretch smock top for the perfect fit. The free flowing fit will keep you looking sexy and cool. Available in sizes 1X to 3X. Currently priced at $34.95.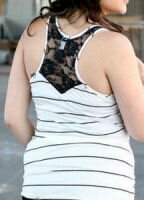 Stripe Rosette Tank With Lace Back
This is a classic black and white stripe top, which includes a trendy black rosette print on the front and a sexy black lace trim back. The cinched sides ensure this top will give you a figure flattering git. Can be worn both casual or dressed up for a night out. Available in sizes 1X to 3X and currently prices at $24.95.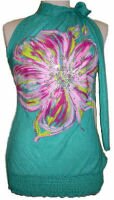 Embellished Sleeveless Top in Jade
This is an adorable style which features a beautiful embellished floral bloom print at front. It comes in a sleeveless design with sexy tie at neck, made out of comfortable lightweight cotton fabric. It is also available in White and black. This tops is also prices at $24.95 and currently available in sizes 1X to 3X.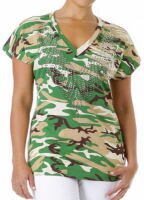 Embellished Army Fatigue Print Top
This fatigue print top features a trendy embellished studded design on front, and comes in a sexy V neck-line. It definitely goes great with a pairs of capri cargo pants. Available in sizes 1X to 4X at $25.95.