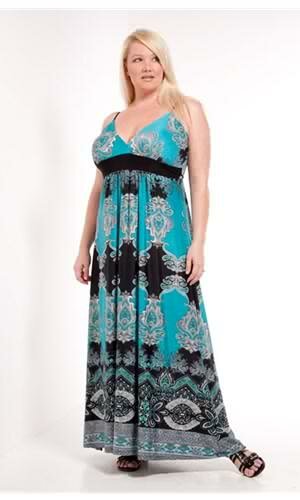 The popular Veronica plus size maxi dress from SWAK Designs is now back in stock! Though limited quantities are available, so if you're interested in grabbing one for yourself, don't think too much about it.
This is one of SWAK Designs' most sultry and stunning piece thus far. This fun print maxi dress is definitely great choice for a special occasion, or even just a day out shopping with the girls. The key to dressing up, or down, an outfit as always is the accessories you choose to pair up with it.
This plus size v-neck dress features a flattering empire waist line, that lets out into an amazing free flowing drape. It comes with super convenient adjustable straps and the sash tie allows you to get that perfect fit.
It comes in two main colors: teal and fuschia. It is available in sizes 1X (14/16) to 5X (30/32) and is priced at $54.00.