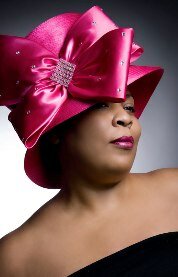 Joanne Brokaw noted in her blog post last Friday, that a brand new and very unique new label within the Gospel music industry was just launched, which is targeted exclusively to plus size women.
Sherrie Keys, a Gospel singer, has launched Chubby Girl Records, a label which celebrates and embraces gifted Gospel recording artists who just happen to be 'pleasantly plump'. Founder Keys believes that gospel music marketing offers a compelling and unique opportunity to positively influence the way plus size women view their own bodies.
Besides the new label launch, Chubby Girl Records is also designing a clothing line targeing also the plus size market.
It will be very interesting to watch how this new label develops, and I cannot wait to have a look at the label's first fashion collection as well. I'll definitely keep you ladies updated when more news is out.