Here's something you definitely do not see everyday, an all-male plus size cheerleading squad team dubbed the 'Manatees'.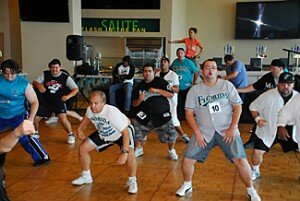 This Florida base baseball cheerleading squad will perform at Marlins home games on Friday and Saturday nights. Set up primarily as a way to bring back fans, the cheerleader boys are finding this experience a fun, rewarding and most of all, liberating one!
The squad range in age from their early 20s to their early 60s, and in build from slightly chubby to a litte bit more. I think this is such a great idea these guys have put together, read more about it at CSmonitor.com.