Last weekend on Saturday, the anticipated new Nikki Blonsky movie, 'Queen Sized' premiered!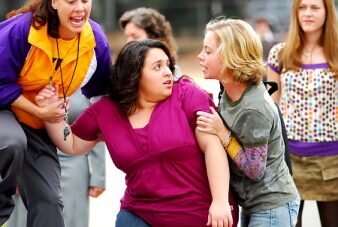 I must say, last year's mega hit 'Hairspray' is a very tough act to follow, however I am sure in this new movie Nikki will shine. The new movie features Nikki portraying the role of Maggie Baker, a plus-size high-school senior who has always pitied herself for not being skinny, pretty or wealthy. When her name turns up on the list of nominees for the homecoming court as a prank, she's mortified.
It is interesting to note that this movie was actually inspired by true events: the true story of a suburban Detroit teen who in 2004 spurred a national dialogue about a type of teen bullying: students voting less popular peers onto homecoming courts for the purpose of mocking them.
Although I am eager to watch this new movie, I haven't had a chance to as yet, so if any of your have seen it, do leave some comments about it on this post. What was your opinion on the movie? Will this be another hit for Nikki?