The following is a guest post by Sara Johnson.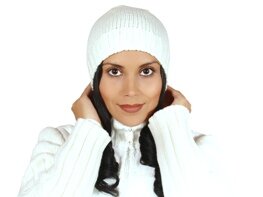 The fashion stars of winter 2007/2008 are a welcome beacon of shimmer, shine and pop of color in an often drab winter palette. 80's glamour color palette, with updated flattering shapes, combined with the refined luxury of the 40's have re-emerged throughout the fashion world to an applauding plus size audience.
Jewel tones hues for 2007/2008 are taking center stage, often times replacing the ever-present Little Black Dress as chic choices. Amethyst, cobalt, ruby and emerald are the universally flattering favorites, for all shapes and sizes. The standard myth that black slims, colors expand is being proven incorrect time and again with this gorgeous palette. Rich, saturated colors slim and flatter as well as their somber sister black and alternately, flatter the wearer's coloring beautifully.
Choose quality fabric, in a rich tone designed to enhance your favorite feature. A beautiful plus size woman, wearing a pop of color in a sea of black is sure to add a little life to even the dullest of holiday hoop-lahs. Still choosing to stick with basic black dress? Add burst of color with bold amethyst satin Maryjane's and a choice Kenneth Lane Cocktail ring and jeweled bangle set. Mix your accessory colors freely when wearing a solid black clothing palette for dramatic effect.
Shimmer and shine is no longer evening exclusive apparel, glittering choices for the season easily carry the wearer from day to night. Satin shimmering blouses are easily paired with sexy blazers for day and a sexy pair of metallic heels and bold cocktail jewelry for night. Jeweled detailing at the hem, neckline and sleeves add standout detailing to basic shapes we love. When wearing shimmer apply the same rules used with animal print; chose one garment to shine.
Modern opulence combined with the refinement of the 40's creates an easy assumed elegance for the winter 2007/2008 season. Structured jackets, paired with high waisted trousers in tweeds and wool create the perfect foil when worn with a silk blouse in one of the afore mentioned jewel tones. Feminine curves have made a reappearance in winter design; the tailored styling, supple quality fabrics and flattering design have women with true feminine curves rejoicing.
Winter fashion this season personifies the confidence and empowerment of the modern plus size woman. Curves haven't been targeted and celebrated in such an effective manner in decades and the shift is receiving a gracious welcome. Flattering choices for the curvy woman are aplenty this season, discriminating, bold fashion lovers, enjoy!
Who is Sara Johnson?
Sara Johnson is the co-owner and product buyer at Velvetsiren.com – A posh plus size clothing boutique for curvy girls. She currently works as a fashion consultant for curvy women worldwide. Come see what everyone is talking about!