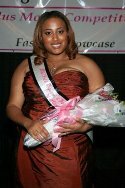 Davica Williams is a confident and beautiful plus size women, who just happened to be chosen the winner in this year's edition of the "Full Figured and Fabulous Competition" held in Atlant.
Hailing from North Miami Beach in Florida, Davica had never participated in any type of modelling competition beforehand. However modelling had always been her life long dream.
Earlier this month, Plus Model Mag intereviewed Davica. Read the interview here, to find out more about this curvy rising star!