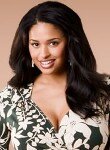 Looking stylish and keeping up with the latest fashion trends isn't rocket science. However it does take some training and getting used to, as it is not just a question of going shopping and buying whatever fits!
It is important to stock up on essential items every season so you have all the ingredients to cook up some very stylish recipes! Furthermore, doing so does not need to break the bank! Every plus size woman has the power to look her best, everyday and in every occasion, by spending a reasonable amount of money.
But don't just take my word for it. In a new 7 part article series, which Pasazz.net proudly publishes today, several leading experts within the plus size fashion industry share their secrets and give us their suggestions for combining a winning, figure flattering outfit for less than $300.
This series includes auggestions from experts including:

Christne Alt from Woman Within
Ozlem Arpaci from IGIGI
Nancy Baum from Cherished-Woman.com
Christine Kwon from Misspit
Vanessa Astran from Kiyonna
Jessica and Carrie from SKORCH Magazine
So go on, find out the secrets for looking like a curvy star! Secrets coming directly from the experts… read the first part of the series: plus size women dress to impress for less than $300!