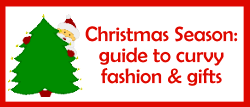 When we think of things to wear during the Holidays we often refer to dresses, skirts and tops; items which will make us look good at a party or special event. Few of us think about getting hold of some lingerie or intimate wear specifically for the Holidays. Perhaps many of us think it is something we can do without, or something which we would rather think about at a more calm period of the year.
Granted. However it is good to pump up the intimate mood, and spice up the bedroom during the Christmas holiday season. They do not calling this, the season to be jolly just because of the gift we receive you know! It is a time as well to spend quality moments with loved ones, and why not also with our special someone in the bedroom.
Some great new sexy styles of plus size lingerie have been made available to us at AlwaysForMe and also Hips and Curves; styles which will definitely help us spice up the holiday nights.
Another thing to think about, perhaps this is more for the men looking to buy their girlfriend or wide a gift, is that a lot of times, even though few women admit this, lingerie is on every woman's holiday wish list! So do check out these new lingerie styles at AlwaysForMe and Hips and Curves to ensure your lady is pleasantly surprised with her gift!